by Matt Karpe
– Senior Columnist —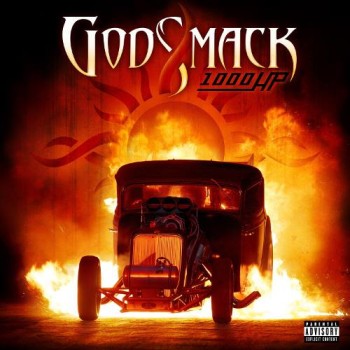 After a long four years since The Oracle, some began to wonder whether a new Godsmack album would ever be released, and now over half way through 2014, 1000hp has arrived and all seems right with the world once again … just about.
The album title gives the indication that this record would be fast, furious and downright classic Godsmack, and yes there are some great moments here, but there are also a few too many occasions that leave you feeling content rather than anything more satisfying.
The title track is a good start. It doesn't quite feel as powerful as the horsepower suggests, but still it's a hard blow to the face that wipes away any cobwebs that may have been lurking in the Godsmack locker.
The verses find distinctive vocalist Sully Urna revisiting moments of the bands earlier years, and with some chugging riffs from both himself and lead guitarist Tony Rombola, mixed with the bass of Robbie Merrill and the deliberate drumming of Shannon Larkin, this is a song that fits firmly in the higher moments of Godsmack's career. The chorus is hugely catchy and you get the feel that this album is going to go from strength to strength.
"FML" is a good follow-up, and it could have easily featured on the classic debut album from all those years ago, such is the raw aggression that exudes throughout.
"Something Different" is a ballad that still packs a seismic punch, but it's with "Generation Day" that the real highlight comes.
The guitars are toned down to almost Kor- style, the drumming is hard and heavy and Urna's vocals are mammoth- Godsmack have really excelled themselves here. The early verses and chorus are good, but its midway through that "Generation Day" truly shines. The haunting tribal like interlude finds Urna showcasing various vocal harmonies, the acoustics are highly effective, and with little solo's here and there, it really is mesmeric. With one final onslaught of alternative metal, you are left thinking that if Godsmack are capable of such a brilliant track like this, then why isn't the rest of 1000hp this good?
"What's Next?," "Living In the Gray" and "Turning to Stone" are by no means poor songs, they just meander along without the X factor that the listener yearns for.
"Locked & Loaded" could almost be a sequel to The Oracle's "Cryin' Like a Bitch" and "I Don't Belong" is a grungey number full of Slaley-esque angst.
A lot of people firmly believe that Godsmack have never bettered their self-titled record, and most of the time that statement can be pretty valid. One thing is for sure though and that is Godsmack have written a big collection of great tracks, and there are two or three on 1000hp that can be added to that list, but all in all, the rest of the album has been played pretty safe.
Let's hope we don't have to wait so long for another record, and let's also hope Godsmack can pack even more horsepower into future efforts to make them what we, as fans, really want to hear.
Genre: Alternative Metal, Hard Rock, Post-Grunge
Band:
Sully Urna- Vocals, Rhythm Guitar
Tony Rombola- Lead Guitar
Robbie Merrill- Bass
Shannon Larkin- Drums, Percussion
Track Listing:
1. 1000hp
2. FML
3. Something Different
4. What's Next?
5. Generation Day
6. Locked & Loaded
7. Living In the Gray
8. I Don't Belong
9. Nothing Comes Easy
10. Turning to Stone
Record Label: Universal, Republic, Spinefarm
Website: www.godsmack.com
Hardrock Haven Rating: 6.5/10