Grand Design | Thrill Of The Night
by Alexandra Mrozowska
– Columnist —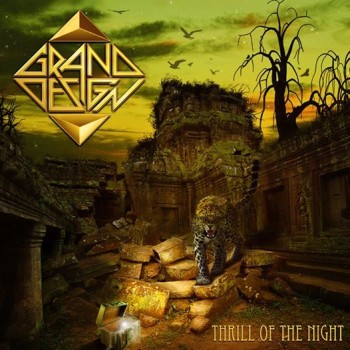 With their 2009 debut Time Elevation and 2011 Idolizer, Grand Design made quite a buzz among melodic rock fans, having crafted what is perhaps the best Def Leppard albums that Joe Eliott and his gang never really recorded. And although this year saw another tremendous Leppard-esque release – this time from LoudLion, whose debut is deliberately Hysteria on steroids – it seems Grand Design are not going to lay back. What is more, Thrill Of The Night – out via AOR Heaven in September – sounds fresh enough to be more than just a blatant Pyromania rip-off.
Of course, there are certain Leppard-ish elements to this album and it doesn't really take a longtime fan's well-trained ear to notice them. But even though the melody line of feisty rocker "Rawk N Roll Heart Attack" may remind you a bit of "Pour Some Sugar On Me," not even to mention the "wall of sound" vocal harmonies in every single track – it's still more of an inspiration than emulation. And still, not only Def Leppard but the entire '80s melodic rock/hair metal scene was about big choruses led by powerful group chants, the Sheffield-based quintet being just the confirmation of the general rule.
These strong vocal harmonies, which are perhaps the strongest point also to the Grand Design's now trademark style, are especially perspicuous in dramatized mid-tempo "The Rush Is Gone" or Erik Mårtensson co-penned party anthem "Who's Gonna Rawk You Tonite." And the band, it seems, aren't eager to look back too much anyway, as alongside modern production also the guitar riffs on the album are far from sounding dated, as in "U Got Me Good" or "10 Outta Ten."
Squeezed between straightforward rock up-tempos, "When The Greatest Love Of All Kicks In" is a saccharine power ballad crafted with the intention of tugging at listener's heartstrings (or gathering the crowd of snuggling couples during the band's live performances, one could skeptically notice). And although there is much to be said about the blistering lead guitar work that enriches the track, it's not the sole highlight of the entire record, as every melodic rock fan will surely find themselves reveling also in killer hook of "Rip Iddup" or the deliberate infectiousness of the eponymous song's choruses.
Grand Design are the name to be reckoned with in modern-day melodic rock scene, and their reputation is certainly a well-earned one. Thrill of The Night portrays the Swedes' return in fine form, again following the formula perhaps predictable, but nevertheless mastered by them to the point of perfection. With their third outing, they couldn't have possibly let down the longtime fans of theirs. It's as solid, well-performed and catchy record as the previous two – and a valuable addition to your melodic rock album collection. In the case of fire, save Hysteria and Pyromania first, but remember to take Thrill Of The Night to safety thereon.
Genre: Melodic Hard Rock
Band:
Pelle Saether – vocals
Dennis Vestman – guitar
Janne Stark – lead guitar
Mats Vassfjord – bass
Magnus Ulfstedt – drums
Tracklist:
1. U Got Me Good
2. Rawk N Roll Heart Attack
3. The Rush Is Gone
4. 10 Outta 10
5. When The Greatest Love Of All Kicks In
6. Rip Iddup
7. Get Up N Love Someone
8. You're The Only One
9. Who's Gonna Rawk You Tonite
10. Thrill Of The Nite
Label: AOR Heaven
Website:
http://www.granddesignrocks.com
https://www.facebook.com/granddesignsweden
Hardrock Haven rating: 8/10