Grand Magus | Triumph and Power
by Justin Gaines
– Senior Columnist/News Editor —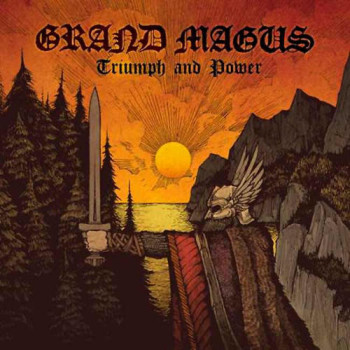 Swedish heavy metal warriors Grand Magus returned earlier this year with their seventh full-length album, titled Triumph and Power. In the years since their 2001 self-titled debut, the Stockholm-based band has evolved from a more straightforward doom metal sound to a riff-heavy (and just plain heavy) traditional metal monster, and after the success and sheer power of their previous album (2012's The Hunt), expectations are high going into this one.
Grand Magus sticks to familiar territory here. The Hunt was a masterpiece of heavy traditional metal, and the sound on Triumph and Power is very similar. Monster riffing continues to dominate, and the heaviness is matched by a fantastic melodic approach. There are plenty of places where you can bang your head and hum along with the melody. It takes an immense vocal presence to go toe to toe with the riffing. Fortunately J.B. Christoffersson is more than capable of handling both sides with power and style.
Triumph and Power doesn't have the same immediate impact that The Hunt had, so it takes a few spins to really appreciate it. Once it sinks in though, you're likely to find the anthemic "Dominator," "Steel Versus Steel" and "Holmgang" among your new favorite Grand Magus songs. The quick, catchy "The Naked and the Dead" and the epic closing song "The Hammer Will Bite" are also standouts.
Triumph and Power is just that, an album full of triumph and power. If it's not quite the album The Hunt was, that's OK. Few albums are, and falling short of that still means an album that's better than 95% of the competition. It's easily one of the best traditional metal albums of 2014, and a must have for fans of Candlemass, Atlantean Kodex, Solitude Aeternus and all things heavy.
Edition Notes: The limited edition version of Triumph and Power comes in a digipack and features the bonus track "Blackmoon."
Genre: Heavy Metal, Traditional Metal
Lineup:
J.B. Christoffersson (v) (g)
Fox Skinner (b)
Ludwig Witt (d)
Track Listing:
1. On Hooves of Gold
2. Steel Versus Steel
3. Fight
4. Triumph and Power
5. Dominator
6. Arv
7. Holmgang
8. The Naked and the Dead
9. Ymer
10. The Hammer Will Bite
Label: Nuclear Blast
Website: www.facebook.com/grandmagusofficial
Hardrock Haven Rating: 8.75/10