Grinder | Dead End (Deluxe Edition)
by Justin Gaines
– Senior Columnist/News Editor —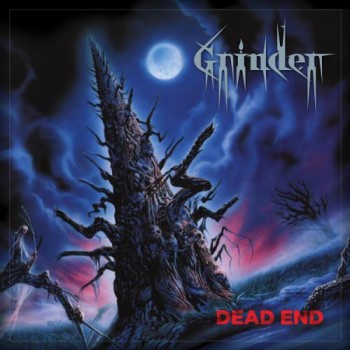 Originally released in 1989, Dead End was album number two from German thrash metal band Grinder. Of course, when you say "German thrash metal" obviously the first thing that comes to mind is the "big three" of Sodom, Destruction and Kreator. Grinder wasn't nearly as prominent as those bands, but they did deliver some very high quality thrash albums as the decade wound to a close.
Grinder had all of the speed and aggression that you'd expect from a German thrash metal band, but their precision and melodic aspect put them in the same realm as Anthrax, Flotsam and Jetsam and, well, Realm. There's a very impressive degree of technicality on display on Dead End, both in the intricate guitar work as well as the surprisingly prominent bass by Adrian Hahn, who also delivers vocals that range from melodic to harsh, and never lack power either way.
Standout tracks on Dead End include "Agent Orange" (it's probably impossible to avoid comparison's to Sodom's signature track), "Total Control" and the title track. The rowdy, punkish "Train Raid" sticks out like a sore thumb, but "Unlock the Morgue" closes down the album firmly in blistering speed metal territory.
Grinder stuck it out for one more album, but never really made it big and like a lot of thrash bands in the '90s decided to call it a day. They left behind some impressive material though, of which Dead End is the highlight. It's an album that just about any fan of classic thrash metal, especially some of the more melodic and technical American bands, will find well worth checking out.
Edition Notes: Divebomb's deluxe edition reissue of Dead End puts this long out of print album back in fans hands after many years, and of course it's more than just your basic reissue. The album has been newly remastered by Jamie King, features a hefty nine bonus tracks (including tracks from the rare The 1st EP and some later recordings), and features a booklet that's loaded with vintage photos and a new band interview. Divebomb never disappoints in terms of both sound quality and overall presentation, and this is no exception. Even if you have the original pressing of Dead End, you'll want to upgrade to this Deluxe Edition.
Genre: Thrash Metal
Lineup:
Adrian Hahn (v) (b)
Andy Ergun (g)
Lario Teklic (g)
Stefan Arnold (d)
Track Listing:
1. Agent Orange
2. Dead End
3. The Blade is Back
4. Inside
5. Just Another Scar
6. Total Control
7. Why
8. Train Raid
9. Unlock the Morgue
10. Reeling on the Edge
11. Incarnation Off
12. Truth in the Hands of Judas
13. Hymn For the Isolated
14. The Spirit of Violence
15. Nothing is Sacred
16. None of the Brighter Days
17. Dear Mr. Sinister
18. NME
Label: Divebomb Records
Hardrock Haven Rating: 8.5/10