by Alexandra Mrozowska
– Senior Columnist —
This year saw the release of a unique album Love Is Magic – the compilation of selected ballad-esque highlights of Michael Bormann's career so far. And yet, it's much more to him than this. Fans of this talented and very busy German singer can spend long hours discussing his solo output as well as various projects he's been a part of – High Voltage, Redrum, Rain, The Sygnet, Silent Force, Bonfire or perhaps the most recognized, Jaded Heart. Despite his being on a tight schedule, Michael stopped by for a while to talk about his "best of ballads" album, the latest album of Silent Force and his involvement in other projects for Hardrock Haven.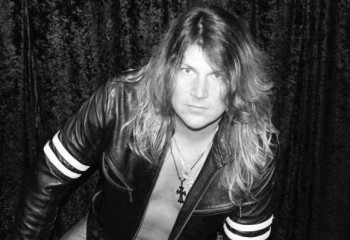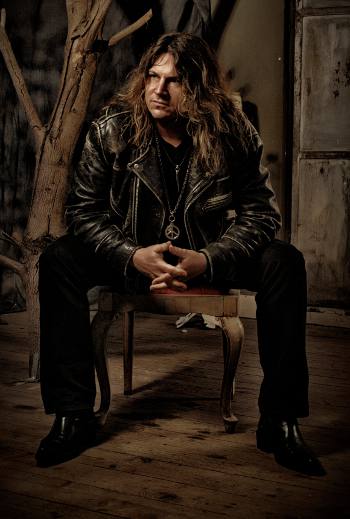 Hardrock Haven: Your new album Love Is Magic is a compilation album – 'best of ballads' kind of thing. What's the idea behind releasing it – any reason for such a rundown?
Michael Bormann: I always wanted to release a "best of ballads" album. I think that especially my ballads speak for themselves. I see nobody really knows most of the songs that I have written and released – so it was about time to let people know about the quality of my songs and singing (laughs).
Hardrock Haven: Alongside the well-known tracks, there are also newly recorded "Überleben" and "Somebody Like You" on the album. Can you tell us more about these new songs and the inspiration behind them?
Michael Bormann: Releasing a "best of" didn't mean just throwing all old shit together (laughs). Well, at least not for me. Some songs had to be re-recorded, not only for a better sound, or something, but also for a new skin/version … And of course I needed to add new songs to the compilation. Recording "Überleben" was THE challenge as this was my very first time having a song in two languages. It was really very difficult to get this thing done.
Hardrock Haven: On Love Is Magic, there is also cover version of the classic Beatles song "Help." While reviewing your album, I caught myself thinking that your approach to this song is actually very similar to what Bon Jovi played live on their early '90s tours. Deliberate or not?
Michael Bormann: That is really funny … Until a couple of months ago I didn´t even know, that Bon Jovi did it too … I recorded the song also in 1990 (was released on Jaded Heart's Slaves & Masters years later). I was hooked on the versions Tina Turner and John Farnham did. Bon Jovi´s version has actually nothing to do with those. Plus, he could never sing it like Farnham, Turner, or me (laughs).
Hardrock Haven: Why have you decided to re-record some songs on Love Is Magic instead of just putting together the standard 'greatest hits' compilation?
Michael Bormann: I wanted to change some of the songs, or just made them sound better.
Hardrock Haven: Let's move on to some other topics; last year, you replaced a longtime singer DC Cooper in Silent Force. As we all know, the band actually rose from the ashes of The Sygnet (which you fronted) – can you take us through the personal highlights of the most recent Silent Force album with you on vocals, Rising From Ashes?
Michael Bormann: It was kinda funny working on "The Sygnet" – again, as you've noticed. For me it was like going fifteen years back, when Alex and me were doing it … but totally different. In 1998 we got together in my studio and recorded and wrote the whole thing. This time he just sent me his playbacks and I composed and wrote all the melodies and lyrics and sent then everything back. Completely recorded and finished. We haven´t seen each other at all … Actually nobody had. Kinda sad, but that´s producing in 2013 (laughs). My highlights are "There Ain't No Justice," "You Gotta Kick It" and "Anytime Anywhere."
Hardrock Haven: How do you think the new line-up (with Alessandro Del Vecchio on keys and Mat Sinner on bass) influences the musical direction Silent Force has taken from now on, with the new album?
Michael Bormann: To be honest, not at all. Nobody had any influence on the writing and recording process. The future might be different, we will see. Time will tell.
Hardrock Haven: Apart from the above projects, what are you currently up to as a producer?
Michael Bormann: At the moment I work on different projects in different directions. No classic Hard Rock production at all … Okay, I sing choirs here and there and I write and co-write songs here and there (latest was Tempesta from Switzerland). But I also recorded some dance or hip-hop songs for other artists in different languages. Plus, I will start working on my new studio album in a few days or weeks.
Hardrock Haven: Last month you also played two shows with the German Deep Purple tribute band Demon's Eye. What was the experience and the audience response?
Michael Bormann: (laughs) You know everything! It was great. The guys are really nice and they can play too (laughs). The places were packed and what can I say… we all had a great time together. Guess it's not the last time we've played together, but I must admit that was a lot of work for me … I was just helping out for two shows, and all this learning (laughs) … But, next time I don´t have to learn (laughs).
Hardrock Haven: Any news for the Rain avid fans, as far as the planned band's reunion is concerned?
Michael Bormann: It's a pity, but no. Some of us are too busy most of the times. And also, to be honest … People (I mean, the record industry) were not really waiting for us. We haven't done nothing for about 7, 8 years – so, what to expect …? And as we all know, time is money. Nobody can afford to record an album just for fun, not after more than three decades of rock 'n' roll…
Hardrock Haven: This year in October you're gonna play the legendary UK Firefest with Redrum – alongside H.E.A.T., Ten or The Poodles, just to name a few. What are your expectations? Are there any other festivals you're gonna participate in this year?
Michael Bormann: I am really looking forward to play the legendary Firefest – can't wait! We've already played the Greek Firefest some years ago and it was great. And last year, I spent the whole weekend in Nottingham, just as a guest … well, I felt like I was playing as everybody recognized me. But this year it´s gonna be great! I don´t even care that we play that early. The only thing that counts is THAT we play and we're gonna kick some ass (laughs) isn't this what everybody says? (laughs) There were some other festivals we played, like in Bulgaria. Some others will come up.
Hardrock Haven: Towards the end of the interview, I'd like to ask you what you think was the most important moment of your career so far.
Michael Bormann: This is a very difficult question, as I think there´s more than 1 moment. Some moments lead to others. It all comes together. I am always happy that I can do what I am doing.
Hardrock Haven: Anything else you're up to at the moment? Any more albums or concerts in the pipeline?
Michael Bormann: Well, I can says this much: in October 2014 I will be part of a big TV show called THE VOICE OF GERMANY! Don´t know what happens, but keep your fingers crossed for me (laughs). One buzzer is enough (laughs).
Hardrock Haven: Thank you very much for the interview! Anything you'd like to add in the end?
Michael Bormann: See ya in Nottingham, Oslo, or some other stage soon – and thanks!