Ronny Munroe of Metal Church
by Deb Rao
– Senior Columnist —
Singer Ronny Munroe of Metal Church recently released his third solo album entitled Electric Wake. It is one of his strongest albums to date, as the singer keeps metal alive with his amazingly strong vocals and strong lyrical content.
Ronny Munroe recently talked in-depth about the making of Electric Wake. In concert Ronny Munroe is a force to be reckoned with and the electricity of his performance illuminates the intensity of the power vocal capability of this true rock and roll warrior on Electric Wake.
Ronny Munroe's solo band features Paul Kleff, Sean Baker, Tony Rossi, and Dan Donigian.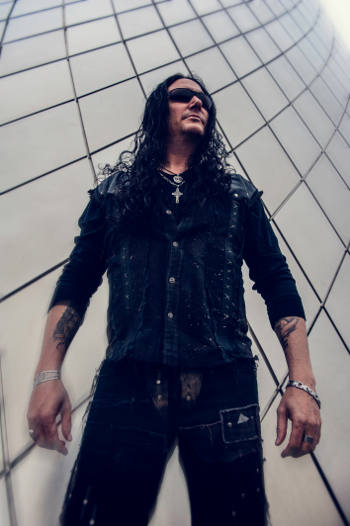 HRH: Ronny your third solo album is released Electric Wake. Tell us about the writing process for this album.
Ronny: The writing process lasted close to about two years. Myself and Paul Kleff from Firewolfe wrote basically the whole record. Except for the song "United" which was written by Sean Baker. It was about two years in total really. We brought some songs in and brought some songs out to kind of see what sticks.
HRH: You can tell you really worked hard on this album. Did you write all the lyrics?
Ronny: Yes, I did. Normally on my stuff, I write all the lyrics. And a lot of the melody lines and producing as well. I am very happy with the outcome.
HRH: Also on this album you had some special guest stars that really rocked. What was it like working with George Lynch on "Ghosts?"
Ronny: It was an honor to have George on the record. He is a guitar legend. And one of my favorites from all times. Joe from Rak Pak hooked that up. George is a good guy for doing it. He did a great solo.
HRH: Awesome! What goal did you have in mind when you went into the studio? Did you have a special sound in mind?
Ronny: I don't want to completely say that I had a formula. But I did a little bit so to speak. I just wanted to have shorter concise songs when the melody and hook came in quicker than waiting around for a minute and a half to come in with the vocals. I just wanted to go to big boomy kind of chorus that is memorable.
HRH: Right. And you even do a ballad "Pray."
Ronny: The video was about gun violence and gang members that kind of stuff. It was originally written about teen suicide. It was kind of a deep subject. There is a lot of that going on. It was a riff that Paul came up with. I asked for some kind of ballad and that is what he delivered. It came out wonderful.
HRH: I think the song kind of has a spiritual meaning. Actually, the whole album kind of has a spiritual meaning. Do you agree?
Ronny: I do agree. It wasn't meant on purpose. Of course "Electric Wake," the song itself, there is a reason for that. It is also thought provoking.
HRH: You also worked with Pamela Moore and guitarist Dave Rude. He has some shredding riffs on this album. Tell us about the making of the video "The Others."
Ronny: The making of the video was great. We shot it at Howard Leese's house. The guitar player of Heart. And he has been with Bad Company for a few years. He calls it the castle. So we were there in this big open room Dave flew in. It was a good time. Everybody worked really well. It was a great experience.
HRH: I noticed on this album too there are a lot of shades of Dio like vocals. Did Ronnie influence you a lot in your career?
Ronny: When I first heard "Man On The Silver Mountain" when I was practicing my drums was a defining moment in my career. And a defining moment in my life. I ran down and called the local radio station to find out whom it was singing. And they told me Ronnie. From that point on was one of the reasons I wanted to become a singer. Did I purposely do that? No not at all. It is just part of my voice. I guess maybe there are times that I sound like him. There are a lot of guys that have a lot of Ronnie in them. He influenced many of us.
HRH: Any solo shows in the works?
Ronny: I am thinking about doing something in October. I am coming up with a promo video right now. I will do maybe three or four shows. And start writing the next Ronny Munroe record. Because there is also a lot of Metal Church going on that I got to follow through with.
HRH: I had the opportunity to see you in Las Vegas finally. I was so happy to get to hear you sing. What the highlight of the Metal Church tour? You really tore up the Las Vegas Country Saloon. Metal Church really has some die hard followers.
Ronny: It has always been a cult following for Metal Church. The fans are great. It was great seeing the younger generation coming out every night. It is a beautiful thing. That tour in a nutshell was very long and grueling. But we went out knowing that we had to prove ourselves again. We did just that.
HRH: Is there anything else that you would like to day regarding the album?
Ronny: Normally the way I write are about current events, politics, and religion issues surrounding that without standing on the soapbox. This record lyrically is no different than that. Except for "The Others" which is my first metal anthem which I always wanted to kind of write something like that. I think it turned out pretty well. And "United" stands out as well as "Pray." United" Is about standing together as people. As far as government and everything else it is time that we really start standing up for ourselves. Not taking over but at least paying more attention. The world is a messed up place right now. If we could all come together instead of doubting one another the world would be a much better place.
HRH: That is awesome Ronny. Hope to see you when Metal Church hits Vegas in the Fall.
Visit Ronny Munroe online: www.facebook.com/ronnymunroefb