Jeff LaBar | One For the Road
by Craig Newman
– Columnist —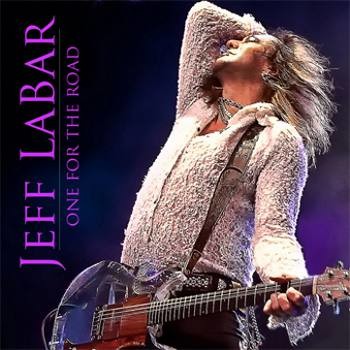 Being the guitarist for one of the '80s most popular metals bands, Jeff Labar of Cinderella releases a raw rock album One For the Road that has Jeff on vocals, guitars, keyboards and bass with various drummers (Troy Lucketta, Chris Williams, Cheney Brannon and Ronnie Honeycutt). On Rat Pak Records, the album was released on Aug. 26. Produced by Jeff, engineered by Ronnie Honeycutt and mixed by Chris "The Wizard" Collier, while Fred Coury produced "No Strings." It shows a mix of Jeff's influence of his music.
The seven-track album, two with just guitar compositions starts off with the song "No Strings." The message of the song is, I am independent and will do what I have to do. The next song "Asking For A Beating" about the early years of relationships with a catchy second part of the song: "When we fucked & then you spoke oh how I hated you." Where she can throw her verbal message yet can't accept it from the other side. "Muse" is an acoustic guitar composition. "Hello Or Goodbye" is about alone traveling alone missing your partner and not knowing where the relationship status is. "Ode to Page" is an influence to Jeff's guitar playing.
"Nightmare On My Street" is the idea that you can be a good child through the years, but mental conditions change as we get older and that can lead you to harm others and yourself. The last track "One For The Road" is letting alcohol be your friend and enemy on your body (emotion and physically). Sitting at a bar or pub with others yet still alone, waiting for last call as the place closes for the night. As we say, "I will take the last one for the road to feel numbness from the pain."
This is music Jeff should have put out 20 years ago. With the flame burning and eruptions inside of him to release more of his songs, he should release more music after this album.
Track list:
1. No Strings
2. Asking For A Beating
3. Muse
4. Hello Or Goodbye
5. Ode To Page
6. Nightmare On My Street
7. One For the Road
Label: Rat Pak Records
Hardrock Haven rating: 9/10