Julian Angel's Beautiful Beast | Kick Down The Barricades
by Alexandra Mrozowska
– Senior Columnist —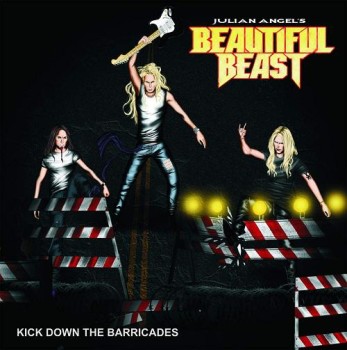 A fleeting glimpse of the cartoon-ish album cover… and the first thought you have is "how come it's 1989 again?" You must know it's a sign of progress anyway – the cover of the previous album of Julian Angel-fronted project was graced by female's G-string-clad backside. But apart from the graphic content, this first thought you had will become a sweet déjà vu once you give Kick Down The Barricades a spin. The third album of Julian Angel and his Beautiful Beast marks no departure from their style as they continue to transfer hair metal convention into the 21st century – doing it with their heads held up high rather than the proverbial tongues in their cheeks, as most certainly these guys are no Steel Panther.
The very first track on Kick Down The Barricades alone may literally kick down some (barricades, that is, or whatever gets in its way). Titled "Bad Boys Never Dance," it's what you could find in the encyclopedic entry of "party rocker" if there ever was one, driven by the '80s style riff and trademark hair metal vocal harmonies. If going for associations, think bands such as Danger Danger or the early Bon Jovi. With its recited verses, group chants and feisty riffs, its follow-up "Big Stuff" gravitates towards the funk-ish side of things and, deliberately or not, reminds one of early Electric Boys and their biggest hit "All Lips N' Hips".
"Can't Stand The Fiction" may seem to be "just another" pop metal piece that hardly deserves to be hailed as outstanding. Still, there is something captivating in its melodic riffs and catchy hooks that makes you hum its chorus even a week after you dismissed it as unrevelatory. "Shock 'Em Dead" continues in a feisty, sleazy manner that blends mid-'80s Crüe sound with contemporary sleaze rock, while "The Night Cries For You" is a perfectly crafted tearjerker, complete with soaring vocals, schmaltzy melody and wailing guitar solo. Add the video laden with white-clad rock heroes falling on their knees synchronically and it's more than sure this combo could have made the guys from Warrant look pretty pale.
"UnSexy" and the title track are two straight-in-your-face rockers that sounds relatively modern in comparison with the rest of the album, but nevertheless interesting with their groovy choruses and rough melodies. Opened with a subtle acoustic intro, "Shake Me Back Home" is a sugary melodic rock piece, its mellow mid-tempo verses contrasted with slightly more feisty bridges and choruses – preceding even more saccharine "High On Love", a next-to-last song on the album. It's followed by the final "Six In The Red", which is another portion of straightforward '80s rock enriched with some distant echoes of blues.
"Hair Metal like it's still 1989" being Julian Angel's Beautiful Beast's motto, it's clear this power trio doesn't really waste their words – even with their third effort in a row. However, if it had been released 25 years ago, Kick Down The Barricades might have either fallen into obscurity among the dozens of similar '80s rock albums or ended up being swept away by the merciless wave of grunge/alternative in the early 1990s. Released in 2014, the album will make the teenage Reckless Love fans crazy… and maybe also bring back the practices of hair backcombing and wearing spandex/leopard prints to the group of the married-with-children forty-year-olds. But most of all, it will put a smile on every hair metal fan's face as it's certainly Danger Danger, early Bon Jovi, mid-'80s Crüe and Poison aficionados who should get familiar with Kick Down The Barricades. The album is a solid, well-performed dose of shamelessly '80s hair metal with touches of AOR and sleaze rock, a combination of loud-yet-melodic guitars and hedonistic lyrics. So, put your symphonic rock record collection away and forget the grungy flannel shirts; Hair Metal is alive and well and – as it seems – still here to stay.
Genre: Hair Metal
Band:
Julian Angel (lead vocals, lead guitars)
Frank McDouglas (bass, backing vocals)
Ramy Ali (drums, percussion, backing vocals)
Track List:
1. Bad Boys Never Dance
2. Big Stuff
3. Can't Stand The Fiction
4. Shock 'Em Dead
5. The Night Cries For You
6. UnSexy
7. Kick Down The Barricades
8. Shake Me Back Home
9. High On Love
10. Six In The Red
Label: Platinum Blonde
Website:
http://www.beautifulbeastrock.com/
https://www.facebook.com/beautifulbeastrock
Hardrock Haven rating: 7.5/10