LIVE! | Boston with Kansas
by John Kindred
– Publisher —
August 14th, 2014 at Starlight Theater in Kansas City, MO. —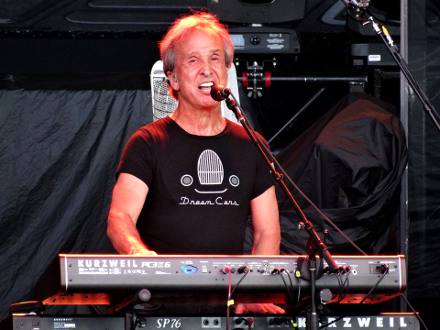 Kansas is out on the road on its 40th anniversary tour, supporting Boston. Returning to Kansas City on a sad note for area fans, founding vocalist and keyboardist, Steve Walsh, performed his second-to-last concert with the band. Walsh announced back in June to the band he was leaving. Honestly, the band performed a short set. Musically, they delivered some of Rock's best progressive rock anthems.
You want to know how to play progressive, dynamic and engaging music? Hey, listen to Kansas. There is no doubt the band influenced future heavy metal bands with its shifty arrangements and harmonies provided by the guitar, violin and keyboard. Walsh, whose distinct voice drove those '70s Classic Rock songs, has lost a step or two vocally, but he still has the energy and youthful drive. The harmony vocals of the band are still a highlight and sounded great. The guitar was a little low in the mix, but overall everything sounded just right.
2014 Touring line up:
Phil Ehart – drums, percussion
Rich Williams – guitars
Billy Greer – bass, vocals
Steve Walsh – keyboards, synthesizers, percussion, vocals
David Ragsdale – violin, guitars, vocals
Set List:
1. Point of Know Return
2. Song For America
3. The Wall
4. Hold On
5. Dust in the Wind
6. Belexes
7. Icarus – Bourne on Wings of Steel
8. Portrait – He Knew Fight
9. Fire with Fire
10. Carry On Wayward Son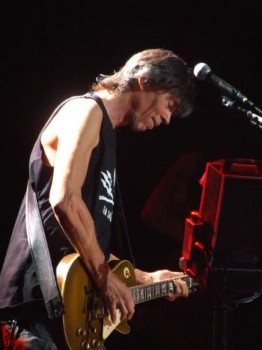 Headliners Boston was the main attraction for the evening. The band's Heaven on Earth Tour delivered a set filled with the classics, as well as a couple songs from its latest studio album Life, Love & Hope on Frontiers Records. Tom Scholz, the electronic guru and musical genius behind some of Classic Rock's most notable anthems, brought his touring entourage to perform before a full house of eager fans. With a stage backdrop of some kind shuttle, Scholz and company blasted off with "Rock & Roll Band" and didn't cool the engines until striking the last notes on "Party."
While we all remember and reminisce about the loss of Brad Delp, the voice of Boston, Tommy DeCarlo filled that role and performed admirably. His voice carried the tunes that generations have grown to love. American Idol Season 9 Finalist Siobhan Magnus has been a focal point on the tour. Appearing as a special guest, she steps nightly on stage to perform "Walk On." The harmony vocals, a trademark of the Boston sound, were on display and really brought life to each song. Hopefully, there wasn't any electronic trickery because they sounded phenomenal.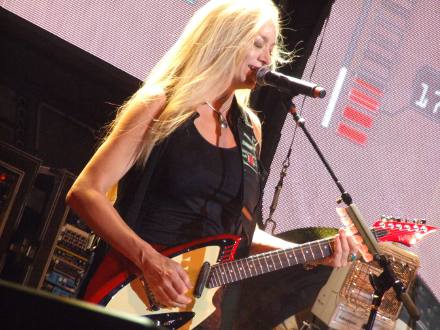 Scholz was the centerpiece of the show; his guitars were loud, too loud, in fact. During solos, the rhythms provided by Pihl and Dahme were lost in the mix. The heavy bass thumb of Ferrie clearly was felt, along with the kick drums, but the snare also was too far back to be heard distinctly. The question has to be asked, "Is it the venue?" Because the complaint about the audio has been buzzing around for years. Even with an apparent upgrade to the sound system, one has to wonder.
What an exciting night. It was good to see fans rise up from their seats and join in the celebration of music. Young and older fans, alike, enjoyed the musical and visual escapade.
2014 Touring line up:
Tom Scholz guitars, synthesizers
Gary Pihl – guitars
Tommy DeCarlo – lead vocals
Tracy Ferrie – bass
Curly Smith – drums, percussion
Kimberley Dahme – guitars, vocals
Set List:
1. Rock & Roll Band
2. Smokin'
3. Feelin' Satisfied
4. Last Day of School
5. Life, Love & Hope
6. Peace of Mind
7. It's Been Such a Long Time Interlude (Kim Dahme vocals)
8. Cool the Engines
9. Surrender to Me (Kim Dahme vocals)
10. Don't Look Back
11. Something About You
12. Amanda
13. The Launch
14. More Than a Feeling
15. Guitar Solo/Instrumental
16. A New World
17. To Be a Man
18. Walk On (Siobhan Magnus vocals)
19. Get Organ-ized
20. Walk On (Some More) (Siobhan Magnus vocals)
21. Foreplay / Long Time
Encore:
22. I Think I Like It
23. Party
LIVE! | Boston with Kansas Concert Photo Gallery
Visit Boston online: http://www.bandboston.com/
Visit Kansas online: http://www.kansasband.com/