by Deb Rao
– Senior Columnist —
August 15th, 2014 at Fremont Street Experience in Las Vegas, LV. —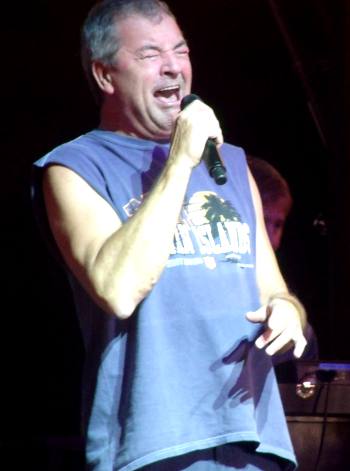 The Rock Of Vegas Concert Series is well underway at Fremont Street Experience in Las Vegas with perhaps one of the most iconic bands to hit the summer stage with rock royalty Deep Purple that took place on Aug. 15.
Deep Purple is one of the first bands to lead the British Invasion, and they garnered a record attendance, as fans came from all over the West Coast to see the band. Over the years the line-up has changed and tonight the band was comprised of Roger Glover on bass, Ian Gillan on vocals, Ian Paice on drums, Don Airey on keyboards and Steve Morse on guitar. Legendary keyboard player Jon Lord passed away in 2012.
This was the second time I had seen the band over the years. Last time I saw Deep Purple was at the Worcester Centrum when Joe Lynn Turner fronted the band. So needless to say I was excited.
The show commenced with "Highway Star," as the legendary rock band Deep Purple hit the stage. The Fremont Experience was jammed backed with classic rock fans. The show was everything I hoped it would be. Guitarist Steve Morse who joined the band in 1994 is doing a killer job on guitar. He ruled the stage tonight with his sizzling guitar leads. Singer Ian Gillan was right on the money with his legendary vocals in high gear.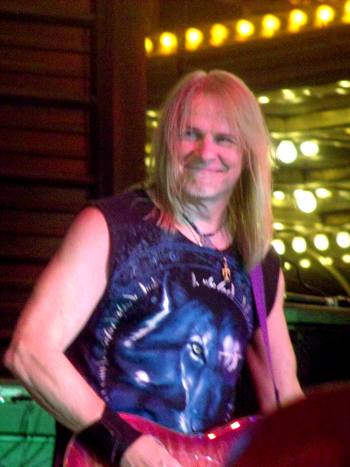 Classic rock bands are noted for their jams and tonight everyone in the band got to shine with their amazing talents. The show continued with "Hard Loving' Man" and the eerie "Vincent Price."
Highlight of the set was the guitar solo with Steve Morse. Next up after "The Mule" drummer Ian Paice stole the spotlight with his drum solo. The tail end of the set rocked hard with all of the hits including the most popular song of the evening "Perfect Strangers." This song was magic. Next up Steve cranked out the legendary chords of "Smoke On The Water."
Deep Purple returned to the stage with encores "Hush" and a bass solo with Roger Glover. Highlight of the evening for me would have to be getting to say hello to Steve Morse before the show. The man is rock royalty. It all happened so quickly, but I was appreciative of the moment.
It was another great night at the Fremont Street Experience and for me concert of the year. This concert memory I will always treasure. Hopefully the band will return next year for Rock Of Vegas.
Set List:
Highway Star
Into The Fire
Hard Loving' Man
Strange Kind Of Love
Vincent Price
Contact Lost
Steve Morse guitar solo
Uncommon Man
The Mule
Ian Paice drum solo
Lazy
Hell To Pay
Keyboard Solo
Perfect Stranger
Space Truckin'
Smoke On The Water
Green Onions – Cover
Hush – Cover
Bass Solo – Roger Glover
Black Night