by Deb Rao
– Senior Columnist —
August 1st, 2014 at Vamp'd in Las Vegas, NV. —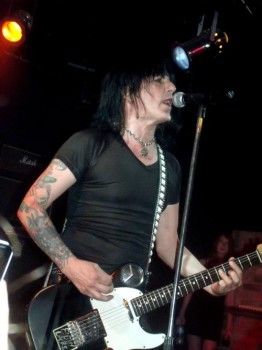 Rock and Roll gypsies LA Guns invaded Vamp'd on Aug. 1. LA Guns featuring Phil Lewis is one of the hardest working bands in the industry today. It has been 27 years since the band debut on Sunset Strip and it is so refreshing to see the band is still performing a riveting set of hits. Over the years the band has endured many line-up changes but its seems that LA Guns has found the right chemistry that clicks.
LA Guns is comprised of Phil Lewis on vocals, Steve Riley on drums, Michael Grant on guitar and Scott Griffin on bass. Hitting the stage at midnight opening with "Show No Mercy" LA Guns unleashed their powerful fury. Diving into "Sex Action," the girls in the audience clawed their way to the front of the stage. Tonight Vamp'd looked like a venue on the Strip in the '80s, as the mostly girl audience spawned their sexiest outfits and big hair.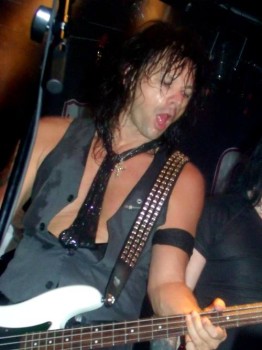 Over the years, LA Guns is known for their huge guitar riffs. Tonight the band whipped the audience into frenzy with the hard driving "Over The Edge" and "One More Reason." Back in the day I used to crank those songs to 10. Tonight it was so good to hear these '80s anthems again.
Phil Lewis is the voice of LA Guns and is like a fine wine that never ages. His voice still sells LA Guns. Drummer Steve Riley unleashed his Buddy Guy vibe on "Kiss My Love Goodbye." Bassist Scott Griffin and Steve held down the heavy punk vibe that resonated throughout the entire set. Actually back in my Boston days, I was the first to give Scott an interview. It is so cool to see him doing so well.
Highlight of the set would have to be the beautiful "Ballad Of Jayne." The band returned for two encores "Vampire" and "Gypsy Soul." Phil Lewis seemed really happy with the LV crowd, as he commented, "All my LV peeps showed up." Phil and Scott recently moved to Las Vegas, so in essence this was kind of like their homecoming turning Vamp'd into The Sunset Strip for an evening of timeless rock and glam roll.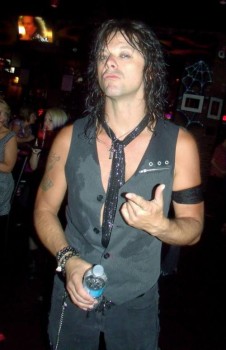 Set List:
Show No Mercy
Sex Action
Never Enough
I Wanna Be Your Man
You Better Not Love Me
Over The Edge
Kiss My Love Guitar
Eel Pie
One More Reason
Fairies Wear Boots
Electric Gypsy
The Ballad Of Jayne
Rip And Tear
Vampire
Gypsy Soul