by Deb Rao
– Senior Columnist —
July 22nd, 2014 at Country Club Saloon in Las Vegas, NV. —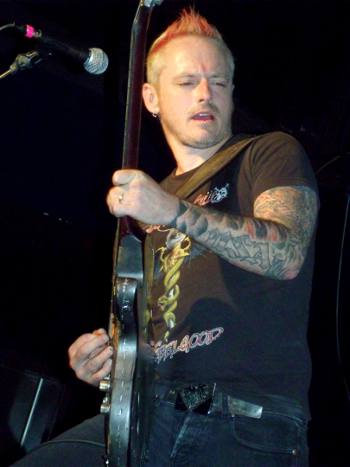 One of the busiest bands in music, Saving Abel, played a special show in Las Vegas at the Las Vegas Country Saloon on Tuesday July 22. Hardrock Haven was the first to introduce to the readers new singer Scotty Austin. The singer recently commented to us in Vegas, "The band has played in 46 States since January. Music is not about perfection; it is about the emotion." Scotty was right on the money. The energy of the band was through the roof at his show on Tuesday.
This was my first time seeing the band and I was impressed by the nonstop musical onslaught brought on by the band. Opening with "New Tattoo" the band proceeded to destroy the Las Vegas Country Saloon. Saving Abel has a sound that is a cross between Lynyrd Skynyrd to Alice In Chains. The band is comprised of Southern boys that know how to rock.
Highlights of the set included "Contagious" and "Mystify." Saving Abel also has a new song called "Love Like Suicide." Scotty kills it on vocals. He is definitely breathing new life into the band. The guitar riffs of Jason Null were amazing. Jason who was sporting his Motley Crue shirt tells Hardrock Haven that the new album will sound even better than "Love Like Suicide." I can't wait to hear more new material. Jason is a dynamic guitarist and plays full of emotion. Bassist Eric Taylor is a powerhouse on bass.
The show and ended with the epic song "Addicted." This song is so infectious! Everyone in the audience sang along. Scotty Austin tells us," We are trying to build up our fan base." The band should have no problem garnering new fans worldwide. They are definitely on the right track with new addition Scotty Austin. Along with the sizzling guitar riffs of Jason Null, Saving Abel is back on track! Be sure to check them out on tour this Summer!
Set List:
New Tattoo
Contagious
Mystify
Hell Of A Ride
Love Like Suicide
18 Days
Drowning
Mississippi Moonshine
Addicted
Visit the band online: www.facebook.com/Savingabel
Special Thanks to Eric Taylor for making this review possible.