London Quireboys 30th Anniversary Tour
by Deb Rao
– Senior Columnist —
August 5th, 2014 at Vamp'd Las Vegas, NV. —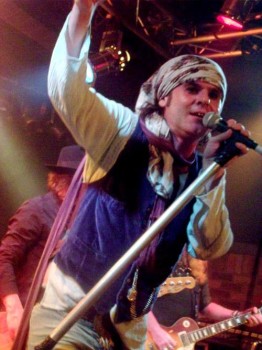 The London Quireboys are celebrating their 30th anniversary and made a special stop in Las Vegas at Vamp'd on Aug. 5. The band hails from Newcastle. It has been many years since I have last seen the London lads perform in Rhode Island at the Living Room. So this was a rare opportunity indeed.
The band featuring lead singer Spike, AKA "Jonathan Gray," still has the bluesy voice he is known for. The band kicked off the set with "Black Mariah." Spike still has that Jagger swagger and danced around the stage, as The London Quireboys set the stage for Vamp'd as a scene right out of a London Pub.
If you were not here to dance you didn't belong. The London Quireboys are a cross between Mott The Hoople meets The Stones. They have an infectious blues appeal that make you kick up your heels. Highlights of the set included "This Is Rock 'N' Roll" and "Mona Lisa Smiled." Guitarist Paul Guerin cranked out the bluesy riffs.
The band dug deep into their repertoire including songs from A Bit Of What You Fancy. The band also has a new album and DVD out entitled Black Eyed Sons. The DVD has songs that were performed at the Sweden Rock Festival and The Academy.
Highlight of the set was the beautiful "I Don't Love You Anymore." This song has always been my favorite. Spike really shows his bluesy range on this tune. The Quireboys rocked into the wee hours with "7'Oclock" and "Mother Mary." The band ended with encores "I Love This Dirty Town." In which Spike commented this song was all about Vegas tonight. And then concluded with a special guest appearance by Phil Lewis and Scott Griffin from LA Guns on "Sex Party."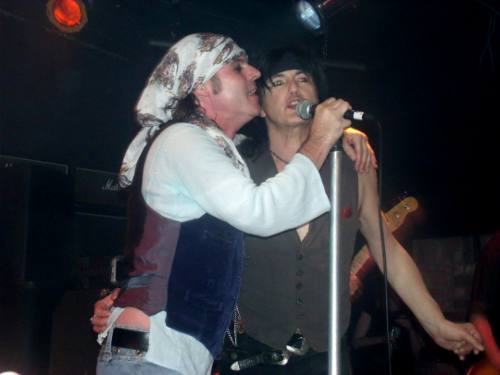 I had the opportunity to speak with Spike regarding the tour and his new upcoming solo album 100 % Pure Frankie Miller. Spike commented, "The London Quireboys is the only band I have been in since I was 17 years old. I have one guitar that I write all my songs on. I still record on a cassette player. My solo album comes out on Sept. 8. It is not a tribute album. It is called 100 % Pure Frankie Miller. I have some special guest stars including Ronnie Wood, Ian Hunter, and Simon Kirke. I met Ronnie when we opened for him years ago. I hope the show was ok tonight. I am a bit under the weather. It is not easy the style of music that we play it is complicated."
The show was great. You couldn't even tell Spike was sick. Spike Gray was a real trooper to play the riveting 90 – minute set. Be sure to catch the band on tour this month. They are headed for Texas and the East Coast.
Set List:
Black Mariah
Too Much Of A Good Thing
Hey You
Misled
There She Goes Again
This Is Rock N' Roll
Mona Lisa Smiled
27 Years
I Don't Love You Anymore
Beautiful Curse
Mother Mary
7 O'clock
Sex Party
For tour dates visit http://www.quireboys.com/.