Neil Daniels | Beer Drinkers & Hell Raisers: A ZZ Top Guide
by Alexandra Mrozowska
– Senior Columnist —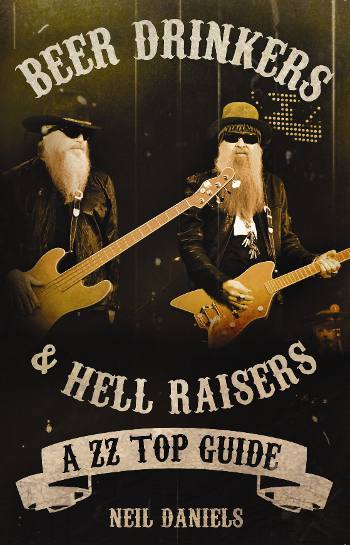 What can be say about this – or actually, any – book on ZZ Top…? Well, one certain thing is that it's neither The Dirt nor a story about The Rolling Stones and you won't find many shocking vignettes about notorious sexual stunts, bloody fights between the band members and scandalous drug-infused antics there. The four decades of ZZ Top story may be thus devoid of controversy and personal dramas, but still, never dull or jejune – what one of the recent books penned by Neil Daniels, entitled Beer Drinkers & Hell Raisers: A ZZ Top Guide is clear proof of.
There's much more to Beer Drinkers & Hell Raisers than just a biography of a Texan trio. Perhaps more apt is to follow the suggestion of the author and call it a "guide" to, or a compendium on, ZZ Top's history, music and legacy. It may be a valuable item for the fans, but most of all, it should be a handbook for those whose knowledge on ZZ Top is limited to "Gimme All Your Lovin" and "Legs" videos seen on MTV 30 years ago.
The book's preceded with a very personal foreword from an acclaimed rock journalist Steven Rosen (Guitar Player, Guitar World, Rolling Stone, Playboy, Creem, Circus), delivered not as much from a perspective of a writer as of the band's fan and friend. Full of entertaining vignettes of his personal meetings with Billy Gibbons (with Eddie Van Halen appearing at some point to a reader's surprise) and told in a warm, amiable manner, this behind-the-scenes look at ZZ Top is simply unique. It finishes with an afterword from a Canadian rock journalist Martin Popoff taking a reader through his personal highlights of ZZ Top's discography.
Beer Drinkers & Hell Raisers is divided into the four subsequent parts. First is, predictably, the band's detailed chronicle covering a span from 1969 – when ZZ Top was formed – to their most recent endeavors as for 2013. The first few pages introduce a reader to an outline of Texan culture and musical heritage, shaped by the Mexican and Spanish influence. This attempts at explaining both ZZ Top's uniqueness and the slight error behind dubbing their music "Southern Rock" (not entirely comparable with the "redneck" bands like Lynyrd Skynyrd). Further on, the biography delivers many interesting facts and details, from the history behind band members Billy Gibbons and Dusty Hill growing their trademark beards to the origin of the legendary Eliminator car (Gibbon's red Ford Coupé). It also examines ZZ Top's relationship with the popular imagery of the US – scantily clad ladies, fast cars, sunglasses etc. Although devoid of scandal, the band appears more flamboyant and vivid than expected – their custom stage set designs (as in 1976, when their Texan desert-like set design was complete with animals and cacti) makes one think twice about ZZ Top being only beards and MTV-friendly red car!
The first part of the book being history-oriented, the subsequent three focus more on music and numerous achievements of the band. Part two – "ZZ Top's Friends and Influences" – is especially interesting as the reader is presented with short yet amazingly informative pieces on different people (or bands) having associations with ZZ Top. First go the particular collaborators and associates of the band (photographers, costume designers, producers, sound engineers, video directors etc.). Next to be presented are the musicians and bands influential towards the Texan trio (divided neatly into genres, from blues to rock and country/folk rock). The chapter entitled "ZZ Top's peers" is 1970s Blues Rock/Southern Rock/Americana boom in a nutshell, with the information on the likes of The Allman Brothers Band, Lynyrd Skynyrd or Molly Hatchet. Its follow-up "ZZ Top's Fellow Modern Blues Rock Contemporaries" focuses more on the bands who, alongside the mostly bearded trio, helped to transform blues rock into the late 20th/early 21st century form.
Part three is on ZZ Top's legacy – the music industry awards, movie cameos and a solid handful of funny-to-eyebrow-raising trivia. It also features a chapter "ZZ Top and Their Critics" in which rock writers from Classic Rock, Get Ready To Rock, Fireworks: The Melodic Rock Magazine or Blabbermouth share their thoughts on ZZ Top's early blues days, MTV-friendly '80s era, their back-to-the-roots shift and further career. The most encyclopedic is the fourth part, much detailed compilation of ZZ Top's discography, the band members' guest studio appearances, tours, festival/TV appearances and even the selective list of their support bands and tour guests.
Neil Daniels' Beer Drinkers & Hell Raisers: A ZZ Top Guide should make it to the bookshelf of every rock listener – ZZ Top fans in particular, but not only. The book is a coherent, comprehensive source of information on all things ZZ Top, but also a vivid picture of a popular and acclaimed rock band who, differently from many of their peers, didn't end up lost in the mists of time due to their talent, perseverance and lasting friendship. It's one-of-a-kind handbook on how to start a band, play the blues and grow a beard so as to march into the new century 40 years later – all this delivered by ever-reliable author. Certainly unputdownable and thus recommended.
ISBN: 978-0957144279
Publisher: Soundcheckbooks
Website:
http://www.neildanielsbooks.com/
http://www.soundcheckbooks.co.uk/letitrock/