Nick Miller | Parallel Universe
by Joe Mis
– Senior Columnist —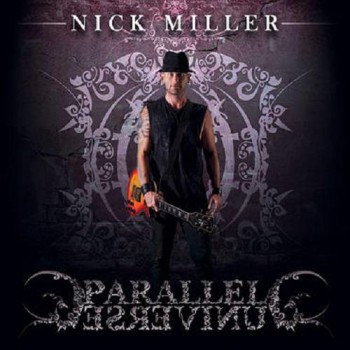 If you were a guitar player with solid chops and were looking to release an album that let you display them all, you'd want to put together something like Nick Miller's debut release – Parallel Universe. This six-track EP gives the Aussie native a chance to stretch a little, and to explore styles different from those he delivers as part of his regular band, Longreef. This one is a treat for fans of guitar rock.
Nick doesn't totally break from his band, as he is joined by Longreef's current rhythm section – drummer Tristan Davies and bassist Jim Wark. It is obvious that the three know each other well, and they play together as a team while allowing Miller's guitars and keys to step to the fore. They seem to roll in almost every guitar rock style – shred, metal, blues, acoustic, grunge, hard rock, etc. – and they handle all of them well. Miller has also produced the release, and enlisted the well-respected Mike Fraser to handle the mix – so you know this one will simply sound good.
The opening heavy riffs of the very metal "Pipeline" set the bar high for both the song and the album. Thick guitars and spiraling solos call to mind the best work of Vinnie Moore, and Nick Miller's guitar is ably backed by a simple and effective drum line and solid bass work. "Parallel Universe" comes next, a softer, more flowing rocker built around mellow guitar fills. The very crisp notes recall some of Joe Satriani's rhythms, although the solos are much more bluesy that one expects from Joe. "Snowstorm" is a refreshingly simple slow rocker with some nice strings added by the violin of Retaw Boyce – giving it an almost Dixie Dregs feel. Miller's solos seem particularly emotional on this track.
"Ghosts of New Orleans" is a toe-tap inducing acoustic track with a great mellow groove. Neatly layered keys and a simple rhythm line make this a memorable song, while the solo comes across on the ethereal side without being over-the-top. "Game Change" opens with an intense, twangy riff, but the gritty tone disappears quickly as the song flows into uptempo rock territory. The fluid closing solo laid down here is almost beyond belief, rising from gentle to almost enraged. "Bourbon Street" is bluesy and a bit funky – kudos to bass and drums on this one.
In a nutshell, Parallel Universe is a winner. These six melodic tracks were created by a guitarist who is not only comfortable with his skills, but one who is also conscious of melody and composition. These are truly songs, not just collections of riffs and fills built around barrages of solo notes – a release reminiscent of many of Joe Satriani's or Vinnie Moore's instrumental albums. Nick Miller pulls out all the stops and delivers great rock without overstepping his limits or getting full of himself. Recommended for all fans of guitar rock.
Genre: Instrumental Metal, Rock
Band:
Nick Miller (guitars, keyboards)
Tristan Davies (drums)
Jim Wark (bass)
Retaw Boyce (violin on Snowstorm)
Track Listing:
1. Pipeline
2. Parallel Universe
3. Snowstorm
4. Ghosts of New Orleans
5. Game Change
6. Bourbon Street
Label: Independent
Website: http://www.elnicomiller.com/
Hardrock Haven rating: 9/10