Octainium | Suffer the Clock
by Jenn Carbaugh
– Columnist —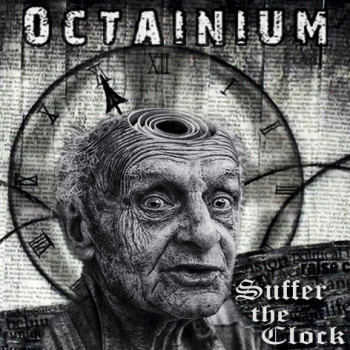 One of South Africa's finest heavy metal bands, Octainium, will be releasing their long awaited second album on Aug. 29. The timing is everything in this album. From the quick paced double petal to the harsh growls, Suffer the Clock is just the right name for these 12 tracks. Highly influenced by bands such as Lamb of God and Killswitch Engage, Octainium's music is pretty broad in terms of heavy metal. They encompass some melodic death metal and can even play songs that have a traditional '80s feel to them.
Some tracks are heavy with violent lyrics and then some have lyrical symmetry and clean vocals. The range on this album is far from boring. One of the most interesting songs is "Skeletons." It features guest vocalist Alicia van Wyk. Her addition makes the song even more satisfying. Technicality is another bonus of this album. "Another Day, Another Death" captures technical guitar ability and melodies that elevate the entire song.
Suffer the Clock also has songs that focus on the lyrical aspect of the album. "Ineptocracy" has pretty strong lyrics about the current situation in South Africa. It is political, social, and economic. "The Devil Take the Hindmost" is another great song that Octainium has on the album. Guest vocalist Andrew Duggan from Cutting Jade lends his voice to make this track radio worthy. It's catchy and clean without losing any of the edge.
The range of talent is a nice collaboration of the lyrics and the instruments. The combination creates a whole piece that is very effective. This album has very few low points and even they seem to blend in with the rest of the album quite well. This is definitely a recommended album if you're a metal head.
Genre: Metalcore, Heavy Metal
Band:
Maritz Booysen – vocals
Kyle van Wyk – guitars
Sven Anderson – guitars
Arno Grundling – bass
Gerhard Booysen – drums
Track Listing:
01. The Writing's on the Wall
02. Dethrone
03. Holier Than Thou
04. Grist to the Mill
05. Suffer the Clock
06. Skeletons (feat. Alicia van Wyk)
07. Another Day, Another Death
08. Ineptocracy
09. What's Your Poison
10. The Devil Take the Hindmost (feat. Andrew Duggan)
11. If the Shoe Fits
12. Vs. the World
Label: Independent
Website: www.reverbnation.com/octainiumband
Hardrock Haven Rating: 9/10