Richie Kotzen | Essential Richie Kotzen
by Alissa Ordabai
– Senior Columnist —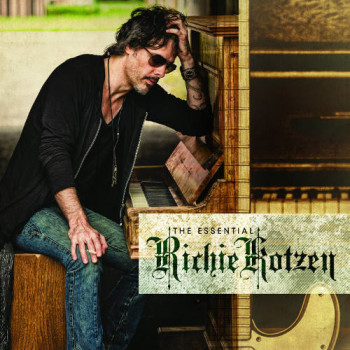 For his new 2-disk compilation Richie Kotzen chooses tracks that pitch him to the mainstream audience – 22 easily accessible, but nevertheless stunning cuts. No matter if he leans toward soul, rock, or blues, each song not only stays self-explanatory, but also defines Kotzen's take on the genre. Oddly, he almost completely omits material from the Eighties and the Nineties – not just the high-brow instrumental stuff, but also some striking songwriting gems. Which is a shame, as sophistication of Inner Galactic Fusion Experience and bounce of Mother Head's Family Reunion could have added breadth and depth to this résumé.
Despite this being a kind of "best of," the first disk opens with two brand-new tracks. "War Paint" resurrects classic blues-rock with vintage grit, and "Walk With Me" puts a campy spin on a perfect pop tune – complete with a sweeter-than-sin chorus and the Eighties electronic pop vibe. Versatility and propensity to magpie influences remains an innate Kotzen trait. But so does his emotional edge and knowing how to angle it with harrowing precision.
The second disk is all about that – unsettling, painfully personal ballads. Fresh studio versions and acoustic versions of the songs mostly from his Noughties period sound more streamlined as opposed to the originals. Kotzen fanatics — who know the originals by heart — will miss the raw nuances and the urgency. Newcomers will still be impressed by RK's fearless candor.
But despite the mass-market orientation of this release, Kotzen still comes through as one of the greatest guitar virtuosos around, a unique balladeer, and a teller of some deep emotional truths. He can easily adapt to the mainstream, but the entirety of his gift still doesn't fit into a regular consumer niche – a blessing for a true explorer he hopefully will remain for decades to come.
Genre: Rock
Disk 1:
1. War Paint
2. Walk with Me
3. Love is Blind
4. Go Faster
5. Fooled Again
6. OMG (What's Your Name)
7. Help Me
8. Bad Situation
9. Lie to Me
10. Fear
11. You Can't Save Me
12. Doing What the Devil Says to Do
13. Remember (Reprise)
Disk 2:
1. What is
2. High
3. Change
4. Special
5. Paint It on
6. Holding On
7. Until You Suffer Some (Fire and Ice)
8. The Road
9. Regret
Label: Loud and Proud Records
Hardrock Haven rating: 8/10