Rubicon Cross | Rubicon Cross
by Justin Gaines
– Senior Columnist/News Editor —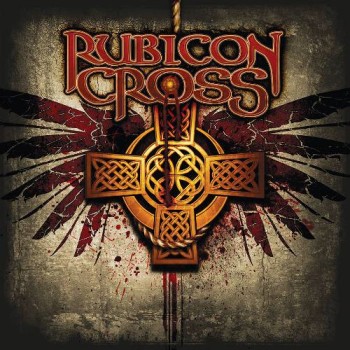 It's been a while since we've heard anything new from Firehouse, but vocalist C.J. Snare hasn't been sitting idle. Along with Furyon guitarist Chris Green (as well as guitarist Jeff Lerman, bassist Simon Farmery and drummer Robert Behnke), Snare has a new band called Rubicon Cross, whose self-titled debut is now available.
Comparisons between Rubicon Cross and Firehouse are inevitable, given Snare's instantly recognizable voice and the fact that both bands play melodic rock. They're two very different animals though. Rubicon Cross isn't the kind of super-catchy "hair metal" that Firehouse was, not will you find any Bic-flicking "Love of a Lifetime" style ballads. This is a harder edged rock album that's surprisingly ballsy. Yes it's melodic, but there's a real crunch to the guitars and a more modern energy overall that is reminiscent of Jake E. Lee's new band Red Dragon Cartel on some levels.
While there is a pair of slower songs ("Moving On" and "Save Me Within") that come close to the old Firehouse sound, the album is dominated largely by harder rocking songs like the catchy "Locked & Loaded" (which would be a great single if mainstream rock radio would ever touch it), "R U Angry" and the almost shockingly heavy "Kill or Be Killed." The only real oddball moment on the album is the closing song "All the Little Things," which sounds more than anything like an old Green Day b-side, and even that's a fun track for what it is.
The Rubicon Cross debut is a very easy album to get into. Hearing Snare's voice again is enough to take some listeners back a couple of decades (and he sounds as good as ever here), and hearing it on top of these great driving hard rock songs is just too much fun to resist. The band has proven that you can have ties to the '80s rock scene without sounding like a retro act and can play modern rock without sounding soulless and monotonous. It's just a really nicely done melodic hard rock album, and one that ought to satisfy a wide array of fans of this kind of music. The CD is also priced extremely reasonably (between $6-7 at the moment), so you don't have much to risk by checking it out.
Edition Notes: There is a version of the Rubicon Cross debut that's exclusive to Best Buy stores and includes a pair of bonus tracks – acoustic versions of "Moving On" and "Save Me Within."
Genre: Melodic Rock, Hard Rock
Lineup:
C.J. Snare (v)
Chris Green (g)
Jeff Lerman (g)
Robert Behnke (d)
Simon Farmery (b)
Track Listing:
1. Locked & Loaded
2. Next Worst Enemy
3. Bleed With Me
4. Save Me Within
5. You Will Remember Me
6. Moving On
7. R U Angry
8. Shine
9. Kill Or Be Killed
10. All the Little Things
Label: Raider Rock
Website: www.facebook.com/rubiconcrossband
Hardrock Haven Rating: 7.75/10