Tore St Moren | My Way or the Highway
by John Kindred
– Publisher —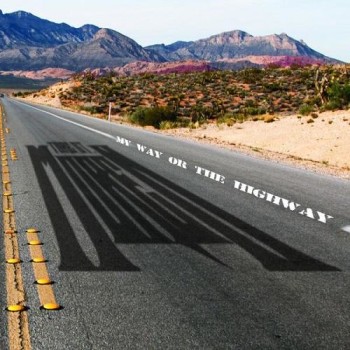 My Way or the Highway is the second solo studio release by guitarist Tore St Moren. While Moren's first solo disc, Devilbird, was an instrumental album, this time around, Moren offers us seven songs, featuring vocals and one instrumental. So, fans are in for a slightly different musical vibe. And for the first time, Moren takes center stage, lending his voice to four of the tracks.
Onboard for the musical mayhem are bassist Nic Angileri and drummer John Macaluso. Guitarist Espen Rogne provides some support, and featured special guest vocalists include Rick Altzi (At Vance, Thunderstone, Masterplan), and Age Sten Nilsen (Wig Wam, Ammunition). The production of the album was handled by Moren and Jock Loveband.
At this point in Tore St Moren's career, we should have a grasp on his past accomplishments and resume. But to recap, he has spent the majority of his professional career as a member of Jorn Lande's band and has worked in other bands, such as Rain, Street Legal, Carnivora and Arctutus.
In February, Tore St Moren and his band, featuring John Macaluso, Nic Angileri and Espen Rogne, were holed up in Urban Sound Studios in Oslo. First rehearsing, and then recording the new album, which produced eight songs that appear on the album.
Tore St Moren's vocal debut appears on "The Day We Met," the Travers/Thrall cover of "Snortin' Whiskey," "Stand Up" and "Kiss My Ass." With Moren taking over the microphone on these songs, the focal point shifts from his axe skills to his voice. Initially underwhelmed by the single release "The Day We Met," Moren's vocal debut obviously will be judged against singers that he has worked with in the past. His approach trends to the style of the songs. Overall, he has a slightly gritty-bluesy approach. While he isn't Jorn Lande or Michael Bormann, he does an admirable, if not OK, job of belting out these songs. His vocals are strongest on "Stand Up."
On "Bad Blood" and "Don´t Call Me," vocalist Rick Altzi sounds like a heavy Jeff Scott Soto, and the songs reflect a dark Malmsteen-esque vibe. Age Sten Nilsen handles vocals on "Tell Me What You Want," where he puts forth his best Ian Gillian-esque vocal performance.
The fret-board work here is on a par with what you would expect. Moren's skills exclusively are showcased on the instrumental song "Slow Down." And, as with the vocals, his style and approach on each song is defined by the type of music performed and is represented in the guise of heavy-blues and Hard Rock. Plenty of melody, classy riffs and solos abound on My Way or the Highway. The musicianship, all around, is as one would expect, and that is top notch.
Genre: Melodic Hard Rock
Band:
Tore St Moren (g)(v)
Nic Angileri (b)
John Macaluso (d)
Espen Rogne (g)
Rick Altzi (v)
Age Sten Nilsen (v)
Track Listing:
1. The Day We Met (v: St Moren)
2. Bad Blood (v: Altzi)
3. Snortin´ Whiskey (v: St Moren)
4. Tell Me What You Want (v: Nilsen)
5. Don´t Call Me (v: Altzi)
6. Stand Up (v: St Moren)
7. Kiss My Ass (v: St Moren)
8. Slow Down
Label: Shredguy Records
Web: www.shredguyrecords.bigcartel.com and www.shredguyrecords.storeenvy.com
Hardrock Haven rating: 7/10