20 Years & Counting: Vans Warped Tour 2014
by John Kindred
– Publisher —
July 31, 2014 at Cricket Wireless Amphitheater in Bonner Springs, Kan. —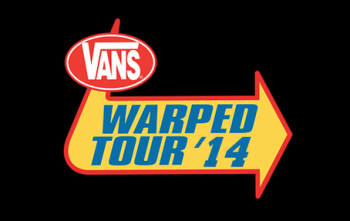 Settling in for a long day of music festivities, the Vans Warped Tour made a stop in Bonner Springs, Kan. Vans Warped Tour is celebrating 20 years as the U.S. longest-running touring festival as the tour winds down. The festival features a multitude of genres: Punk, Alternative, Hip-Hop, Ska, Pop Punk, Electronica, Alternative Rock, Emo, Hardcore and more.
As with any all-day festivals, you better come prepared. It's necessary to bring bottled water, some ibuprofen, sunscreen, a hat … and a partying attitude. Some fans provided the herbal essence that has, for some, enhanced the live concert experience. For the older crowd, spirits helped their party attitude, as they loosened their collars and let their hair down, so to speak. While some of those fans allowed the effects of their vices to mellow them out, others showed a bit of aggression. Attila provided plenty of musical angst and lyrical rebellion, which sparked a few fans to throw cups of beer at the stage.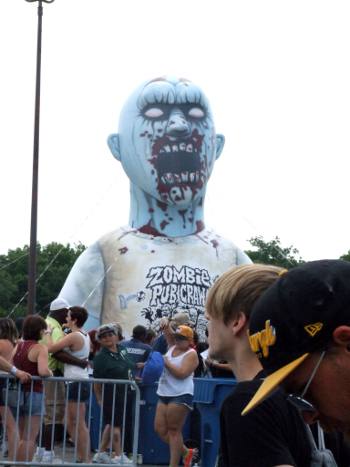 The Bonner Springs tour stop lineup was extensive and included:
A Skylit Drive; Air Dubai ; Alive Like Me; Allison Weiss; Anberlin; Anthony Raneri; Antiserum; Attila; Bad Rabbits; Bayside; Beartooth; Beebs And Her Money Makers; Born Of Osiris; Breathe Carolina; Brian Marquis; Captain Capa; Chelsea Grin; Chunk! No; Captain Chunk!; Close Your Eyes; Courage My Love; Crizzly; Crown The Empire; Cute Is What We Aim For; Divided Heaven; DJ Nicola Bear; DJ Scout; Echosmith; Elder Brother; Enter Shikari; Every Time I Die; Falling In Reverse; Fit For A King; For All Those Sleeping; For Today; Four Year Strong; Front Porch Step; Get Scared; I Fight Dragons; I The Breather; I the Mighty; Ice Nine Kills; Icon For Hire; Issues, K.Flay; Less Than Jake; Light Years; Lionize; Lost In Society; Marmozets; Mayday Parade; MC Chris; Me Like Bees; Mixtapes; Motionless In White; Neck Deep; Nick Santino; NiT GriT; Of Mice And Men; Pacific Dub; Parkway Drive; Plague Vendor; Real Friends; Rob Lynch; Saves The Day; Scare Don't Fear; SECRETS; State Champs; Stray From The Path; Survive This!; Teenage Bottlerocket; Terror; The Color Morale; The Devil Wears Prada; The Ghost Inside; The Maine; The Protomen; The Ready Set; The Story So Far; The Summer Set; The Word Alive; TheCityShakeUp; This Wild Life; To The Wind; Vanna; Volumes; Watsky; Wax; We Are The In Crowd; We The Kings; and Yellowcard …
The Vans Warped Tour experience thrives on the fans' access to the musicians. A tent city encompassed the cement parking lot of Cricket Wireless Amphitheater. The experience featured six stages and an acoustic basement tent that was set up in the parking lot area and two stages set up in the amphitheater.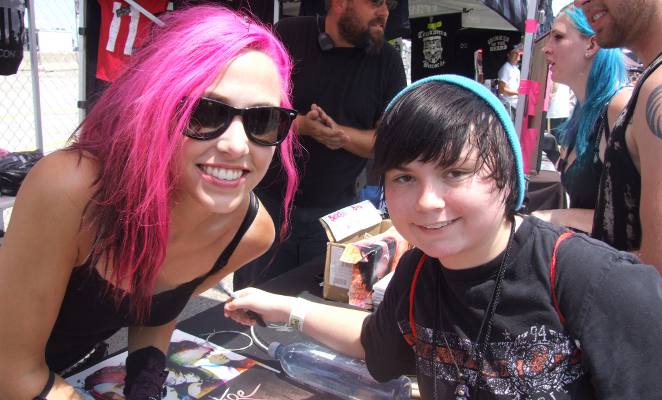 Honestly, this is a music experience that is well worth your money. Vans Warped Tour musically leans toward a younger audience, but the festival makes parents of minors welcome. They offer a free ticket to one adult chaperoning anyone under 18, as long as the minor had a purchased a ticket. While concessions never are free, water stations were set up in multiple locations in the venue. Parking: Well, there were a lot of damn cars! It certainly was not eco-friendly from that standpoint. But the tour sponsors have volunteers who help clean up the venue throughout the day. The Vans Warped Tour staff was very professional and gracious.
This years sponsors include: Vans; Journeys; Kia; Action for Animals; Airforce Reserves; Altec; Alternative Press; Band Happy; Beatport; Biore; The Canvas Foundation; Chicago Custom Percussion; Cool Gear; D'Addario; D-Tox; Epitaph Records; Equal Vision; Ernie Ball; F'Real; FARM; Fearless Records; Feed Our Children Now!; Fueled by Ramen; Full Sail University; Fuse; Glamour Kills Clothing; Gypsy Warrior; Hard Rock Café; Heart Support; Hope for the Day; I Am Second; IndieGoGo; Invisible Children; It Gets Better; John Lennon Educational Tour Bus; KBB Records; Keep a Breast; Mama Chia; Mapex Drums; Matador Beef Jerky; Meinl Cymbals; Monster Aesthetics; Monster Energy Drink; MusiCares; Music Saves Lives; NARAS; Natural High; Never Summer; Orange Amps; Paper Alligator; PETA2; PRS; Punky Pets; Pure Noise Records; (RED); Ride Nature; Rise Records; Sabian; Sennheiser; Shella Rotella; Shirts for a Cure; SideOneDummy Records; SJC Drums; SKAD; Sumerian Records; Team Phun; Testicular Cancer Awareness Foundation; The Truth; To Write Love on Her Armsl; Trojan Condoms; U.S. Army; U.S. Marines; Uber; Victory Records; WARHEADS; and Western Digital.
Vans Warped Tour 2014 Concert Photo Gallery
The Stages:
Electric Soul Stage:
Falling In Reverse
Four Year Strong
Mayday Parade
Of Mice & Men
The Devil Wears Prada
The Story So Far
The Summer Set
We The Kings
Kia Soul Stage:
Breathe Carolina
Enter Shikari
For Today
Less Than Jake
Motionless In White
Parkway Drive
The Ghost Inside
Yellowcard
Monster Energy Stage:
Attila
Born Of Osiris
Chelsea Grin
Crown The Empire
Every Time I Die
For All Those Sleeping
Ice Nine Kills
Stray From The Path
Terror
The Color Morale
The Word Alive
Vanna
The Journeys Stage:
Air Dubai
Bayside
Beebs and Her Money Makers
Echosmith
Issues
Lionize
Real Friends
SECRETS
Volumes
WARHEADS Stage:
Anberlin
Bad Rabbits
Cute Is What We Aim For
Saves The Day
The Maine
The Protomen
The Ready Set
This Wild Life
We Are The In Crowd
Beatport Stage:
Antiserum
Captain Capa
Crizzly
DJ Nicola Bear
DJ Scout
K.Flay
MC Chris
NiT GriT
One OK Rock
Pacific Dub
Watsky
Wax
Hard Rock Kevin Says Stage:
Alive Like Me
Beartooth
Get Scared
I The Mighty
Icon For Hire
Marmozets
Neck Deep
Plague Vendor
Scare Don't Fear
State Champs
Survive This!
Teenage Bottlerocket
To The Wind
Acoustic Basement Presented By Full Sail University:
Allison Weiss
Anthony Raneri (Bayside)
Bad Rabbits
Brian Marquis
Divided Heaven
Elder Brother
Front Porch Step
I The Mighty
Light Years
Nick Santino (A Rocket To The Moon)
Rob Lynch
Ernie Ball Stage:
A Skylit Drive
Chunk! No, Captain Chunk!
Close Your Eyes
Courage My Love
Fit For A King
I Fight Dragons
I The Breather
Lost In Society
Me Like Bees
Mixtapes
TheCityShakeUp
About the VANS WARPED TOUR:
The VANS WARPED TOUR® is well established as America's premiere music and lifestyle festival of the summer, breaking up-and-coming indie talent as well as both creating and showcasing major established artists since 1995. The nationally-renowned festival is the most eclectic traveling tour and features a diverse array of artists–with hotly tipped acts in every genre from punk, metal and indie to rock, hip-hop, rap, electronic, reggae and pop; as well as a variety of lifestyle attractions for its traditionally low ticket price. The tour has cemented its place in history by bringing punk rock/skate/action sports culture from the underground to the forefront of global youth culture, while at the same time helping those in need and being the first tour to consistently use groundbreaking environmental concepts every year on the road. The Warped Eco Initiatives (WEI) focus on making the tour more environmentally friendly whether it is through eco conscious catering for the artists and crew courtesy of Tada Catering or a solar-powered sound system on the Kevin Says Stage. Further, www.vanswarpedtour.com even showcases public transportation options for every tour date and carpool social media apps as well as exotic eco travel contests. For more information on the tour that Alternative Press readers voted the "Best Tour/Festival" of 2009/2010 and Rolling Stone called "America's most successful festival" (2005) go to: www.vanswarpedtour.com. Now in its 20th year, the 42-date tour will commence June 13 in Houston, TX and end on August 3 in Denver, CO.
Visit the Warp Tour Official Website online: http://vanswarpedtour.com/