We Are The Catalyst | Monuments
by Joe Mis
– Senior Columnist —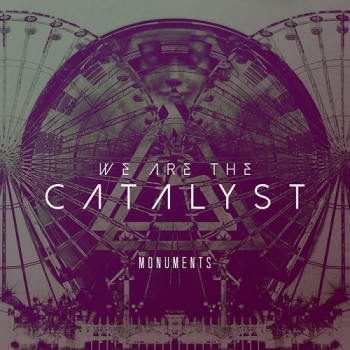 Monuments is an apt name for the new release by Swedish rockers We Are The Catalyst, as it borders on monumental. The hard working duo of Cat Fey and Kenny B (both formerly of the alternative metal act One Without) are poised to release their first full length effort, following up on last year's well-received EP Panem Et Circenses. Monuments is a 13-track modern melodic release that blends elements of alternative metal and rock, electronica, death metal, and touches of gothic and symphonic metal into a cohesive and relatively unique sound.
Driven by the powerhouse voice of Cat Fey, We Are The Catalyst produces music that will appeal to a wide audience. A desire to broaden their musical horizons led Kenny and Cat to dissolve One Without in 2012, and the more positive and upbeat tone help WATC cross a number of genre borders to mold diverse influences into a cohesive whole. Thematically focused on the idea of change, Monuments will appeal on many levels.
"Fight For Air" starts off the album on a high, showcasing the talents of both performers. This mid-tempo rocker rolls everything that WATC can do into a single effort – great vocals, strong lyrics, excellent musicianship and an overriding sense of melody. "The Void" slows things down a bit, blending in more keys and allowing Cat and Kenny to bring some fine duet vocals – proving that they much more than another "beauty and the beast" act. Cat's voice truly shines on the opening bars of "Under The Surface," an Evanescence-styled progressive / alternative rocker that also features gritty backing vocals from Kenny that dance over ever changing tempos. "Every Minute Every Day" is an emotion packed power ballad that encourages the listener to look for change and not give up, a refreshing tone boosted by excellent keys and synths, and a simple but effective guitar solo.
"Never Fall" is another emotional track with true feeling carried not only by Cat's expressive voice, but also by the fine thought provoking lyrics. This one seems like it would be a great finale song for a movie soundtrack, and the sing-along chorus is well suited for a live audience. "Not Alone" starts off echoing some of Lacuna Coil's older material, delivering only voice and keys until the wall of sound arrives. This track also delivers one of the only negative moments on the album – the fade out is just a bit too long and repetitious, giving the track a bit of a draggy feel instead of a triumphant wrap-up. Punchy rhythms and crystal vocals bring a strong anti-hypocrisy message to the fore in "On Your Knees," a track inspired by current news events – an effective bit of social commentary. " A Life A Lie" is all about musical flow, blending pop and commercial touches with a solid bass groove.
"Our Way To The Sun" is another vocal showcase for Cat and Kenny's vocal teamwork. The mid-tempo, synth heavy track allows both singers to visit the extreme ends of their respective ranges. "Time Will Show" has a great pop / blues groove through the opening bars but becomes a gritty pop-rocker with hints of AOR mixed in, while "What You Are" brings in hints of punk and metalcore blended with electronica. "Change" is a moody and brooding piece of gothic / alternative metal that showcases vocals above all, but the guitar work is solid and the drums intricate. WATC closes out with "The Edge," an upbeat bass-driven rocker that looks to the future.
Cat Fey and Kenny B prove themselves to be talented musicians and strong song writers. The diversity of tone and tempo seems like it should be difficult to pull off, but WATC manages to sound comfortable through it all. Emotion and feeling drive the songs, and despite the obvious complexity of the music the album somehow also coveys a sense of simplicity and a natural warmth. Cat's impassioned vocal delivery, effortless power, pinpoint control, and wide range guarantee her place in the pantheon of truly great female rock vocalists. Monuments is a superb modern metal release, and highly recommended – look for it on October 1st, 2014.
Genre: Metal, Rock, Alternative
Band:
Catrin Feymark (vocals)
Kenny Boufadene (vocals, guitars, bass, keys, drum programming)
Track Listing:
1. Fight For Air
2. The Void
3. Under The Surface
4. Every Minute Every Day
5. Never Fall
6. Not Alone
7. On Your Knees
8. A Life A Lie
9. Our Way To The Sun
10. Time Will Show
11. What You Are
12. Change
13. The Edge
Label: Ferocity Records
Website: http://www.wearethecatalystofficial.com/
Hardrock Haven rating: 9.5/10