X-Drive | Get Your Rock On
by Alexandra Mrozowska
– Columnist —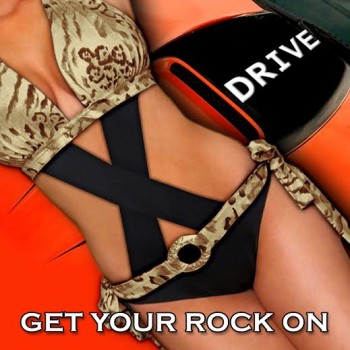 X-Drive is another star-studded, rock-oriented project worth taking a look at. Founded by Oregon-based guitarist and songwriter Jeremy Brunner, it's comprised of Midline/Cure For The Fall drummer Fred Fischer and bassist James Lomenzo, well-known among fans of White Lion and Megadeth. The one to complete the picture is a longtime Montrose singer and part of Burning Rain project, Keith St. John, who handles the vocals. And while X-Drive is not necessarily an exact sum of all its parts music-wise – that is, some Montrose-meets-White-Lion-meets-Megadeth-meets-Midline kind of hybrid – their largely anticipated Get Your Rock On will get the audience's attention partially due to the rich resume of the majority of musicians involved.
In its entirety, Get Your Rock On skillfully balances between the rootsy hard rock tradition (with the '80s-infused inclination towards powerful choruses) and gritty contemporary sound, all spiced up with a bit of bluesy overtones. First seconds into "Love's A Bitch," what you get is pounding drums against the background of raw guitar riffs, a framework for Keith St. John's feisty, bluesy vocals. The second track "Get Your Rock On" bears slight resemblance to Velvet Revolver sound of their Slither era – "… but you like it" – notices St. John in his raspy voice and it's hard not to concur. Next is "Steppin' On The Rock" that continues in the same gritty, dirty manner, going on full throttle much unlike its follow-up, a somber ballad "Baby Bye Bye."
A laid back, mellow mid-tempo "California" gravitates towards melodic rock rather than hard rock; a choice for a single not convincing perhaps and certainly not representative of the entire album. Anyway, apparently we're never fed up with all these happy-go-lucky, saccharine songs about the California sunset, beaches and charms of local girls, even though it might have seemed Beach Boys exhausted the topic a few decades ago. The opening riff to "Lay Me Down" may remind you of the guitar lick which led Poison's title track of their 1990 Flesh & Blood album – deliberate or not.
The next two songs are kind of easy to predict both music- and lyric-wise by taking a look at their titles. "Turn The Noize Down" is predictably raw and noisy (pun unintended), and predictable in theme (as it examines the rocker's natural inability to use the volume knob, a fact never comprehended by the narrow-minded society). "Beyond The Angels," on the other hand, is a majestic tearjerker embedded in the best power ballad tradition, ticking all the boxes in the category from plaintive vocals to weepy, wailing melody. "Rattlesnake Eyes" marks a return to raw and feisty, but well-crafted hard rock the group is perhaps best at.
"Just Can't Stay" is sultry, lumbering rock track with touches of blues, rich lead guitar work and '80s-infused melody – one of the album's highlights. With "Change Of Heart," the band again opts for mellow, acoustic sound whereas the final "Love Breaks The Fool" again scratches the surface of blues-infused melodic rock in vein of Whitesnake or late-'80s Quiet Riot.
Although illustrated with intentionally cheesy, so-totally-80s cover artwork, Get Your Rock On is, without a doubt, interesting and solid release. More than just a curio for the die-hard fans of Keith St. John or other acclaimed musicians involved in a project, it's a real showcase of talent and ideas – and perhaps, a vehicle to deserved recognition for the band's mastermind Jeremy Brunner. In the age of super-groups and projects comprised of big names of the music industry, it's easy to get lost in the maze and overlook this or that band or album. However, if you're really into contemporary hard rock remaining in touch with the genre's roots, well-crafted and performed, X-Drive and their newly released debut are these you shouldn't miss out.
Genre: Hard Rock
Band:
Keith St. John – Vocals
James Lomenzo – Bass
Jeremy Brunner – Guitar
Fred Fischer – Drums
Track List:
1. Love's A Bitch
2. Get Your Rock On
3. Steppin' On The Rock
4. Baby Bye Bye
5. California
6. Lay Me Down
7. Turn The Noize Down
8. Beyond The Angels
9. Rattlesnake Eyes
10. Just Can't Stay
11. Change Of Heart
12. Love Breaks The Fool
Label: Frontiers Records
Website:
http://x-drivemusic.com/
https://www.facebook.com/XDriveMusic
Hardrock Haven rating: 7.5/10