Evergrey | Hymns For The Broken
by Justin Gaines
– Senior Columnist/News Editor —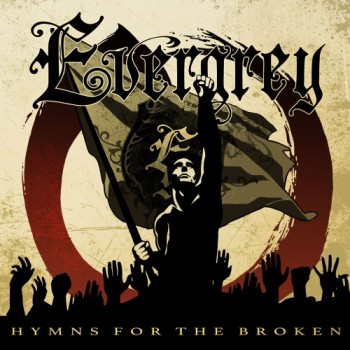 There have been some major changes in the Evergrey camp since the Swedish dark progressive metal pioneers released their 2011 album Glorious Collision. Drummer Hannes Van Dahl left to join Sabaton, so former Evergrey drummer Jonas Ekdahl stepped back in, bringing another familiar face – guitarist Henrik Danhage – with him. In addition to the lineup change, Evergrey also has a new label (AFM) and producer (Jacob Hansen) for their ninth studio album, titled Hymns For The Broken.
It's probably not fair to use the phrase "Evergrey is back" when: a) they never left, and b) their previous albums Torn and Glorious Collision were really good, but Hymns For The Broken is such a return to form that you can't help but think of it as a new beginning. Part of it is the chemistry that vocalist/guitarist/founder and overall mastermind Tom Englund has with this lineup. You can tell they're all on the same page. It's also in the overall atmosphere of Hymns For The Broken. As soon as the instrumental opener "The Awakening" kicks in, you immediately feel the kind of atmosphere that made albums like In Search of Truth and The Inner Circle the classics they are.
Even without spending a lot of time studying the lyrics, you can tell Hymns For the Broken has a high emotional quotient. There's really no one better at this kind of "rip your heart out and display it to the world" delivery than Englund, and when he's backed by Rikard Zander's evocative keyboards (see: "Missing You"), the songs go straight to your heart. Not that the music is all emotion and introspection. Hymns For The Broken has that trademark Evergrey heaviness, as witnessed by the first single "King of Errors," which is representative of the album's overall tone. The album has that majestic bleakness and Evergrey does so well, and for the first time in a long time it works flawlessly from start to finish.
Even though it's only been three years since the last Evergrey album, Hymns For The Broken really does feel like the beginning of a new era for the band. It instantly qualifies as a classic Evergrey album, and ought to both please the band's steadfast fans as well as win back those who might have drifted away in recent years. It's also a strong contender for the year's best progressive metal album.
Edition Notes: The limited edition CD version of Hymns For The Broken comes with a bonus CD featuring piano versions of "Barricades," "Hymns For the Broken" and "These Scars."
Genre: Progressive Metal
Band:
Tom Englund (v)(g)
Rikard Zander (k)(v)
Johan Nieman (b)(v)
Henrik Danhage (g)(v)
Jonas Ekdahl (d)
Track Listing:
The Awakening
King of Errors
A New Dawn
Wake a Change
Archaic Rage
Barricades
Black Undertow
The Fire
Hymns For the Broken
Missing You
The Grand Collapse
The Aftermath
Label: AFM Records
Website: www.evergrey.net
Hardrock Haven rating: 9.25/10