High On You: Remembering Jimi Jamison
by Alex Smith Barbieri
Senior Columnist —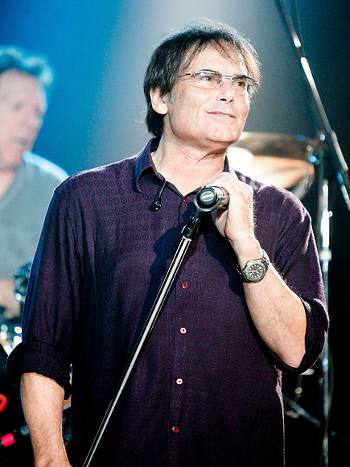 Rock fans worldwide let out a collective sigh this week at the news that legendary rock singer and Cobra/Survivor frontman, Jimi Jamison, died of a heart attack at the too-young age of 63.
For millions of fans who love his voice and music, the news struck a deeply emotional chord—not surprising when you think of how positive and upbeat his songs are. Jimi Jamison made us happy with "High On You," expressed how we felt in "The Search Is Over," helped us go for it with "I Can't Hold Back," and inspired us to reach new heights with "The Moment of Truth" from The Karate Kid, "Burning Heart" from Rocky IV, and "I'll Be Ready," the theme from Baywatch.
But Jamison wasn't just a nostalgia act—his 2012 album, Never Too Late has been hailed as a career highlight, and he continued to tour and perform live literally to his last days. Positivity, happiness, inspiration, love, humor, family, friends, and a decades-long canon of beloved creative work—not a bad legacy for any musician to leave behind.
Here are some memories of Jamison from the musicians who knew him, or wished they had.
Robin Beck: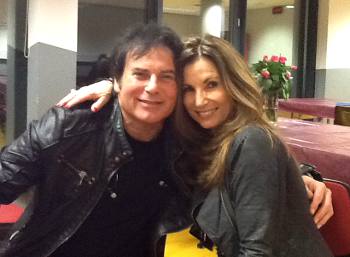 Jimi was like a song I heard in my youth but forgot I knew until I heard it again. When the words start to come back to you and you get that warm and fuzzy feeling that everything is good and you're safe—he had a way of making you feel loved and instantly accepted. Jimi was a very down to earth country boy.
Jimi Jamison reminded me that most things in life have a punch line. We laughed so hard sometimes it hurt. Funniest guy I ever met and didn't have to be lewd to get a laugh either. That's rare.
I could say a million things about Jimi and how he was the bright spot in my day, but it wouldn't even come close to how it felt to work side by side with the man. It was comedy on steroids all the time, on and off stage.
When we did the Rock Meets Classic Tour in 2012, I followed him in the lineup. Jimi would open the show and I would be back stage with my in-ears soaking up all of his confidence and groovin' to his banter. One night I heard him making fun of me in his introduction to a song that wasn't particularly a sad one—making believe he was crying!
For those of you who may have seen me while singing "Tears in the Rain," you may have heard me also say this song just breaks me when I sing it, so if I cry please don't mind. I remember being in a deep trance listening to Jimi talking between songs and then when I heard him getting all choked up (fake) I ran out to the side of the stage and caught his eye with my hand on my hips. I stood there and just smiled and he stuck his tongue out at me. Well, I don't need to tell you that I can't cry over the song anymore—only the fact that Jimi reminded me once again that there was a punch line coming. I'll always remember him for that moment in time.
But my favorite memory of Jimi will always be his terrific knack for telling stories about his son from when he was really young and how he called his recording studio "The Daddio," or complained, "Daddy, mama won't let me swing the cat" in his southern drawl.
I frequently tried to match his humor and was always ready to be put to the test. Jimi had to always check his pocket when I was around—quite often he would find an egg inside. It became a standing joke between us.
But my last dance with Jimi was in a freezing cold airport parking lot on the last night of our tour. Jimi was just a little impatient while waiting for our tour manager to get a cart for our bags and me. Feeling the same, I followed him out to the car like an idiot—then we both heard the click of the door locks LOL. We were in sub zero temperature without coats! Oh well, I got to snuggle with "The King" in order to survive the freezing cold for about 20 minutes. I guess that officially makes me a Survivor :-).


James Christian, House of Lords: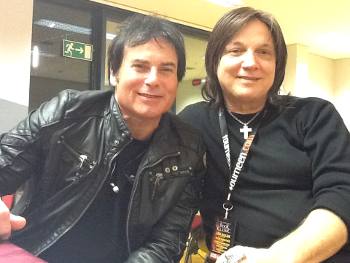 When I first met Jimi, I was on my way to the Porche Arena in Stuttgart, Germany going to see my wife Robin Beck's performance. Jimi was also performing that evening. I was going in and Jimi was coming out. I introduced myself and said, "Hi Jimi, I'm James Christian." He says in his southern drawl, "Yeah, I know who you are." From then and there, it was an instant friendship. I liked everything about his personally. If Elvis were reincarnated into a rock singer, he would be Jimi Jamison. I swear the guy sounded just like Elvis when he spoke. My wife Robin was very close with Jimi as well. While on the road with "Rock Meets Classic," he could make a whole tour bus filled with tired musicians burst into laughter whenever he wanted. Robin and I will miss him dearly."


Marcie Free, Unruly Child:
Dear Jimi, I am so sorry that you and I never had the opportunity to meet you properly and to get to know one another. It was evident that our paths were on the same course as it seemed I was always meeting people who in the past worked with you, and after your star began to rise, mine slowly followed.
If we would've had time to sit down and talk, I would've told you how much I admire your superb talent. How jealous I was of you as you sang hit after hit with Survivor. How much I LOVED and still love how you performed the song "Popular Girl." How much it affected me when I listened over and over—many times bringing tears from my eyes and an aching in my soul feeling as if my heart was breaking.
I will miss you Jimi. I hope you save me a spot up there so when I get there we will have more time to get to know each other. Be at peace dear and give 'em hell in the heavens choir!
With much love & admiration,
Marcie
xxxxxoo


Tony Harnell, TNT:
I didn't know Jimi, but like everyone else was very sad to hear of his passing. I remember hearing "The Search is Over" a lot on the radio in the '80s when it was a big hit and always loved his voice a lot. I have heard through friends he was a really nice guy as well. Another sad loss for music and way too young.


Ron Keel:
Jimi was a true singer's singer – a prime example that the voice comes from the heart. And a super nice man was behind the music; I highly recommend that everyone listen to Jimi's most recent solo album Never Too Late and always remember his contribution to music in general and commercial hard rock in particular.


Chandler Mogel, Outloud:
"High On You" was one of my favorites. Long live Jimi! A legendary singer gone way too early. R.I.P. Jimi!


Vic Rivera, Adriangale: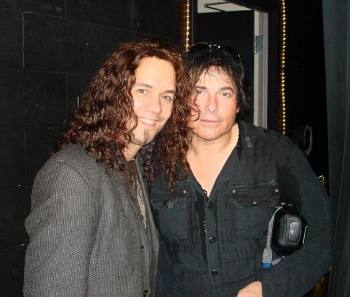 I first met Jimi at the very first Melodicrock Fest at the Morris Performing Arts Center in South Bend, Indiana back in 2007. He was a special guest of Scrap Metal and I was opening the day with the Melodicrock All-Stars. We established an immediate rapport and he was just so incredibly friendly that it was easy to forget I was speaking to one of the most iconic singers from the melodic rock era. We talked about everything under the sun, and he was just so bloody nice. We exchanged emails and phone numbers and managed to stay in touch from time to time over the next few years.
We next saw each other at Melodicrock Fest 2 at the Road House in Elgin, Illinois in May of 2010. We played back to back sets—Jimi solo, myself with my former partner Ted Poley—and after my set with Poley, I managed to spend a good amount of face time with Jimi and we caught up quite a bit. Later that year we were both at Firefest 7 in Nottingham, England—me as a spectator this time around, Jimi as one of the performers. We shared a transport together from London Heathrow and, while catching up again, we first discussed possibly doing some writing together, which for me would have been an unbelievable privilege, and that Jimi thought enough of me to even consider it was extremely humbling.
I last saw him when we were, once again, sharing the bill last year at Melodicrock Fest 3 in Arlington Heights, Illinois. Immediate hugs and catching up, enjoying each other's company and once again discussing the possibility of writing together when schedules were mutually convenient. He seemed fairly excited about the possibility and I was of course amazed that he thought enough of me to keep it in his head that he wanted to work with me! But simply hanging with him as a friend, talking about our families and kids and everything else in life, was more important to me than anything else.
He was a singular, instantly identifiable singer who was world renowned for his talent and body of work—and he was a major influence of mine going back to high school. But above all else, Jimi was a gentle, sweet, sincere man who made an impact on me with his genuine and humble nature. I am sad beyond further words that he is gone, except to say that I count myself lucky to have known him and am thankful to have called him my friend. May you rest in peace, brother Jimi—you will be missed.


Deb Rao, Senior Columnist at Hardrock Haven
I am so sad to learn of the passing of the great Jimi Jamison. He was such a talent and had the voice of an angel. The last time that I had seen Jimi perform was in 2009 at the Wolf Den in Ct. He joined the Nelsons, lead singer of Vixen, and Jani Lane onstage for a special show. Jimi had one of the most amazing voices in rock. He was a great performer that will truly be missed. His solo CD Crossroads Moment is a work of art. I listened to the CD on my way cross country to Las Vegas. R.I.P. Jimi, you will be missed.


Thank you to all the contributing musicians for sharing their personal memories and anecdotes about Jimi Jamison. Jimi, you will be missed and your musical legacy will keep us high on you!
Jimi Jamison official website: http://www.jimijamison.com/