Alex Grossi Talks Hookers & Blow
by Deb Rao
– Senior Columnist —
Hookers & Blow, the band featuring Guns N' Roses keyboardist Dizzy Reed and Quiet Riot guitarist Alex Grossi celebrated its 10th Anniversary September 5th at The Whisky A Go Go in Hollywood and September 6th at Count's Vamped in Las Vegas, NV. Rounding out the Hookers & Blow line-up are will bassist Mike Duda (W.A.S.P., Hotel Diablo) and drummer Johnny Kelly (Type O Negative, Danzig).
Guitarist Alex Grossi talks with Hardrock Haven about the band.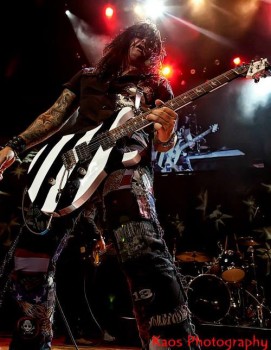 HRH: Alex, it was great seeing you perform again with Hookers & Blow in Vegas. Now the band is celebrating their 10th Anniversary. Tell us a little about the history of the band and who is in the band these days?
Alex: Thanks Deb, we have had MANY players in and out of HN'B over the years, thankfully, we have settled on the line-up of obviously Dizzy Reed and myself, as well as Ace Frehely drummer Matt Starr (who is about to leave us for Mr. Big) and bassist Mike Duda (W.A.S.P) – who I also have worked very closely with over the years, including our side project "HOTEL DIABLO."
HRH: What are some of your favorite highlights that stand out in your mind from touring with Hookers & Blow over the years?
Alex: There is no one "Highlight" – I think the fact that Dizzy and I have managed to build this concept into a "brand" is a highlight in of itself, ya know? … We have literally toured the globe and made HOOKERS & BLOW into something that it really should have never been in the first place – a legitimate band that does real shows for real money … LOL.
HRH: Now surviving 10 years in the music industry is no easy with Hookers & Blow being comprised of some of the top musicians in the industry. What do you attribute the success of the band to?
Alex: The fact that we don't play too often or take the whole "Members of" thing too seriously has been the key to this thing working. We have never made a HOOKERS & BLOW record, nor do we intend to. So many guys throw together these "All Star" bands, make records and merch, followed by the usual internet hype … then no one gives a fuck, and it is over before it started. Many barely ever make it past show #2.
As far as these types of bands go, just go have fun with it, be creative and make great music – but save your game face for your "day job" band. Dizzy and I are both very lucky to have steady bands that we work with, so it gives HN'B a small window to function and work when we can, but we aren't putting all of our eggs (or blow) in one basket…; ).
HRH: How has the music scene changed in Los Angeles since the heyday of the band?
Alex: We had a heyday?
HRH: I can remember seeing the band for the first time in Worcester. One thing I loved about the band is the fun that you put back in music. The selections of the songs are great. Now the members have a penchant for classic rock. Would you agree? The personalities of the band really mesh well together.
Alex: We just play what we all like – If the band is having fun, so will the crowd … we try to make it a party and not take it to seriously.
HRH: Hookers & Blow is returning to the East Coast for a trek of dates. When does the tour commence and who will be in the band for the East Coast run?
Alex: With this being our Tenth Anniversary (2004-2014), we wanted to step it up a bit by adding our long time friend and supporter Don Jamieson on to the bill doing his comedy thing and sort of hosting the night to make it more of an "event." We also have our buddy Johnny Kelly (TYPE O NEGATIVE/DANZIG) on drums, so that will be a blast. The whole thing kicks off on Oct. 9 in Buffalo N.Y. We are also hitting Canada for the first time on this next run, should be interesting!
HRH: Alex, you are fast becoming one of the most sought after guitarists in the business today. You also perform with the mighty Quiet Riot. Tell us about how QR 2014 is going.
Alex: QUIET RIOT has been beyond busy this year, I think we have been out touring pretty much every weekend since May as I type this, with more coming up in the fall we also just released a new record w/ Jizzy Pearl on vocals. I think we finally got it right with Jizzy and I am very proud of the record (QUIET RIOT 10) we did with him. I think with Jizzy we now have a guy that is "one of us" on a musical level as opposed to someone we plucked out of obscurity.
I never take for granted that I get to step on stage a play those iconic, era-defining songs with Frankie Banali and Chuck Wright every night, who are arguably one of the best rhythm sections of the genre, and neither does he – there is definitely a synergy between this line-up that had been lacking in the previous – none of us take it lightly and we all treat the QR legacy with the respect it deserves.

[QUIET RIOT "10" OFFICIAL ALBUM PROMO]
HRH: I can remember conducting an interview with the late great Kevin Dubrow. He always commented to me that you reminded him of a young Randy Rhoads. What is your fondest memory of performing with Kevin? He was such a great musician and class act
Alex: There are so many great KD memories – I can't even begin to pick just one… his amazing (sometimes quite twisted) sense of humor is missed often!
HRH: Alex, thank you for taking time out for the interview. Is there anything else that you would like to add?
Alex: Thanks Deb ! y'all can stay in touch here at http://www.alexgrossimusic.com/.
Tour:
10/9 – BACKSTAGE – HOOKERS & BLOW – CHEEKTOWAGA, NY (Alex Grossi & Dizzy Reed only)
10/10 – OBSESSION'S – HOOKERS & BLOW – OTTAWA, CANANDA (Alex Grossi & Dizzy Reed only)
10/11 – THE ROCKPILE WEST – HOOKERS & BLOW – TORONTO, CANADA (Alex Grossi & Dizzy Reed only)
10/14 – THE BOWERY ELECTRIC – HOOKERS & BLOW – NEW YORK, NY w/ *ROCK N' COMEDY SHOW w/ Don Jamieson
10/15 – THE LUCKY DOG MUSIC HALL – HOOKERS & BLOW – WORCESTER, MA -*ROCK N' COMEDY SHOW w/ Don Jamieson
10/16 – 1150 OAK BAR AND GRILL – HOOKERS & BLOW – CRANSTON, RI -*ROCK N' COMEDY SHOW w/ Don Jamieson
10/17 – THE LEGENDARY DOBBS CONCERT HALL – HOOKERS & BLOW – PHILADELPHIA, PA -*ROCK N' COMEDY SHOW w/ Don Jamieson
10/18 – THE FISH HEAD CANTINA – HALETHORPE, MD – HOOKERS & BLOW – *ROCK N' COMEDY SHOW w/ Don Jamieson
10/19 – MEXICALI LIVE – TEANECK, NJ – HOOKERS & BLOW – *ROCK N' COMEDY SHOW w/ Don Jamieson