Livio Gravini of Joined Forces
by Alex Smith-Barbieri
– Senior Columnist —
Livio Gravini is a singer's singer; classically trained, but with all the whisky-throat and she-left-me heartache that makes listening to Robert Plant, Paul Rogers, David Coverdale and other greats so visceral. When Livio sings, you don't just hear it—you feel it.
New England rockers will know Livio from Joined Forces, the hard rock band he's fronted for two decades with guitarist Jimi Bell of House of Lords. When Joined Forces reunited after 20 years in 2010, they played to a sold-out crowd in Hartford, Conn., and simultaneously landed a record deal with retro rock label, Retrospect Records.
Summer 2014 has been busy for Livio, who is finishing up writing and recording his first solo CD, entitled No More Secrets. The project has been building buzz worldwide, thanks to social media and Livio's campaign on INDIEGOGO, a Kickstarter-type website to help him raise funds to pay for the top-notch musicians and studio he's using.
But enough background: pour a drink and have a seat and let's have a chat with Livio.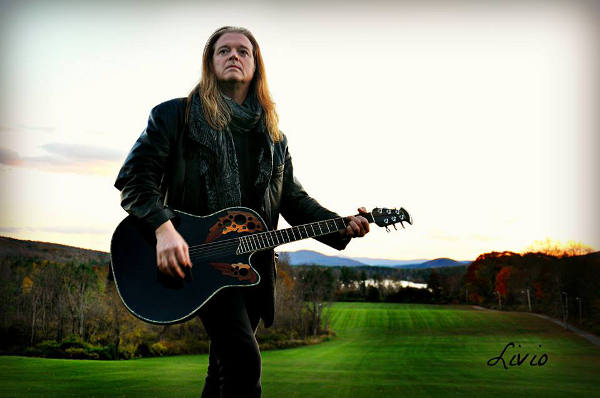 HRH: Livio, you've been posting on Facebook about your first upcoming solo CD, No More Secrets, and it's obvious you're excited—please tell us about it!
LG: Well … first of all I'm very excited and grateful to be in the position to do this. I've successfully collaborated with other musicians for many years, and wrote for myself at the same time too. I have many sides to my writing. Sometimes it's all about the heartfelt ballads, other times it's about bringing the listeners on a musical journey, and then there's the straight up rock 'n roll! Throw in some blues, a hot classic cover, and you've got my CD in a nutshell! I'm very excited!
HRH: Explain the INDIEGOGO campaign. Where is the money going, and what will fans get out of it by donating?
LG: Indiegogo is a crowd funding website, where artists and musicians can reach out for support. It fills a void that record companies are no longer filling. There are some major and obvious costs to recording, and crowd funding helps to bring the dreams to reality. The money is going to the recording, production, and packaging of a world-class CD. The campaign makes it fun by allowing the donator to pick a perk, so to speak. Different perks are set up for different amounts of donation. It can start with an autographed CD, or even a personal performance at the venue of the donator's choice. I find the pre-ordering of CDs has helped the anticipation, which in turn makes us work very diligently to put out a primo product!
HRH: You've been singing in bands a long time. Who are some of your vocal and musical influences, and do you enjoy it more now than back in the past? Do you think you're a better singer and songwriter as well?
LG: I have plenty of vocal and musical influences. All the generations of rock 'n roll had an influence on me. From its roots, all the way to heavy metal. It's hard to name all the singers that had an effect on my style. My father listened to romantic Italian love songs and classic American standards. When I started finding my own influences, any rock, blues, or soul singer with style and emotion, did it for me! They all have a home somewhere in my heart! You ask if I enjoy my career more now, or in the past, and thinking on that, I'd say, it's been the same throughout the years. I just love what I do, and feel very grateful that I can still do it. Many of my influences from years ago are still out there singing, playing, writing, etc. And I'm just as excited hearing them now, as I did back then. I believe time matures an artist. It would be an honor to fit into that category!
HRH: You're a classically trained singer, and been a vocal instructor for more than 30 years. For all the rock singers out there, what are the keys to keeping the voice in shape?
LG: Leading a good clean life! Ha! I'm trying to be funny, but it's true. Singers are athletes. Take care of the body, and it'll take care of you. I also like giving voice lessons, because it's a constant reminder to me as well. The giving turns into receiving.
HRH: Looking back at live shows, what have been some highlights—with who, and why?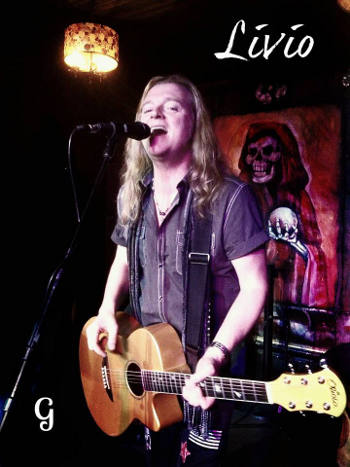 LG: To start with, I'd say the Joined Forces days with Jimi Bell were pure magic. It's been a gift, and an absolute pleasure to collaborate with that guy! Standing onstage and rocking a crowd with Jimi is like going to battle—and winning—winning big! Other highlights that come to mind are the shows I did with former Boston members, Barry Goudreau, and Sib Hashian! What else can I say? Those guys are the real deal, and it's very humbling to share the stage with American rock royalty.
HRH: You also sing in a Led Zeppelin tribute band, American Zeppelin. What's that like?
LG: American Zeppelin is a true live Led Zeppelin experience. It has all the spontaneity and excitement of a classic Zep show. We sometimes find ourselves playing for three hours or more. Once we get started, it's hard to stop. It doesn't feel as much like a tribute show, but more like reminding an audience that this badass stuff actually ruled the land for many years. Amazing music! … Just amazing!
HRH: Imagine you could assemble your dream band, with you as singer. Who else would be in the band, alive or dead?
LG: Hmm … Could it be a different band every night? Cause I've got a lot of people to get to! I had a band in my early days called Justin. Two guys in that band are no longer with us, and I'd love to be on stage one more time with Brian Fellows, and Dave Walcott. That would be cool! The next night, I'd like to be in the studio with the Beatles, then the Rolling Stones, etc. My influences run pretty deep, and wide, so BB King and Jimmy Page might lead to Badfinger and the Temptations! I think I just wanna jam with everyone! Would that be too much to ask?
HRH: What's a typical day in the life of Livio like at home? What else do you do besides music?
LG: A typical day in the life of Livio is … family! A little over a year ago, even in a crowded room, I felt lonely. Then I met my soul mate Lisa, and started to realize how full life can really be. With Lisa, came a family, and my world has changed forever. Nowadays, my typical day includes, music, laughter, crying, spilled beverages, fixing broken toys, and kissing lots of boo-boos! Oh… And let's not forget, Lisa's great cooking! I eat like a king on daily basis! My new family inspires me creatively, and I've rediscovered the youthful motivation in myself. Life is good!
HRH: What is the best and worst aspect of a life in music?
LG: I think some of the best aspects of a life in music, are not dwelling on the bad aspects! This business isn't always easy. I get it, and I've lived it, but ultimately, the universe takes care of its own. You get what you give. It's the same with anything people feel passionately about. The Beatles said it right with the lyrics, "The love you make, is equal to the love you take." In the end, you've just gotta believe in yourself!
HRH: What's on your iPod and who are you listening to lately? Anyone we should check out?
LG: Yeah! Absolutely! People still make great music everywhere, all the time! Local scenes all over the country, and world, are happening as we speak. I loved the music of Black Country Communion! Talk about awesome! And I love Rival Sons, too! Great rock stuff!
HRH: What music business advice do you have for your fellow musicians?
LG: Believe in yourself … and whatever you do, keep an open mind! It's surprising how many closed minded people are just waiting for the opportunity to tell you, it can't be done! Listen to your inner spirit. Believe in something and watch what happens! Nuff said!!!
HRH: Any upcoming shows you want to promote?
LG: American Zeppelin is doing a big tribute show with other tributes, at the hippodrome in Springfield, Mass. on Oct. 18. I'm also putting together a band to perform the songs on my upcoming CD. I'm very excited about getting back on the original circuit again! And I'm always doing acoustic shows! I'll never get tired of that!
HRH: Are there any other projects or charities you're involved in you'd like to talk about?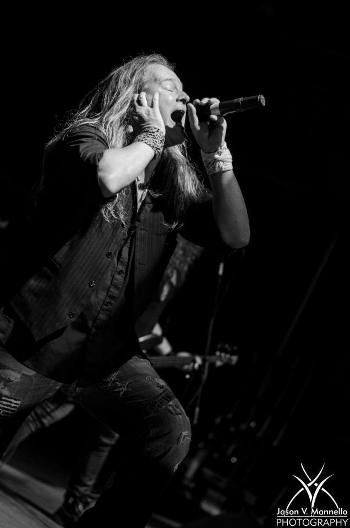 LG: I teach at a rock camp for kids every July in the Berkshires of Massachusetts. It's called "Rock On" and the students are talented and motivated! It feels great to pay it forward too. I also sing in a band with quarterback Doug Flutie. It's called The Flutie brothers, and I've performed with him to raise awareness and charity for autism. Jimi Bell and I were recently invited to judge a youth band competition called "Music Speaks," and it gives musically gifted children opportunities for exposure in this very challenging music industry.
HRH: Is there anything else you want to say to your fans, and Hardrock Haven readers around the world?
LG: You know, I've been gifted with abilities in this field, and it isn't always sunshine and roses. I've made some bad choices along the way. I started with all my hopes and dreams right at the end of my fingertips. Somewhere along the way, the hopes and dreams got lost, and I found myself in dark places for more years than I'd like to admit. It took some real life changing events to set me back on the right path. I've been humbled, and I feel blessed to be at this point in my life. My songs reflect a lifetime of learning, and I can't wait to share it with the world!
HRH: Livio, thank you again for talking with us, and all the best on your new CD!
LG: Well Alex, I want to thank you, and Hardrock Haven, for giving artists like myself an opportunity to showcase our original music. It's hard work to reach the people that are inspired by what we do, and because of you and this wonderful magazine, you've helped to bring my dreams a little closer to reality.
Once again, thank you Alex, and thanks to all the people who took the time to read this interview! Please pre-order a CD at http://igg.me/at/liviogravini, or email me personally at liviomusic@yahoo.com , and I'll send you information on how you can donate or purchase a perk! You guys ROCK!
Learn about and contribute to the recording of Livio's new CD, No More Secrets.
https://www.indiegogo.com/projects/livio-gravini-1st-solo-release-no-more-secrets
Friend Livio on Facebook: https://www.facebook.com/liviogravini