LIVE! | Count's 77 with Tesla's Frank Hannon
by Deb Rao
– Senior Columnist —
September 20th, 2014 at Vamp'd in Las Vegas, NV. —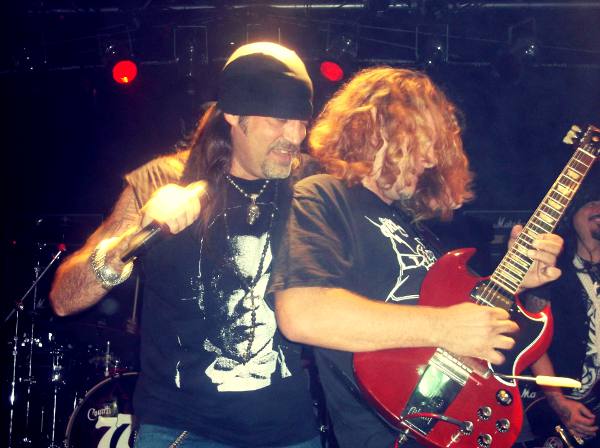 Every once in awhile the stars align to give classic rock music fans an epic night of rock and roll. On Saturday Sept. 20 the night kicked off with Tesla at The Eastside Cannery. It has been way too long since I have seen Tesla perform. Tonight the band reaffirmed that they are still one of the best bands around. Tesla played all the classic hits including "Signs" and "Love Song." Jeff Keith's vocals were crystal clear. Guitarist Frank Hannon stole the show with his impressive guitar shredding.
The band played two songs off of their new album Simplicity. Jeff Keith commented, "Tesla is no bells and whistles. Just pure rock plain and simple." In 2014, Tesla proves that they are in the now. The band's excellent music has defined their impressive career. In attendance were local rock celebrities, Jerry Dixon from Warrant, Stacey Blades, and Jaime St. James.
The night didn't end at The Eastside Cannery. Fans rushed over to Vamp'd to see Tesla guitarist Frank Hannon perform with Count's 77 featuring Danny Koker of the TV hit show Counting Cars and owner of Vamp'd. Count's 77 have a huge classic rock sound. The band just wrapped up an East Coast trek in support of their latest release Count 77 on Shrapnel Records.
Count's 77 opened the night with some Led Zeppelin and Aerosmith's "Train Kept A Rollin." The band also performed new song "Good Boy." They remind me of the Allman Brothers meets Foghat. Tonight the set was all about the jams. Guitarist John Zito and guitarist Stoney Curtis traded off guitar riffs. John was really impressive with his bluesy style.
The moment we all were waiting for finally arrived. Frank Hannon of Tesla joined the band onstage for "Good Times" by Led Zep, "Gamblin Man", and Foghat's "Slow Ride." Frank burned the strings on his red Gibson. All eyes were on the pyrotechnics that exploded as Frank showed Vamp'd this is how we rock Vamp'd style. Singer Danny Koker is a great front man. Actually, one of my favorite songs was "Chevy Van." This showed the melodic bluesy style of his voice.
The music did all the talking. Classic rock fans rejoiced at all the great impromptu moments that unveiled right before our eyes. It is not often that majestic musical nights like this occur. Tonight the musical expertise was explosive as musical guest Frank Hannon and Count's 77 rocked the house! It is nights like this that make the music scene of Las Vegas so special. Be sure to check out all the upcoming shows at www.vampdvegas.com.
Frank Hannon online: www.facebook.com/frankhannonband
Count's 77 online: http://www.facebook.com/counts77