by Deb Rao
– Senior Columnist —
September 6th, 2014 at Vamp'd in Las Vegas, NV. —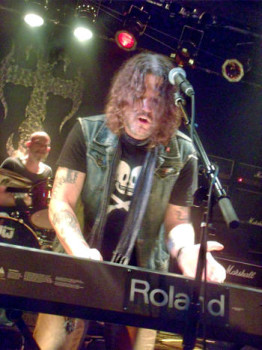 Hookers & Blow is celebrating their 10th Anniversary and performed a special show at Vamp'd on Sept. 6. One great thing about this band is that they really bring the party to the people. Comprised of top notch musicians including guitarist Alex Grossi of Quiet Riot, Dizzy Reed on keyboards of GNR, Mike Duda on bass, and Matt Starr on drums.
Hookers & Blow got the party started at 11 P.M. for a 90-minute set of classic rock hits. They opened the show with "Pretty Tied Up." The set list consisted of many GNR songs including ""It's So Easy," "Don't Cry" and "Patience." Keyboard player Dizzy Reed tickled the ivories on "Bad Obsession."
Guitarist Alex Grossi showcased his talent of guitar shredding on all of the songs. Alex has a definite rock style all his own. He breathed new life into these classic rock hits. It was plain to see the band was there to jam and have a good time.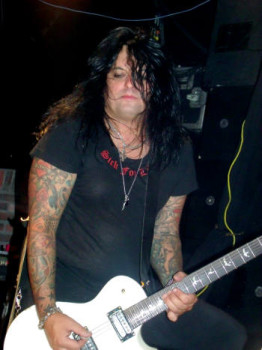 Hookers & Blow is known for their special guest stars. Tonight Jeff Duncan of Odin joined them onstage for one song "Sin City." Throughout the years, I have seen the band perform on the East Coast. The band has developed into one of the most entertaining bands in the industry. The members are all noted musicians and love to get together and perform on an off day from their main bands. Dizzy Reed is also currently in the Dead Daisies plus GNR.
Anyone who knows Dizzy is aware of his penchant for The Rolling Stones. It seemed only fitting that the band end the set with "Sympathy For The Devil." Hookers & Blow will be touring the East Coast soon.
For tour dates visit http://www.alexgrossimusic.com/.
Set List:
Pretty Tied Up
Dust 'N' Bones
It's So Easy
Don't Cry
Used To Love Her
Your Crazy
Bad Obsession
Helter Skelter
Patience
Ziggy Stardust
Trampled Underfoot
Saturday Night Is Alright
Nice Boys
Sympathy For The Devil