by Deb Rao
– Senior Columnist —
September 5th, 2014 at Vamp'd in Las Vegas, NV. —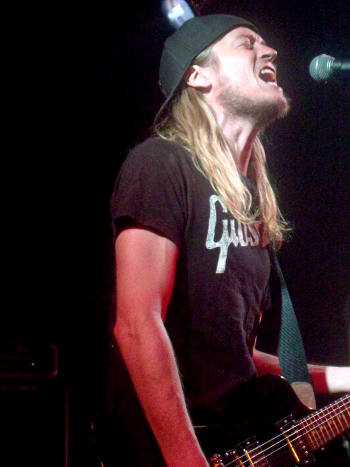 Puddle Of Mudd made a return appearance to Las Vegas for a sold out show at Vamp'd on Sept. 5. The last time I had seen the band was at Fremont Street Experience outdoors in front of 20,000 people. So tonight I was excited to see the band in this up close and personal venue.
Puddle Of Mudd hit the stage at 11:30 p.m. for an hour set. The band seemed to have new members from the last time I had seen them with singer Wes Scantlin fronting the band. Wes reminds me a lot of the singer from Nirvana. The style of the music that they play also is very reminiscent of the Seattle grunge scene.
Puddle Of Mudd opened with the popular "Control." Since the line-up was new, they adjusted the set of songs. A crowd favorite was "Stoned." It was great to see Wes rocking the young grunge crowd.
The band played a lot of the hits including "Psycho" and "She Hates Me." The only song that I really missed that they didn't play was "Spaceship." The band returned to the stage for encore "Blurry." It was really cool to see Wes sit on the edge of the stage and let the fans sing the song, as he handed them the microphone. It was another fun night at Vamp'd and hopefully Puddle Of Mudd will return soon. After the show Wes and the members of the band greeted fans.
Set List:
Control
Out Of My Head
Stoned
Living On Borrowed Time
Already Gone
Psycho
She Hates Me
Blurry