by Justin Gaines
– Senior Columnist/News Editor —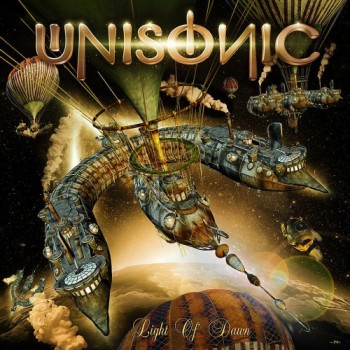 German melodic/power metal supergroup Unisonic is back with their second full-length album, titled Light of Dawn. Unisonic of course features bassist Dennis Ward (Pink Cream 69), drummer Kosta Zafiriou (ex-Pink Cream 69), and guitarist Mandy Meyer (Krokus). Oh, and the band features the reunited former Helloween legends Michael Kiske and Kai Hansen, which is kind of a big deal. It's been two years since the self-titled Unisonic debut, which didn't quite live up to expectations. Now we get to see if Kiske and Hansen can capture some of the magic they had so many years ago.
OK, let's get this out of the way early. Light of Dawn is not Keeper of the Seven Keys redux, nor does it sound like vintage Helloween. Unisonic, being more or less an extension of Kiske's AOR project Place Vendome, is more melodic hard rock/metal than power metal (though it does have some powerful moments). This is, however, a stronger and more memorable album overall than the debut. Hansen and Meyer serve up some infectious melodies here, and Kiske is in prime shape. And yes, when he unleashes that signature vibrato on songs like "Your Time Has Come" and "For the Kingdom," you are going to have some giddy Helloween flashback moments. Elsewhere we see some very Pink Cream 69-style hard rockers, like "Not Gonna Take Anymore" and "When the Deed Is Done."
Light of Dawn is a much more satisfying album than the Unisonic debut, but even then it still feels like this band is not living up to their potential. Even if they're not trying to recreate the old Helloween sound, the players involved should be making completely unforgettable melodic metal albums, and Light of Dawn, good as it is, doesn't hit that mark.
If you're a fan of any of the players involved, you really do need to pick this one up. Light of Dawn is a very solid melodic metal album with first class musicianship and vocals. It's not vintage Helloween, but hey, what is? There's plenty here for melodic metal fans to enjoy, and any chance you get to hear Michael Kiske and Kai Hansen collaborate should not be passed by.
Genre: Melodic Metal, Melodic Hard Rock
Band:
Dennis Ward (b)
Kai Hansen (g)
Mandy Meyer (g)
Michael Kiske (v)
Kosta Zafirious (d)
Track Listing:
1. Venite 2.0
2. Your Time Has Come
3. Exceptional
4. For the Kingdom
5. Not Gonna Take Anymore
6. Night of the Long Knives
7. Find Shelter
8. Blood
9. When the Deed Is Done
10. Throne of the Dawn
11. Manhunter
12. You and I
Label: Ear
Website: www.unisonic.de
Hardrock Haven rating: 8/10