by Justin Gaines
– Senior Columnist/News Editor —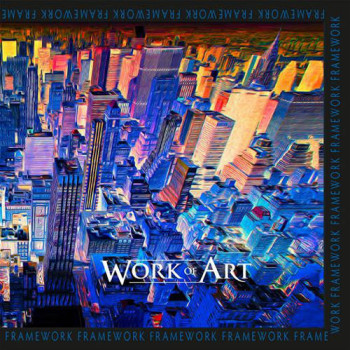 There has been a resurgence in recent years of Toto-inspired AOR. Bands like Sonic Station, Lionville and Houston have all done well revisiting that classic sound, but the unquestioned leader of the new AOR pack is Sweden's Work of Art. Their two previous albums – 2008's Artwork and 2011's In Progress – were perfect examples of Swedish AOR done right, and now they're back with a new album, titled Framework.
You wouldn't think that Work of Art could actually improve on the two polished AOR gems they've already delivered, but Framework is AOR perfection. Perhaps Robert Sall's work in W.E.T. with Erik Martensson and Jeff Scott Soto influenced his songwriting here, because Framework is a much catchier and more upbeat album. It never gets too far into rock territory, but Work of Art sure puts an electricity into their Toto worship this time around that often recalls classic Survivor. Sall delivers the hooks and utterly irresistible melodies, and vocalist Lars Safsund makes the songs absolutely soar. This guy's voice is pure silk, and is absolutely perfect for this kind of melodic rock.
Calling out highlights of this album is almost pointless, because every single song on Framework is so damned perfect. Still, this being the age of Spotify and YouTube, if you want to sample before buying the first single "The Machine" ought to convince you. Leadoff track "Time To Let Go" and "How Do You Sleep at Night" should seal the deal as well. Honestly though, you could pick any song at random and still find your jaw dropping at the AOR genius Work of Art has on display here.
Framework is now the gold standard that every other modern AOR album will be judged by. It is the best thing we've heard from Work of Art to date, and a definite contender for any melodic rock fan's "best of 2014" list. Whether your tastes run to the classic AOR of Toto, Journey and Survivor or the newer sounds of Lionville and Mecca, Framework is a must-have album.
Genre: AOR, Melodic Rock
Band:
Lars Safsund (v)
Robert Sall (g) (k)
Herman Furin (d)
Track Listing:
Time To Let Go
How Will I Know
Shout Till You Wake Up
Can't Let Go
How Do You Sleep At Night
Over the Line
The Machine
Hold On To Love
Natalie
The Turning Point
My Waking Dream
Label: Frontiers Records
Website: www.facebook.com/musicofworkofart
Hardrock Haven rating: 9.5/10