Bulletrain | Start Talking
by Alexandra Mrozowska
– Senior Columnist —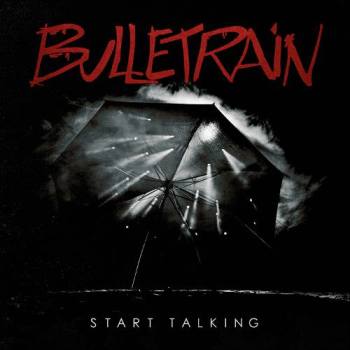 Never judge a book by its cover, the wise men say – and they couldn't be all wrong, could they? Upon the first look at the album cover of Bulletrain's Start Talking, you see a black-and-white photo that portrays a really strange case of an everyday accessory one uses for protection against rain. And then you start to wonder – is Bulletrain one of those bands whose music is laden with the symbolic meanings and underlying contents, one the listener has to think really hard to understand? But if you're not into sublime messages and complicated symbols, don't worry; a wicked (or simply holey) umbrella has nothing to do with what you'll hear once Start Talking is given a spin. If you want to be given a clue, it's the band's off-hand logo says a lot more about the music they play. It's nonchalant. It's rough. It's sharp. It has exactly the same qualities as the recorded material these talented Swedes are about to release in October 2014 via AOR Heaven.
The first track on the above album, entitled "Nothin' But Trouble", introduces you to Bulletrain's refreshing mix of contemporary sleaze rock and slightly punk rock-ish feistiness – kind of LA-Guns-meets-The-Ramones-meets-Cräshdiet, nonchalant and energetic. "All For One" and "Dark Days (Dark Nights)" continue in a similar manner, noisy rock'n'roll pieces with sleazy flavors. The first seconds into "From The Bottom Of My Heart", you may have an impression you've just come across a vintage country song recorded in mono on a scratchy vinyl, but don't be fooled as it's the very same track Bulletrain get really heavy in sound-wise. Its title is perhaps a bit misleading, too, so you'd better avoid making it a soundtrack to the romantic dinner for two!
"Even With My Eyes Closed" is a neat mid-tempo that gravitates toward more mellow side of things – think more radio-friendly moments of Cräshdiet or more melodic endeavors of pop punk bands. Perhaps Reckless Love wouldn't hesitate to include such a track on one of their albums, too … all the comparisons aside, next is the raw-sounding, straight-in-your-face title track that's a result of "mixed" heritage if there was one – Def Leppard's "Pour Some Sugar On Me" against Appetite For Destruction era Guns N'Roses. And speaking of the latter band, fiery punk-ish riffs in "Out Of Control" are much Appetite-flavored, too, not even to mention Bulletrain's singer Sebbe (Sebastian Sundberg) sounding as aggressive as Axl Rose once did (and now he only wishes he could).
"Phantom Pain" is a melodic mid-tempo that has some certain quality of radio-friendliness to it, especially its slightly poppy choruses heavily contrasted with the blistering guitar solo that is definitely of the old school of six string playing. Another interesting contrast is that in "Bad Blood (Out Of Love)", mellow and acoustic-driven verses against strong, hooky choruses. "Dicing With Death" is a short and energy-laden track driven with some furious fast-paced riffs, preceding "Take Me To The Sun" there's nothing bad to say about except for the fact it kind of follows the same scheme the majority of tracks on the album do. With "Joanna's Secret" being no different, too, there's a danger of Bulletrain getting more and more repetitive one song after another – and that is perhaps the only disadvantage to their music, even though it's well-performed and full of energy.
Bulletrain's debut Start Talking is a good album in many respects, as it brings a solid and generous dose of straightforward, raw rock'n'roll with some punk-ish influences here and there, spiced up a bit with the guitar-laden heavy metal sound. It's loud, proud and noisy, raw and thus authentic, and laden with the incredible amount of the inexhaustible energy. However, with one song awfully similar to another, the formula soon starts to wear out – the band's first effort being therefore full of potential, but also screaming for more diversity music-wise. Let's hope the talented Swedes will introduce more versatility to their repertoire with what will be the follow-up to Start Talking, this one nevertheless being a good start. On the other hand, isn't that our beloved AC/DC is guilty of exactly the same "crime" since more or less 40 years? And still, if you're into fun, noisy sleaze rock with some touches of heavy and a certain degree of radio-friendliness, you may catch yourself thinking it's not really revelatory what the Swedish band presents, too, but you'll dig it anyway.
Genre: Hard Rock
Band:
Sebbe – Vocals
Matt – Lead Guitar
Robin – Rhythm Guitar
Jonas – Drums
Niklas – Bass
Track List:
1. Nothing But Trouble
2. All For One
3. Dark Days (Dark Nights)
4. From The Bottom Of My Heart
5. Even With My Eyes Closed
6. Start Talking
7. Out Of Control
8. Phantom Pain
9. Bad Blood (Out Of Love)
10. Dicing With Death
11. Take Me To The Sun
12. Joanna's Secret
Label: AOR Heaven
Website: http://www.bulletrain.org/ – https://www.facebook.com/BULLETRAIN
Hardrock Haven rating: 7/10