Corevalay | This Beautiful Ride
by Joe Mis
– Senior Columnist —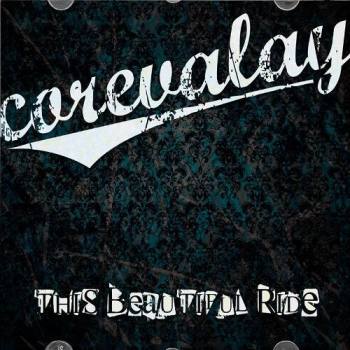 From out of the wilds of northern New Jersey comes Corevalay, bringing with them an interesting musical mix of hard rock, metal, pop, and hip-hop. Laying down 10 diverse tracks on their debut release entitled This Beautiful Ride, they should have broad appeal. Corevalay cites the influences of Deftones, Staind, Alice in Chains, Linkin Park, Breaking Benjamin, Three Days Grace, and Rage Against the Machine.
Formed by Gerald Vitale, Corevalay originally consisted of Vitale (guitars, lead vocals), and co-lead vocalist Phil Barbetta. Barbetta and Vitale began to write original music, tracks that allow their contrasting vocal styles play off the other very well, and display their huge range of influences. They soon joined with guitarist Jason Tremper and the trio recorded their debut CD, This Beautiful Ride. They later recruited drummer Mike Dawson and bassist AJ to complete their live band lineup.
A gritty guitar and bass groove drive the alternative sounding opener, "Drowning." The vocals are very strong and clear, working well with the bottom-end heavy mix on the track. "Say Goodbye" has a powerful bass line and continues on with deep Nickelback-style vocals. Rap-metal makes an appearance on "This Beautiful Ride," giving the tune an Eminem-meets-NickelBack feel. While the delivery is a bit odd, the lyrics show the songwriting strengths of the band. "Worthless" opens with a touch of electronica, and stays a slow tempo rocker with strong vocal teamwork and an outstanding guitar break. Vitale and Barbetta drift near to metalcore territory on the darker "Only A Lie."
"She Is" is a slower, ballad-esque rocker, but the band for the first time sounds a bit uncomfortable – the vocals are mixed in with too much power so what should be soft and gentle words actually come bellowing out of the speakers, and the lyrics as a whole are a bit repetitious making the song seem longer than its four and a half minute run time. Fortunately "I Am The Danger" rectifies any shortcomings as power and intensity pick right back up, delivering a Linken Park style vocal one-two combination. "Slowly" drops tempo but not intensity, and the modern rocker features a nice gurgling bass line underpinning another strong vocal delivery. "Left To Say" rolls in more hip-hop / rap-metal elements, with unfortunately predictable rap verses and rock chorus. The rap-metal element is carried off in fine style in the final track, "I Assure You We're Open" – in fact this is the heaviest and most intense song on the album. It successfully blends rap, metal, rock, and metalcore somehow into a cohesive and effective track – a real highlight.
On the whole, Corevalay shows a good deal of potential. The band seems to be most at home while performing the older style straight-up rock tunes rather than the more modern "rap-metal" tinged tracks. They need to decide which of the many genres they visit will be their primary, as not many people will respond well to such an extreme mix of styles. Too many tracks seem to settle into a consistent mid-tempo/alternative rock groove – and while they are well-delivered a few uptempo rockers or real ballads would add more interest. This Beautiful Ride is nicely recorded, and the sound remains crisp and warm throughout, although the drums sound a bit on the artificial side and the mix definitely favors the vocals.
Corevalay's This Beautiful Ride is a strong debut. While not perfect or groundbreaking, Corevalay's music is solid and should appeal to most hard rock fans. The wide mix of genres presented might be a turn off for some, but open minded music fans will find a lot to like. Corevalay is an act to watch in the future as all the raw talent and tools are present. With a touch more seasoning, Corevalay will truly rock!
Genre: Modern Hard Rock
Band:
Phil Barbetta (lead vocals)
Gerald Vitale (lead vocals, guitar)
Jason Tremper (guitar, vocals)
AJ (bass)
Mike Dawson (drums)
Track Listing:
1. Drowning
2. Say Goodbye
3. This Beautiful Ride
4. Worthless
5. Only a Lie
6. She Is
7. I Am the Danger
8. Slowly
9. Left to Say
10. I Assure You We're Open
Label: Independent
Website: http://www.corevalay.com/
Hardrock Haven rating: 7.5/10