Fatal Smile | White Trash Heroes
by Justin Gaines
– Senior Columnist —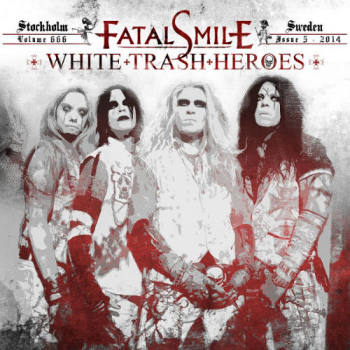 Swedish hard rock/heavy metal wrecking crew Fatal Smile returned this year with a new album, their fifth overall, titled White Trash Heroes. The hard rocking and relentlessly touring band has released a string of very impressive albums in recent years, and White Trash Heroes is no exception.
Fatal Smile has always had a sound that is tough to pin down. They're more metal than most of the Swedish "sleaze rock" bands and more rock than the pure heavy metal bands, but they share elements of both styles. Fatal Smile is to bands like Crashdiet and Reckless Love what WASP and Skid Row were to the rest of the "hair metal" scene.
With White Trash Heroes, Fatal Smile carries on the same basic sound we heard on their previous two releases with Blade on vocals (2012's 21st Century Freaks and 2008's World Domination). Catchy hooks and melodies are paired with headbanging heavy metal rhythms, and the vocals hit just the right mix of polished and aggressive. The songs are simple, heavy and rocking, and they all have choruses that are perfect for singing/shouting along. The title track, "Gave It All," and "Alive & Kicking" are all great hard rock anthems, and the rest of the album is along the same lines.
Sadly, the band recently announced that it was splitting up, so White Trash Heroes will be the final Fatal Smile album. It's a real shame the band never broke through to the wider audience they deserved, but this is a hell of an album to go out on.
Raise your glasses (and flick your Bics) one last time for Fatal Smile, who, like they said here, "gave it all for rock & roll." If you were on board for the band's previous albums, you know you need this one. And if you're only now discovering Fatal Smile but are into bands like Twisted Sister, Lordi, Hardcore Superstar and Skid Row, White Trash Heroes is a perfect introduction to this not soon forgotten band.
Genre: Heavy Metal, Hard Rock, Melodic Hard Rock
Lineup:
Mr. Y (g)
Alx (b)
Blade (v)
Philty (d)
Track Listing:
1. White Trash Heroes
2. Like a Rockstar
3. Heartache & Pain
4. Dirty Little Secret
5. Alive & Kicking
6. I'm the Gun
7. Down & Out
8. Reflections From the Past
9. Gave It All
10. Hip MF
Label: GMR
Website: www.fatalsmile.com
Hardrock Haven Rating: 8.5/10