In Faith | There's A Storm Coming
by Alexandra Mrozowska
– Senior Columnist —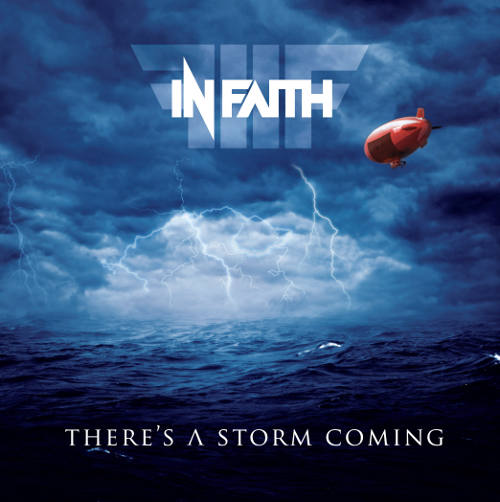 Imagine a melodic rock album that takes back you right into the heyday of the genre, the one that screams the late '80s with every single note and chord on it and rarely – if ever at all – wanders off this beaten track. With In Faith's debut album There's A Storm Coming, such a concept stops being only an '80s AOR fan's chimera. Released via newly founded Rocktopia Records – a brainchild of the melodic rock moguls Bruce Mee and Kieran Dargan – and recorded by the musicians who gained their share of experience in bands such as Pride, Vaughn or Eden's Curse, it's one of the albums one shouldn't have missed this fall.
There's A Storm Coming take you right back to the times when 99 percent of rock songs started with either a sensual moan produced by an unknown (yet convincing) lady, or a sound of somebody's dialing through the radio – the latter effect of the two being an intro to an adequately titled opening track on the album, "Radio." Music-wise, the song follows the best '80s rock tradition with a hooky-to-the-utmost chorus and slightly Leppard-ish background vocals. Next is "Does It Feel Like Love", not a rendition of 1989 Signal/FM track (despite the strangely familiar title) but an original one. Tinkly keyboard sound against the sugary sweet choruses – a melodic rock fan couldn't have possibly asked for more.
There's an interesting story behind "Church Of Rock'n'Roll," a song that was written as an International Anthem for Firefest X back in 2013 and that's actually ignited the development of the band itself. It has to be claimed that the hook-laden, feisty track itself has an anthemic quality to it indeed, with its vigorous vibe and clear cut, polished vocal harmonies. With "Where I Wanna Be," In Faith invade the territory of the emotionally charged, grandiose power ballads – the aforementioned one being a worthy representative of those, as it builds from the mellow verses onto the soaring guitar-laden climax. It's also worth to be added that it's Tyketto's Brooke St. James who takes over the solo guitar duties here, and these notes and chords really do speak for themselves.
With its dynamic melody and powerful hook, graced with the guest contribution of Chris Green (Rubicon Cross), "Addicted" again gravitates towards the feistier pomp rock aesthetics. It's thus heavily contrasted with its way more genial follow-up "If That's What Love Means". "All Or Nothing" features some layered background choirs against the grinding guitars, sounding pretty contemporary in its entirety (at least if compared with the rest of the album). It's neither a big, nor a drastic change sound-wise, however, and still a clear testimony of the fact In Faith are not going to abandon their rootsy melodic rock approach – if ever, it certainly won't happen on this very album.
Fantastic "wall of sound" choruses make "In Flames" one of the album's highlights, the band again back on the musical paths trod once by the likes of Harem Scarem or Blue Tears. "A Million Ways" starts as an atmospheric piano-based ballad, but unexpectedly morphs into a keyboard-laden, catchy mid-tempo again on the AOR-ish side of things. "Leave Me Now" continues in the tasteful early '90s fashion possibly driven then by the "unplugged" craze. Stripped down mainly to the acoustic guitar against the emotionally laden, expressive vocals, the track may remind you of the early Tyketto. "Bitter End" is a piece of dramatically charged, gripping melodic rock enriched with some excellent guitars; that's a perfect final song that could have easily found its place on any of the early Danger Danger albums.
What There's A Storm Coming brings with itself is an excellent level of the musical performance, but also, an absolutely unique back-to-the-past experience. If this treasure chest was labeled "1989", the amount of musical treats that's inside wouldn't have anyone surprised, perhaps, but with "2014" on the clock it's a whole different story. It's not that In Faith attempt to allude to '80s AOR by some subtle hints or flavors in their music – they simply keep on doing it straightforwardly and overtly throughout the entire album, all with style, vigor and volubility. It's '80s melodic rock at its best and none of the genre's staunch aficionados can be disappointed with what's just seen the light of day under the wing of Rocktopia Records. Highly recommended!
Genre: Melodic Hard Rock
Band:
Pete Godfrey – vocals
Tony Marshall – guitars
Pete Newdeck – drums
Guest musicians:
Brooke St. James – guitars
Chris Green – guitars
Pat Heath – guitars
Track List:
1. Radio
2. Does It Feel Like Love
3. Church Of Rock'n'Roll
4. Where I Wanna Be
5. Addicted
6. If That's What Love Means
7. All Or Nothing
8. In Flames
9. A Million Ways
10. Leave Me Now
11. A Bitter End
Label: Rocktopia, Cargo Records
Website: www.infaithofficial.com – www.facebook.com/infaithband
Hardrock Haven rating: 9/10