Brandon Gibbs Talks Devil City Angels
by Deb Rao
– Senior Columnist —
New Super group Devil City Angels performed at Las Vegas at Vamp'd on October 10th. Devil City Angels is comprised of Rikki Rocket, Tracii Guns, Brandon Gibbs, and Eric Brittingham. The band is garnering much attention in the music industry and hope to bring rock back in a big way. The Devil City Angels have a classic rock sound with huge vocals, great guitar riffs, and overall stellar musicianship. Singer Brandon Gibbs discusses the launching of the band in an exclusive interview for Hardrock Haven readers.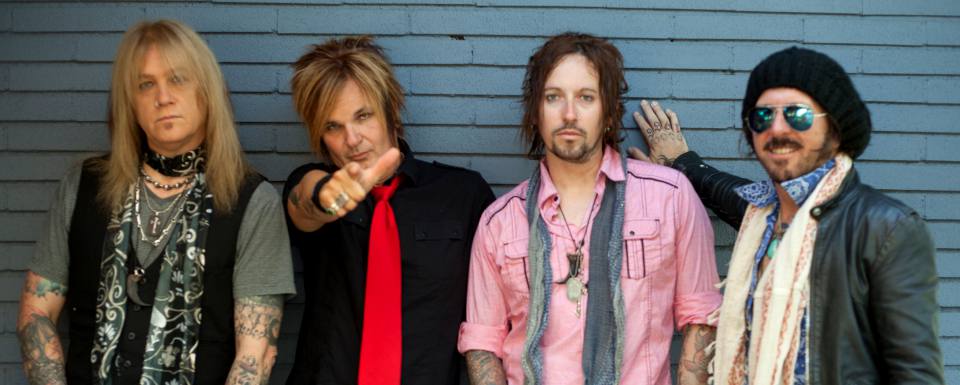 HRH: Brandon, congratulations on your new band the Devil City Angels. How did the band come to fruition?
Brandon: I have known Rikki for twelve or thirteen years now. I was in a band called the Gibbs Brothers that used to open up for Poison for time to time. I became good friends with him. Over the years, we kept in touch. When I got done with my European tour with Cheap Thrill, Rikki had sent me a text. He said I am talking to Tracii Guns about this band that I want to put together. We don't have a name yet, but are you interested? I want to make a new record and time for me to put down Cheap Thrill for a little bit. So he said Tracii is going to call you tonight. And if he calls you, you are the guy and we will move forward. So there were a couple texts messages and kind of waiting by the phone to see if this is legit. So we are out making a record right now and doing some touring when we can.
HRH: How did you come up with the name of the band?
Brandon: Rikki and I talked four or five years ago saying Angel City or something. We kind of kicked around the same kind of thing. We did some research and actually even bought a domain name. He went on his tour and I did mine. We said we would be the Angels in Devil City. And reversed it at last minute. It was pretty simple actually.
HRH: How would you describe the sound of the Devil City Angels?
Brandon: We are four guys, rock guitars, bass and drummer. There are no backing tracks. It is legitimate straight up rock and roll. Loud guitars and banging drums. It is kind of like a little Zeppelin, Stones, and Black Crowes. I listen to a lot of modern bands like Safety Suit. I do a little bit of blues stuff with my vocals when I have to do the Poison songs or LA Guns songs. We are still kind of taking our own kind of spin on it. We are in your face. When you listen to us, you will think these guys are going to be a blast to hang out with. They are just fun guys. That is what we want with Devil City. It is a place you can go and forgot about everything and have a drink and say, WOW I just went to Devil City this is awesome.
HRH: You have an ALL Star line-up. How is everything meshing together in the studio with all the different roots?
Brandon: The studio vibe is actually a lot of fun. Out of everyone, I probably knew Tracii the least. Once I got in the studio with him, I thought Wow he has got some great guitar riffs. The vibe with Tracii and I was very smooth. I knew Rikki forever and have worked with Eric in bands for the last five or six years. It was nice to sit down and create songs from scratch. Everyone was like that was kind of soothing. We wrote music. We are back into it. People like it. We were 22 on Reverb Nation and it was only out for three days. It is a great vibe, and great players. I am happy to be working with them.
HRH: The songs on Reverb Nation sound amazing. I am so happy they picked you as the singer. When I saw you in Cheap Thrill, I thought this guy can sing! Howe would you describe the first track "No Angels"?
Brandon: That was probably the most organic song that we started writing. Tracii sat down with an acoustic. The writing process for "No Angels" was organic. We were talking about a guy going into this band and he was talking about this girl who let him on a little bit. Basically, he is having a conversation with the bartender. Eventually, the girl goes with the guy who has the most money and he put in the most time to love on this girl than the other guy had. The bartender is like hell is empty because all the devils are here looking for angels. Heartbreak is all over the place. The bartender is saying I haven't seen a good love story in a long time.
HRH: Tell us about "Bad Decision." I love the bass groove on this song.
Brandon: I love songs when the bass and drums start out together. Tracii's guitar is right out of the gate. This song had got attitude. This song was fun for me. In Los Angeles I go out a couple of nights, I would see all these girls getting dolled up and the guys getting all prepped and ready. It's a good night for some bad decisions.
HRH: How would you describe "I'm Living?"
Brandon: We got in the studio and we were looking at material that I had previously written. We were going to redo them for Devil City Angels. We had this Bo Diddly kind of song with a real simple kind of beat. Then we added you can think what you want but this girl is mine. It is a happy song. It is telling everyone Dude, you can hit on this girl all you want but she is mine. It has that cocky, charming thing that everyone can relate to. It is happy. I'm living. I got the girl.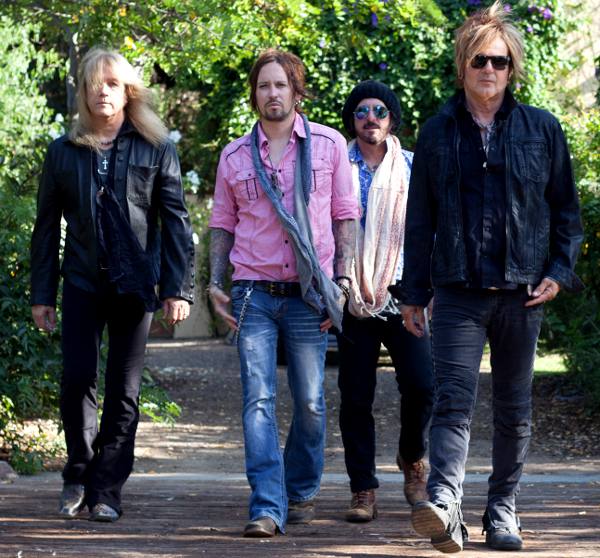 HRH: Yes, I got the kind of vibe too. I love "All My People." Tell us about this song.
Brandon: This is a song that Rikki and my brother and I wrote ten years ago. We are resurrecting this song. It is kind of an anthem. When we encore with it. It gets everyone's attention. When it comes time for the chant, it brings everyone together.
HRH: Now the four songs on Reverb Nation. Any plans for a full-length album?
Brandon: Yes, we are actually in the process for negotiating a record deal. Right now we are playing gigs. We want to prove, we are a legitimate band. We are going out and shaking hands and talking to people about the band and doing meet and greets. As soon as October is done, we all fly out to Los Angeles and get ready to go into the studio and get our very first Devil City Angels record out.
HRH: Now there is a meet and greet package deal for the Vegas show. Is this deal happening at all of the shows?
Brandon: There is. I believe every one of them has a meet and greet package. We spend a little time with them. We take a photo. Most important, we answer any questions about Devil City Angels. All shows have meet and greet possibilities. Each one is a little different. It depends on the venue.
HRH: How is the tour going? I know you will be in Vegas at Vamp's on October 10th.
Brandon: We kind of broke it up in sections. We spend most of September in pre-production; our techs were building our stage. We did a lot of stuff in the South and Mid West. We just did a show in Des Moines. I had a great show there.
HRH: What was it like playing your hometown in Iowa?
Brandon: It was absolutely a blast. I hadn't seen these people for a long time. They gave me my green room for a day to see all my family and friends that I hadn't seen in a long time. It was a great way for me to get ready for the show. There was a lot of pressure. I hadn't been able to show my hometown what it is I do for a living because I have been on tour for so long. There are not that many places in my hometown to play. It was a great way to start the show. It made me feel welcome. I also live in Nashville as well. My family from Nashville came down. It was nerve-wracking because I wanted to give them the best possible performance. I think we achieved that.
HRH: Without a doubt. I saw you with Cheap Thrill. I can only imagine how great this band will be. Tell us about the set list?
Brandon: In Vegas, we will litter out set list with the hits that Tracii, Eric, and Rikki have. But mainly we are focusing on our songs. You are going to get everything that you want. We definitely try and center our show around what we created. We are going to touch on Cinderella stuff, Poison stuff, and LA Guns stuff. We are not picking the songs that you would expect us to pick. We are picking songs that are album tracks and more obscure tracks. So we are going to play songs that you haven't heard them play before in their bands. It will be hits, originals, and obscure album tracks.
HRH: The Devil City Angels have such stellar accolades. What is it like starting from scratch and putting this whole unit together?
Brandon: To be honest with you. I was ready for this. I had a song out on ESPN. I think I toured so much the last four years. I was in the studio I came out with a song "The Heavy Man." A lot of the songs I didn't get to release because I was on the road. Filtering through all our material has been fun. It is like let's do that one with a Devil City Twist. There is a little bit of growing pains trying to figure out what each other likes. But we all went out on one bus. That is how you become a band. You get out there on one bus and drink coffee in the morning together. And drink a shot before you go onstage. We want to learn everything about the band and move on and be super comfortable.
HRH: It is going to be awesome. Is there anything else that you want to say about the tour?
Brandon: Stay tuned. It is the www.devilcityangels.com. We have our own Facebook www.facebook.com/devilcityangels We are always in our phones saying "hi" to everybody. We are going to be an interactive rock band. That is how we are going to keep our fans. You are still kind of us becoming a band still. It takes shows, and shows and shows. We are learning new things as we go. I think everyone will like it. We are Trying to bring rock and roll to the top of the list again.
HRH: This is what the industry needs. Thanks Brandon.