by Deb Rao
– Senior Columnist —
Lynam is gearing up for a West Coast trek with Gus G. The band will make a special appearance at Vamp'd October 17th. Halfway To Hell is Lynam's latest release on New Ocean Media.
In the past, Lynam has opened for Hinder, Puddle of Mudd, Fuel, and Live. The band is influenced by Def Leppard and has a '80s vibe to their music. You may also recognize Jacob as lead singer for Steven Adler's project Adler. In this exclusive interview, singer Jacob Bunton spoke to Hardrock Haven regarding their upcoming tour with Gus G.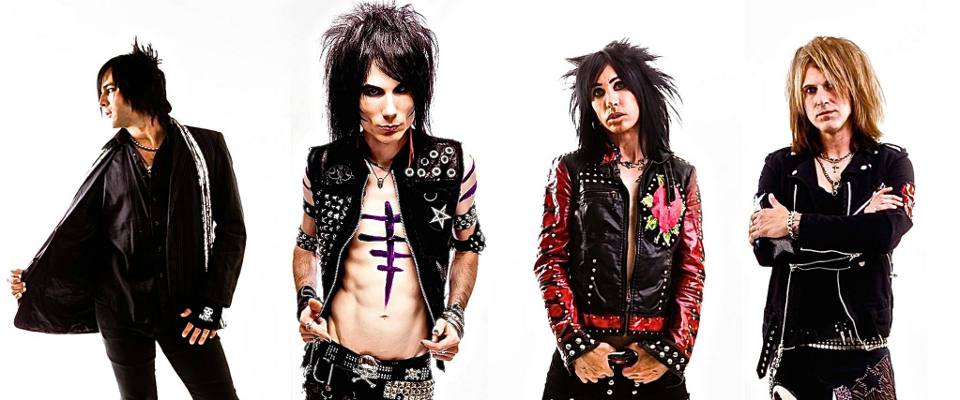 HRH: Jacob: Tell us about the show at Vamp'd on October 17th. What can the fans expect to hear in the set list?
Jacob: The shows are going to be awesome. We will be playing an hour and performing songs from all of our releases. Gus will be playing songs from his solo record, Firewind, and some Ozzy songs. I sang on Gus G. latest solo album. I think we night even do a song together. It should be a really good time. I am looking forward to getting back to the West Coast.
HRH: Halfway To Hell is your latest release. Will you be going into the studio soon?
Jacob: We are. We are going into the studio this month. Now we have Lonny Paul in the band. He plays guitar with me in Adler's band also. He is such a great guy. He was there and it just felt right. Everybody in the band is extremely close. It is definitely a fun band to be in for sure.
HRH: I have seen Steven a few times. He is awesome. Will your new album have the same kind of vibe that Halfway to Hell has?
Jacob: No it is going to be a little bit different. It is a little bit more poppy sounding. The sound is like Lady Gaga, Def Leppard, and Duran Duran.
HRH: Would you influenced by the '80s and Motley Crue and all of those bands?
Jacob: It is interesting. Because the way that music is going now if you listen to Top 40 radio or alternative radio, they have every generation. That is how the new stuff is for us. It is '80s and '90s. Some pop stuff and heavy stuff. If the music in general is good, we like it. We feel like our stuff is getting stronger and stronger with each album.
HRH: Now the band hails from Birmingham, Alabama. Do you have any Southern rock roots?
Jacob: I definitely have a love for Southern rock. Especially Bluegrass.
HRH: Now this tour is going to be the bands highlight of the year. It is going to be awesome. Are you looking forward to it?
Jacob: It is going to be a lot of fun. We are really close friends with Gus. We have written a lot of songs together.
HRH: As a new band on the scene. What do you hope to accomplish?
Jacob: It is weird. Because I don't want to accomplish anything. I am just doing exactly what I want to do. I feel like I have accomplished so much going to places I want to go traveling wise. I am getting to do that everyday. So I hope to keep the train rolling.
HRH: That is great. The band has a great sound. I will see you October 17th in Vegas at Vamp'd.
Jacob: Thank you so much!
Online: www.facebook.com/lynammusic