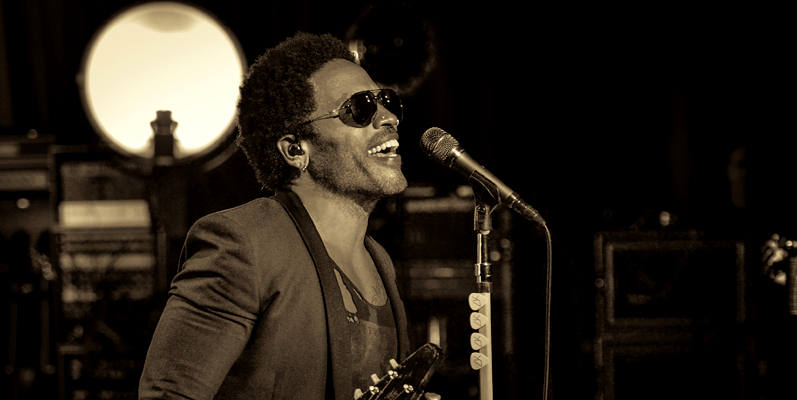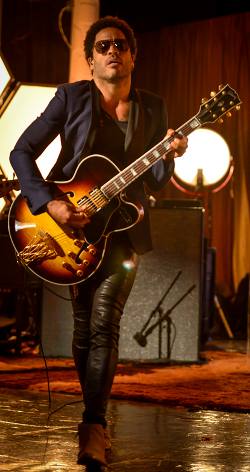 After 20 years, 10 albums and at age 50, Lenny Kravitz continues to deliver inspired rock 'n' roll. Tapping into the groove-oriented vibe of the '70s, which includes elements of R&B, Funk, Hard Rock and Reggae, Kravitz brings a retro and modern songwriting style that coexists within the same space. Time has not diminished his creative explorations. Whether taking on a movie role or band leader, it's clear that Kravitz's unique voice always is shining through.
Strut, which is the 10th studio release by Kravitz, continues to provide a comfortable home for fans to fall back into, and yet the exploration of diverse genres allows for new musical journeys and amped up energy.
Soundchecks' live performance catches the band performing classic and new songs. The spacious instrumentation leaves plenty of room for the groove and the feel that Kravitz fans are used to. And his voice is on par as always. The three-part interview is very insightful into Kravitz's ideals and his genuine, honest personality.
To watch Lenny Kravitz's Soundcheck performance, please click this link:
Soundcheck Lenny Kravitz Interview & Live Performance
Check out Episode 2 blog post:
http://hardrockhaven.net/online/2014/10/the-spotlights-on-lenny-kravitz-episode-2/
Check out Episode 3 blog post:
http://hardrockhaven.net/online/2014/10/lenny-kravitz-struts-episode-3/
Win a guitar autographed by Lenny Kravitz:
Win A Guitar Autographed By Lenny Kravitz
https://gleam.io/ON9fE/win-a-guitar-autographed-by-lenny-kravitz
ABOUT SOUNDCHECK:
Soundcheck is Walmart's original performance series where you get up close and personal with your favorite artists. Check out live performances and exclusive behind-the-scenes footage from original in-studio sets – all filmed exclusively in HD. Soundcheck is broadcast in Walmart stores nationwide – or catch us online 24/7.