LIVE! | Five Finger Death Punch with Volbeat
by Jonna Ambur
– Senior Photojournalist —
September 28, 2014 at Mohegan in Uncasville, CT. —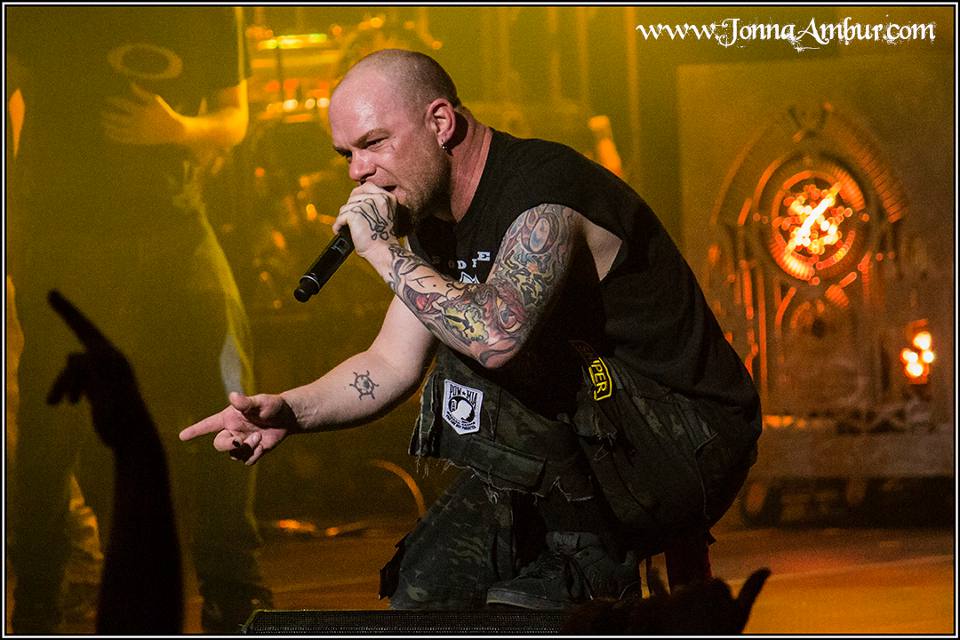 Nearly sold out, people shoulder to shoulder, seat to seat, lights dim … then it hits you; with the gut pounding first few bars of "Under and Over It," Five Finger Death Punch was in the house! After releasing their double album set The Wrong Side of Heaven and the Righteous Side of Hell Volumes 1 and 2, this was the tour that fans were waiting for. Determined to not let them down, FFDP belted out songs from all of their 5 hit-packed albums.
As with all their shows, their fans are their family and tonight was no different. Well known for their cause related messages, from suicide to the U.S. armed forces, the Death Punch boys integrate everyone in the area into their set. During "Burn MF," Ivan Moody (vocals) usually brings as many kids as he can to the stage. Tonight, he chose to honor the armed forces, active and veteran. As they flooded to the stage to join the band, the crowd was on their feet. There were chills as each of the guys shared in shaking hands with our military.
The night ended with "The Bleeding" after a long night of mosh pits and crowd surfing.
Opening for FFDP was Volbeat, Hellyeah and Nothing More. A perfect grouping making for a memorable night.
Volbeat, released their newest album, Outlaw Gentleman and Shady Ladies in 2013. They owned the stage and the crowd shared the energy and appreciation for their entire set. Following in the footsteps of Ivan Moody's tradition of bringing kids on stage, Michael Poulsen (vocals) invited as many kids as could make it to the stage to join the band for a song. Following was "Angelfuck," a Misfits tune, resulting in Jerry Only sharing the stage with the guys.
Sangre por Sangre dropped to rave reviews in the summer of 2014. Hellyeah hit the stage with attitude and the energy they're known for. "Sangre por Sangre", "Hellyeah", "Demons in the Dirt," any song you choose from their 4 album montage is a rock-solid, balls to the wall hit! And they played them to the point of exhaustion!
Nothing More was the least known going in to this tour, but left on the lips of many. With their unique sound, creative stage show and all around charisma, Nothing More proved they deserved their time in the spotlight. 6 albums to their name and their biggest one being their self-titled, label-supported release from this year.
This tour continues through the end of October and FFDP will also be performing at Knotfest.
LIVE! | Five Finger Death Punch with Volbeat, Hellyeah, Nothing More Concert Photo Gallery