LIVE! | Gus G. with Lynam
by Deb Rao
– Senior Columnist —
October 17th, 2014 at Vam['d in LAs Vegas, NV. —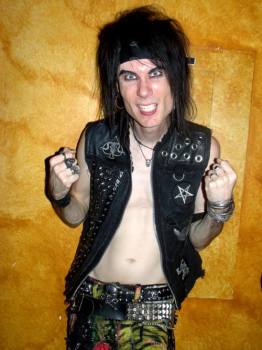 Rocktober is living up to its high expectations as Lynam and Gus G rolled into Vamp'd for an exciting high-energy night of rock and roll on Oct. 17. Lynam are on tour in support of their latest release Halfway To Hell. Fronted by Jacob Bunton, Lynam lived up to their high expectations.
Lynam has a sound that has a combination of punk, metal and glam. Their unique sound is compelling. Lead singer Jacob Bunton took full command of the audience, as the band whipped into songs "Enemy" and Cold." Their full edge metal sound has a punk twist. It reminded me of Marilyn Manson meets Motley Crue.
Highlight of the set included "Left For Dead" and "Halfway To Hell." Guitarist Lonny Paul played a riveting guitar. Jacob Bunton has a captivating stage persona. One thing was for sure, the girls loved them. I am looking forward to their next album. Lynam is one band to look out for in 2015.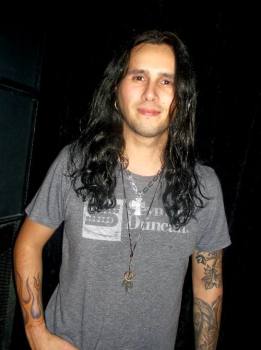 Ozzy Osbourne has always been known to pick the best guitarists. Tonight Vamp'd got the chance to see what the buzz is all about regarding Ozzy guitarist Gus G. One word could only describe Gus G.'s playing Explosive. Fronted by singer Jeff Scott Soto, Gus G. and company destroyed Vamp'd with their in your face metal meltdown sound.
Gus performed songs from Firewind and his solo album I Am The Fire. Gus G. displayed his skill for his over the edge pyrotechnics on "Vengeance." But also showcased his softer side on "Summer Days." Singer Jeff Scott Soto has an amazing vocal style. He used to sing in Journey. The last time I saw him perform was with Scrap Metal at the Wolf Den in Connecticut.
If you played guitar, this was the only place to be tonight, watching Gus G. demonstrate his enormous talent on his ESP Guitar. This was the perfect bill combining two great bands, at the top of their game.
Special Thanks to Jacob Bunton of Lynam for making this review possible.
Visit Lynam online: http://www.facebook.com/lynammusic
Visit Gus G online: http://www.facebook.com/officialgusg