Synaptik | The Mechanisms of Consequence
by Justin Gaines
– Senior Columnist —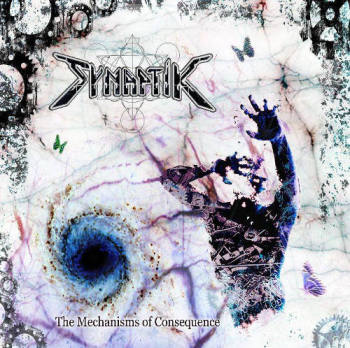 UK-based technical metal band Synaptik makes their debut this year with a full-length album titled The Mechanisms of Consequence. Synaptik is a new band, but its members have an established track record. Guitarist Ian Knight, vocalist John Knight and bassist Kev Jackson were previously in the band Inner Sanctum (whose 2013 collection Knowledge At Hand: The Anthology is highly recommended), and you can hear that band's roots in Synaptik's sound.
With The Mechanisms of Consequence, Synaptik pays tribute to classic technical metal bands like Atheist, Anacrusis, Hades and Watchtower while incorporating elements of modern prog, thrash and more aggressive metal (anywhere from Mindwork to Between the Buried and Me). The end result is a perfect storm of metal aggression and technical precision. Like a more accessible Watchtower, and with a more metal crunch to go along with the mathematics. With harsh vocals it could pass for a technical death metal album. The vocals are clean though, and quite effective at that. Knight has a great range and plenty of power, sounding a bit like Warrell Dane and Matt Barlow at times. Speaking of vocals, the CD version of The Mechanisms of Consequence boasts an alternate version of the song "Your Cold Dead Trace" featuring former Watchtower frontman Alan Tecchio singing, which is a nice nod to one of the band's obvious influences.
"Your Cold Dead Trace" (either version), "Vacancy of Mind" and "Allies" are highlights of the album, but The Mechanisms of Consequence is very strong from start to finish, and at 52 minutes it never starts to drag the way some longer prog metal albums tend to do.
The Mechanisms of Consequence is one of those albums that has the potential to win over converts from multiple genres (in this case progressive and thrash metal), but in a year loaded with great releases also has the potential to be overlooked completely. Here's hoping that isn't the case. If you like your technical metal to have some heavy metal spirit and your thrash to have a strong technical side, Synaptik is a band you're going to want to check out.
Genre: Progressive Metal, Thrash Metal
Lineup:
Ian Knight (g)
Kev Jackson (b)
John Knight (v)
Pete Loades (d)
Jack Murton (g)
Track Listing:
1. Truths That Wake
2. A Man Dies
3. I Am the Ghost (Intro)
4. Your Cold Dead Trace
5. Irresistible Shade
6. Vacancy of Mind
7. As I Am, As I Was
8. Utopia In Our Eyes
9. All Lies (Intro)
10. Allies
11. Your Cold Dead Trace (Alan Tecchio version)
Label: Rebel Tune Records
Website: www.synaptikmetal.com
Hardrock Haven Rating: 8/10