Allen-Lande | The Great Divide
by Justin Gaines
– Senior Columnist —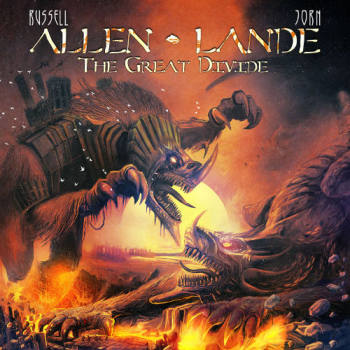 It's been four years since melodic metal project Allen-Lande last released an album (2010's The Showdown). Russell Allen has been active in Symphony X and Adrenaline Mob in the meantime, and Jorn Lande has released several solo albums since then, so a lot of fans thought this series of albums had run its course. Instead, Frontiers is shaking things up a bit with the Allen-Lande formula. Guitarist/songwriter Magnus Karlsson is no longer involved. Instead the reins have been handed over to none other than ex-Stratovarius mastermind Timo Tolkki.
Tolkki is something of a controversial choice for the Allen-Lande franchise. Not only is his own recent history somewhat checkered, but fans are used to Magnus Karlsson's songwriting approach. Still, when you have vocalists of this caliber on board, you have to give the album the benefit of a doubt.
As it happens, The Great Divide is a worthy continuation of the Allen-Lande project. Tolkki turns in ten very well written and executed melodic metal songs, and his production job is (thankfully) much better than his recent Avalon albums. As you might expect, there's a strong Stratovarius vibe to these songs, and there are moments (see: "In the Hands of Time") that you can tell a song was written with Timo Kotipelto's vocals in mind. Speaking of vocals, both Russell Allen and Jorn Lande turn in the kind of powerhouse vocal performances we've come to expect from them. Allen has been noticeably more aggressive vocally on recent Symphony X albums, so it's good to see him in a more melodic role, and as fun as Jorn's solo albums are it's a nice change to hear him belting out someone else's songs.
There are really no duds on The Great Divide. Tolkki kept it to ten good songs and didn't load the album with filler. The strongest tracks are probably up front, with the one-two punch of "Come Dream With Me" and "Down From the Mountain," but the title track also stands out. "Lady of Winter" is another interesting one, as for nearly a minute it riffs hard on the Savatage classic "Edge of Thorns" and makes you wonder what an Allen-Lande covers album would be like.
It's a relief more than anything that Timo Tolkki didn't completely wreck the Allen-Lande streak. The Great Divide is a totally enjoyable melodic metal album that continues to showcase two of the very best vocalists in metal. It's not as powerful as the first two Allen-Lande offerings, but it's probably on par with The Showdown overall. At any rate, if you've been on board so far, there's no reason to jump off now.
Genre: Melodic Metal, Melodic Hard Rock
Band:
Jorn Lande (v)
Russell Allen (v)
Timo Tolkki (g) (b)
Jami Houvinen (d)
Track Listing:
1. Come Dream With Me
2. Down From the Mountain
3. In the Hands of Time
4. Solid Ground
5. Lady of Winter
6. Dream About Tomorrow
7. The Hymn To the Fallen
8. The Great Divide
9. Reaching For the Stars
10. Bittersweet
Label: Frontiers Records
Website: www.facebook.com/pages/AllenLande/19550548398
Hardrock Haven rating: 8/10