Andy Alt Talks – A Little Thunder Pickups …
by Christophe Pauly
– Senior Photojournalist —
Andy Alt introduces A Little Thunder™ – a revolutionary humbucker pickup that adds a bass signal to electric guitars. The addition of the bass feature comes at no physical modifications to your beloved guitar: no drilling, routing, adding extra strings even replacing 9V batteries or using MIDI. Players will simply remove their existing humbucker and with about 5 minutes of installation time, will have the ability to push a button and add bass to their lowest notes, leaving all 6 guitar strings in-tact.
Guitarist Andy Alt, who works with legendary guitarist Steve Vai, talks about his revolutionary new pickup that he has invented.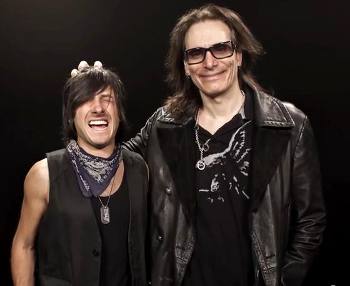 Hardrock Haven: What does this project represent to you?
Andy Alt: I think that A Little Thunder represents freedom and a new tool to have a musical conversation with. It's very interesting to see what everyone can do with it because everyone is different and does something really expressive and unique with A Little Thunder.
Hardrock Haven: How did you get the idea of creating such a pickup?
Andy Alt: Well, I was playing with a drummer and it seemed complicated to invite other people to his private residence and show them the songs and everything we were doing at that time. And so, I thought that there should be a way to make the sound a little heavier, while keeping the ship's crew intact. So, I worked on something, and, about a week later, I had a decent prototype to work with, and I was very excited. The start of A Little Thunder simply was, 'I wanted my duo to sound like a trio,' but I soon discovered it was capable of a whole lot more.
Hardrock Haven: That's a fantastic idea for someone would couldn't find a bass player for his band!
Andy Alt: Yes, that can be an option. But you also can use it with a bass player and then there are tons of options in terms of bass harmonies, and it can be really fun.
Hardrock Haven: I was very impressed when I looked at the videos that demonstrate your pickup. When you look at it, you can realize that there are tons of possibilities with it.
Andy Alt: Yes, for example, I think that 8-string guitars are very cool, but they're hard to play and they are expensive (something like $3000 if you want a good one). My pickup can get lower than the 8-string guitars. So, if you like those super Heavy Metal sounds, you can put my pickup in your existing guitar and won't need to re-learn how to wrap your hands around an 8-string; you can just start playing. It's a great tool for that.
Hardrock Haven: I've heard the clean sound of it. But have you tried with a distortion to heard the result?
Andy Alt: Yes, I've put a fuzz on it and it sounded awesome! It was like the whole world was exploding! So that was really cool.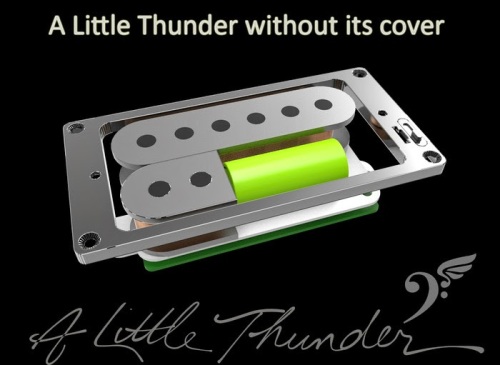 Hardrock Haven: Did you show it to many musicians?
Andy Alt: Yes, I contacted them and asked them if they would be interested by coming to see my guitar invention. And they said, 'Sure,' so they sat down in my desk chair, and I gave them my guitar to play. Then I said, 'OK, flip that switch!' (Because there was a switch on my prototype to activate the pickup). So, they hit that switch and 'boom,' they immediately lit up! You could see on their faces that they were very excited about it, and I also was excited to see their reaction and to see that they were happy. With this pickup, you can choose to have the guitar and bass separately or to combine both of them.
Hardrock Haven: Was it difficult to find a way to manufacture it?
Andy Alt: We're in the manufacturing process right now. But I have a total confidence in the team. They've done a lot of products before and so I'm very happy to work with them.
Hardrock Haven: Did you test many pickups to find the right one?
Andy Alt: Yeah, many prototypes. But what's exciting is that so many people will start to experiment with it. Today, for example, there was a guy from France who I work with, -M- (Mathieu Chedid), who was very interested with it and bought three pickups because he also thinks that this particular sound of guitar is really cool. And it's good to be part of the same family.
Hardrock Haven: And it's also a great way to experiment new things musically, new riffs …
Andy Alt: Yeah, of course! The music community always needs some fresh ideas, in general. And about the guitar players, every time I go to the NAMM show, I go to the main manufacturers to look at what they propose, and I'm often disappointed when I see the same guitars with another color. And I think that's not the kind of innovation we need to make the guitar an overwhelming part of our general culture.
Hardrock Haven: Did you used it live?
Andy Alt: Yes! If you go to Youtube and search for "Swimming In Trees," you'll see some live performances of a band that I did. And I play with this pickup in other band configurations.
Hardrock Haven: The sound of it is quite particular.
Andy Alt: Yeah, and I think that people will experiment with it and know how it works. I think it's a very exciting time to test the limits with this product. The response has been fantastic. Many people have pre-ordered it already.
Hardrock Haven: Will you do some other models of it?
Andy Alt: Yeah, I'm going to make a single coil, 7-string, 8-string and an acoustic version of it. We gonna do every possible version of it. There's a lot of opportunities there to make sure that anybody who wants to try it and wants to do something with it can . (based on their particular setup). I think that, for example, someone who has a Stratocaster or a Les Paul easily will be able to install it and start using A Little Thunder. Too many times, things are complicated even when it's not needed.
Hardrock Haven: People could think that it's harder to play with this pickup.
Andy Alt: Yes, that's a reasonable perception without having it in your hands. We believe that once musicians try it, they'll agree that things come naturally. You don't have to get used to extra stings, to physically alter the instrument or something; there's no extra battery and there's no MIDI to get these sounds. It's very simple. You just have to play it. To me, it's straightforward, and it makes it very easy to experiment with. You have the same note you previously had on your guitar but now with a new sound. There's nothing inaccessible.
Hardrock Haven: What about the installation? Is it complex to place such a pickup in a guitar?
Andy Alt: No, it's a simple installation that takes 5 minutes. It's very straightforward, which is good. Sometimes, accessories are complicated with all the wiring, but this pickup is very simple to install.
Hardrock Haven: How much will it cost?
Andy Alt: Well, it's $199 USD for the Kickstarter campaign. And it will sell for $249 USD when it hits the stores. Soon. I'll sell it on A LittleThunder.com for a discounted price. It's a wonderful product, and I'm really happy because of this great start. A lot of people have pre-ordered it and are sharing their positive remarks.
A Little Thunder Pickups: https://www.kickstarter.com/projects/alittlethunder/a-little-thunder-pickup-add-bass-to-your-guitar