Angels Or Kings | Kings Of Nowhere
by Alexandra Mrozowska
– Senior Columnist —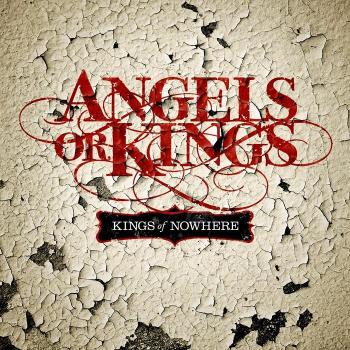 With their American counterparts having the time of their lives down the Sunset Strip in Los Angeles, California, in the late '70s and the '80s the British must have had their mecca for rockers to hang out at too. Thus the emergence of the Manchester's Oxford Street club circuit and places such as Banshee or Rockworld, which were to witness the foundation and early days of the numerous bands… well, at least until grunge came and destroyed it all, similarly to the Sunset Strip scene. But even though the world's never heard from the majority of these bands again, one fallen into obscurity after another, one of the most promising acts of the Manchester scene, Angels Or Kings, is back and ready to rock. It's enough to check out their album Kings Of Nowhere released in October 2014 via AOR Heaven to find out there's still much more to this band than just a story in Tony Bell-penned book Life In A Bus Lane.
Hearing a keyboard-laden, bombastic intro that opens the first track "Any Other Girl," you could have sworn the information on the album's back cover that read 2014 is simply a matter of mistake. Huge '80s-infused pomp rock sound is the one that drives the aforementioned song as well as its follow up "A Harder Place," proving beyond any doubt the band's never left their late '80s legacy behind. And even if 2010s saw the rise of the entire legion of contemporary bands who try to emulate the melodic rock style of the late '80s/early '90s, there is still something genuine and somewhat unrepeatable about the sound of those who learned their chops right then in the glorious era. Many a band might have tried, but they never reached quite the same level Angels Or Kings are at with their infectiously catchy, keyboard-laden AOR hooks ("Ice Turned To Rain") and soaring, semi-acoustic power ballads ("Real Life").
Apart from its charming '80s vibe – an impression even strengthened by the use of tinkly melodic keyboards – a mid-tempo "Same Star" features an emotionally laden, fantastic vocal performance of Baz Jackson that may be compared to those regarded as the classic voices of the AOR genre, from Lou Gramm to James Christian. And while "Someone To Save Me" or the groovy "Left Me In Love" are hardly a novelty music-wise, there must be some reason why one still can't get enough of listening to guitar-versus-keyboards melodic rock gems like those two. The eighth song on the album is "A Night Like This" that skillfully balances between the ballad-esque verses and powerful choruses. It's followed by "Another Lost Boy" and "Same Old Love" – both driven with monstrous synth sound you'd hardly believe to be conceived in 2014 instead of thirty years prior to this. "If Her Tears Could Talk" takes this keyboard-laden pomposity even further, the intro being a worthy successor to the classic ones of Europe's "The Final Countdown," Asia's "Heat Of The Moment" or Van Halen's "Jump." The final title track "Kings Of Nowhere" is more guitar-oriented and thus gravitating a bit more towards hard rock than AOR, yet still incredibly melodic.
It must have been the sheer bad luck Angels Or Kings didn't make it back in the late '80s, their once promising career finished faster than it began. But as it turns out, their meticulously crafted, perfectly polished music was worth of waiting for right until 2014. Now every melodic rock aficionado should have only thanked Heavens for the group's Firefest-fueled reunion that resulted in the release of their album. Kings Of Nowhere is a perfect representative of its respective genre, full of synth-driven rock anthems, sumptuous lead guitar work and monstrous choruses that are simply catchy-to-the-utmost. Released just in time to become one of the best melodic rock/AOR albums of 2014, it's thus highly recommended.
Genre: Melodic Hard Rock, AOR
Band:
Rob Naylor: bass
Steve Kenny: guitars, keyboards
Baz Jackson: vocals
Tony Bell: guitars
Track List:
1. Any Other Girl
2. A Harder Place
3. Ice Turned To Rain
4. Read Life
5. Same Star
6. Someone To Save Me
7. Left Me In Love
8. A Night Like This
9. Another Lost Boy
10. Same Old Love
11. If Her Tears Could Talk
12. Kings Of Nowhere
Label: AOR Heaven
Website: www.angelsorkings.com
Hardrock Haven rating: 9/10