by Alexandra Mrozowska
– Senior Columnist —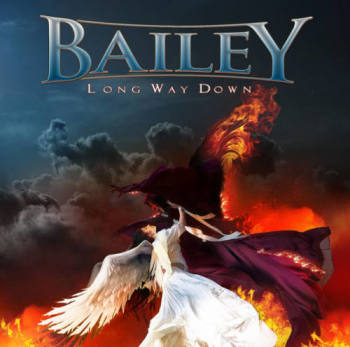 Once the wind filled his sails, Nigel Bailey's apparently not about to rest on his laurels. This year he gained major recognition from fronting a British three-piece band Three Lions, whose self-titled debut album was released under the wing of Frontiers Records. Simultaneously, Nigel was already announcing his plans of releasing also a solo album in numerous interviews he's given, including one for Hardrock Haven. He wasn't speaking idly as Long Way Down hits the shelves in early December on both sides of the Atlantic. However, the fact of the album's being billed as Bailey rather than Nigel's full name suggests a mutual effort and a kind of project that's evolved out of the recording sessions. Hence, Bailey's the British singer/bassist with the addition of a few Italian musicians you already know from their impressive work on many different releases, both their own projects and guest participations. It's Alessandro Mori (Mitch Malloy, Moonstone Project) on drums and Mario Percudani (Hungryheart) on guitars. Last, but not least is, of course, the irreplaceable (and omnipresent, it seems!) Alessandro Del Vecchio who's responsible for producing the album as well as playing keyboards and singing backing vocals on it (together with Andy Bailey).
"Feed The Flames" explodes with a splendid keyboard- and guitar-laden melody, sounding as if Bailey's solo debut was not too drastically detached from Three Lions and their debut release. However, as it turns out, Long Way Down is a bit more diverse than the Lions' self-titled effort, making an interesting prospect for a listener as soon as the second song on the album approaches. With a distinct modern hard rock vibe to it, enhanced even further by the clean-cut modern production, and upfront instrumental parts, "In The Name Of The King" gravitates towards a bit heavier spheres of melodic rock. It's something you might have not expected from Nigel and this particular album – the track number thus two constitutes a bit of a surprise which is always a good thing. "Dirty Little Secret" is mostly traditional AOR piece for a change, yet with some interesting six string flavors.
"Bad Reputation" is again more contemporary rock, with an infectious guitar groove and slight touches of funk. More of a Glenn Hughes-esque kind of thing, as it can be called, and considerably different anyway from the melodic choruses and simple-but-charming riffs of AOR-ish "Stay" and "Somewhere In Oslo." Next is the title track, an interesting juxtaposition of muscular modern riffs against a lightweight and pretty polished melody. A mellow, acoustic intro heralds there's a ballad coming, and "Spend The Night" is one of those grandiose slower moments indeed, complete with a wailing guitar sound and emotionally laden vocals. "Love Falls Down" and "Ticket To Yesterday" are another throwbacks to Three Lions' debut album with its AOR-ish charm that's kind of reminiscent of the early Giant or Tyketto. Having therefore spoiled a bit a fans of such sound aesthetics, Bailey ends the album on a high note and in a pretty feisty manner – a guitar-fueled, straight-in-your-face "Dirty Angel" is a perfect final to an album.
Perhaps the biggest asset of Bailey's Long Way Down is that while the album remains within the realms of one genre and is thus a consistent one, simultaneously it shows how many different approaches there can be to melodic rock aesthetics. Having listened to both straightforwardly '80s-infused tracks and more modern-oriented ones, and having experienced both lightweight sugary melodies and slightly heavier songs, the listener's left with the overall impression of balanced versatility. Supported by a crew of the extraordinary Italian musicians, and under the guidance of Alessandro Del Vecchio, Nigel seized the opportunity of showing different flavors to his talent when going solo. That's why Long Way Down is not an album Three Lions' fans will buy out of courtesy or motivated by their inner scrupulous record collector; it's an album every melodic rock fan will find enjoyable.
Genre: Melodic Hard Rock
Band:
Nigel Bailey: lead and backing vocals, bass, guitars
Mario Percudani: electric, acoustic and slide guitars
Alessandro Mori: drums
Alessandro Del Vecchio: keyboards, additional backing vocals
Andy Bailey: additional backing vocals
Track List:
1. Feed The Flames
2. In The Name Of The King
3. Dirty Little Secret
4. Bad Reputation
5. Stay
6. Somewhere In Oslo
7. Long Way Down
8. Spend The Night
9. Love Falls Down
10. Ticket To Yesterday
11. Dirty Angel
Label: Frontiers Records
Website: http://www.baileyrocks.com – https://www.facebook.com/baileyaor
Hardrock Haven rating: 9/10