by Alexandra Mrozowska
– Senior Columnist —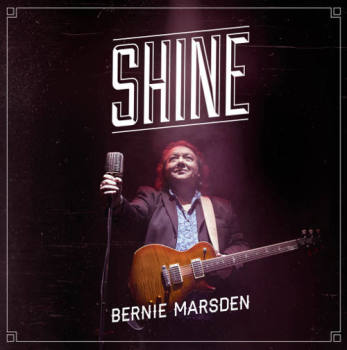 The first thing that comes to your mind when you think about Bernie Marsden – one of the most underrated guitarists of rock – is obviously Whitesnake in their early days. And while it's perhaps the band's 1987 and Slip Of The Tongue line-ups that are the most remembered (either due to their chart success or Tawny Kitaen prancing on the hood of Jaguar in their music videos), it was Marsden who co-wrote "Here I Go Again" and "Fool For Your Loving", the staples of Whitesnake's repertoire. However, there's much more to this musician than just a few albums recorded alongside David Coverdale in the early '80s. From his prior stints in Paice Ashton Lord and UFO to latter bands such as Alaska or Moody Marsden Band and also, his solo career. This year, he proves again that "like a hobo, he was born to walk alone" by releasing his most recent endeavor Shine. Hailed to be reminiscent of the classic Whitesnake album Ready An' Willing, Marsden's Shine is the album of 13 songs, a star-studded guest list and great expectations.
It does come as a surprise when the first song on the album turns out to be a… country song. Bernie Marsden goes Americana…? It definitely appears so, guessing by the clearly country-ish vibe to the harmonica-laden "Linin' Track." However, those of us listeners who counted on incorporating more of an early Whitesnake sound into the material on Shine will probably be more satisfied with the song number two. "Wedding Day" is a blues rock piece with a modern twist that somewhat corresponds with the sound of the Ready An' Willing era, albeit not explicitly. "Walk Away" adds even more variety to the album with its mellow, melodic sound reminiscent of the late '70s arena rock and the bands such as Toto – but even though neat and catchy, the song is hardly memorable. More interesting is its follow-up entitled "Kinda Wish She Would." This particular track goes Americana all the way again, but it's not country this time. It gravitates towards Southern Rock/Blues spheres with its feisty licks and the boogie-infused groove, the Allman or Skynyrd-esque aesthetics having been transformed into the 21st century.
The listener's journey down the blues lane continues with "Ladyfriend," an excellent piece of traditional blues enriched with the wistful sound of harmonica. Not revelatory perhaps, but more convincing than Marsden's unnecessary flings towards melodic rock anyway. Upon the first listening to the intro to the next track, the majority of Whitesnake fans are to experience some mixed feelings – especially those who remain ambivalent towards Whitesnake's politics of re-recording their songs so as to "update" them sound-wise. The risk of the band's 1978 song "Trouble" having been spoiled by re-recording it for Shine was thus a possibility, even though it's Mr. Coverdale himself that guest sings on it. Luckily, there's not much harm done to the track, as the country-ish intro develops into the muscular, heavy rock riff introducing a whole new dimension to it. Music-wise, it's more reminiscent of the sound the modern-day Lynyrd Skynyrd embark on, with some additional touches of blues. As for Coverdale's vocal performance alone, the comparison of it with the 1978 original may not be downright heartbreaking. But while his bluesy feeling is still there, it has to be sadly admitted the technical prowess is somewhat gone.
At this particular point, a listener may be tricked into believing it's the Blues/Southern Rock direction Bernie Marsden has finally settled for, which would be more than welcome. Again, a surprise is not pleasant when "Who Do We Think We Are" turns out to be a lackluster poppy track and nothing more than that. This kind of thing could have ended up sandwiched between the decent rendition of "Trouble" and a feisty slice of blues entitled "Bad Blood" out of a sheer mistake and not for any other reason. Back to "Bad Blood," the microphone here is taken over by the Welsh songstress Cherry Lee Mewis, singing in a sultry, blues-infused manner. The big asset to the track is a rich lead guitar work, a multitude of fiery old school blues licks delivered by Marsden.
The title track on Shine is again a modern-sounding, yet blues-infused rock with some clearly Purple-esque vibes to it. No wonder since it's Deep Purple's Ian Paice and Don Airey that guest play on it, together with Joe Bonamassa adding much of six string wizardry in his trademark style. But even though it was a star-studded line-up that recorded it, disappointingly "Shine" is not strong enough a song to be a highlight of the entire material. Too many cooks have spoiled the broth, perhaps…? More interesting is the atmospheric, slightly psychedelic sound of "Dragonfly," a Marsden's successful take on the 1970 Fleetwood Mac song. "You Better Run" adds much to the album's overall dynamics with its feisty nature, while the distorted, Hammond-laden sound of "Hoxie Rollin' Home" gravitates towards the genre of Americana again. As for the final, a tasteful instrumental track based almost solely on the acoustic guitar, entitled "NW8," closes this lopsided album on a pretty high note.
While there are some things on Shine Bernie Marsden should be praised for, the material in its entirety is far from being flawless. It's the album's incoherence genre-wise that is the biggest drawback to it. While there is a common music denominator to a handful of tracks, this being Marsden exploring the bluesy side of his musical ego, his country and melodic rock-oriented flings are not only inconsequent – they simply don't fit the rest of the material. What is worse, it's also obvious some songs lack the exciting songwriting ideas and Marsden's attempt at reviving one's glorious past may not be entirely successful, too. On the other hand, Shine has certain assets to it, mostly the well-crafted blues-infused tracks "Ladyfriend" is a good example of. The overall impression is thus spoiled by a couple of biffs, but still it has to be said that Bernie Marsden's new album features a handful of songs that are really worth being checked out. And after all, "Here I Go Again" and "Fool For Your Loving" is the level of songwriting excellence you don't reach at every take in your life, isn't it…?
Genre: Rock, Blues Rock
Band:
Bernie Marsden: guitars, bass guitars, vocals
Additional musicians:
John Gordon – bass guitar
Ian Jenning – bass guitar
Jimmy Copley – drums
Ian Paice – drums
Damon Sawyer – drums
Simon Webb – keyboards
Don Airey – keyboards
Dave Baldwin – keyboards
Dean Ross – keyboards
Bob Haddrell – keyboards
David Coverdale – vocals (track 6)
Cherry Lee Mewis – vocals (track 8)
Joe Bonamassa – guitar (track 9)
Mark Feltham – harmonica
Track List:
1. Linin' Track
2. Wedding Day
3. Walk Away
4. Kinda Wish She Would
5. Ladyfriend
6. Trouble
7. Who Do We Think We Are?
8. Bad Blood
9. Shine
10. Dragonfly
11. You Better Run
12. Hoxie Rollin' Time
13. NW8
Label: Mystic Productions
Website: http://www.berniemarsden.co.uk/ – https://www.facebook.com/berniemarsdenofficial
Hardrock Haven rating: 6.5/10