Black Veil Brides Heat Up November
by John Kindred
– Publisher —
November 11th, 2014 at Uptown Theater in Kansas City, Mo. —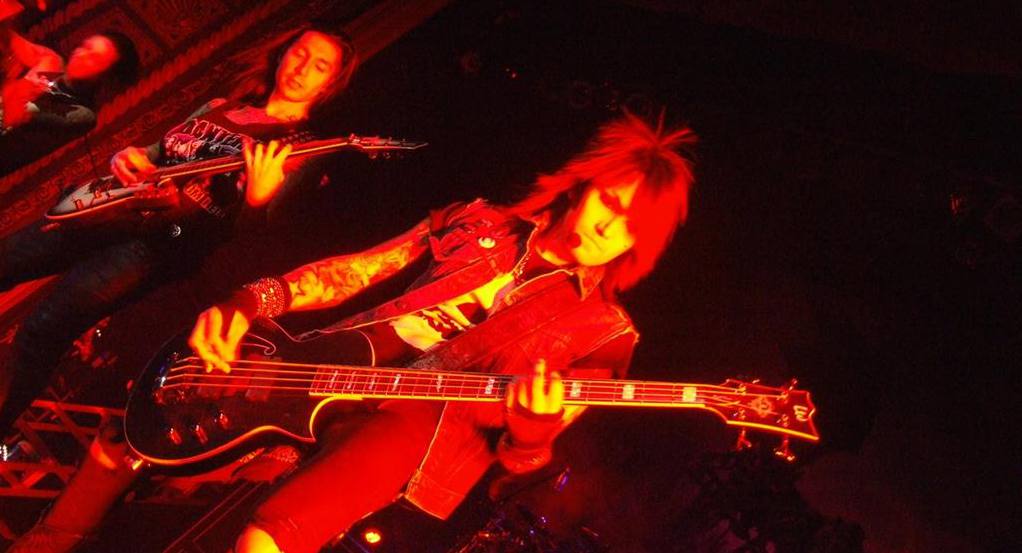 Touring in support of their self-titled fourth full-length album, the Black Veil Brides arrived in Kansas City, Mo., along with the cold. Their current tour dubbed "The Black Mass Tour 2014" also features the bands Falling in Reverse, Go For It and Drama Club, the DJ duo who are an electro-house, shock-pop act.
Attempting to heat things up, for the first time, Black Veil Brides took the stage as the headlining act in Kansas City. And the band looked prepared to fulfill its obligation as such, and it was apparent that there was a budget to go along with the music and stage show.
Wearing black leather pants and sporting jet-black hair, the band is a visual throwback to '80s Metal. The music, though, is infused with the energetic youth movement of today. It's difficult to pinpoint a specific genre that Black Veil Brides falls into. With the intense drumming of Christian "CC" Coma, you could say it's Power Metal; the guitars offer fans Heavy Metal shred, Bassist Ashley Purdy brings the low-end rumble, and Andy Biersack moves from Metal-Core vocals to traditional Hard Rock.
Black Veil Brides brought its "A" game to Kansas City. The packed venue of enthusiastic fans got an hour-and-half Metal show that featured plenty of theatrics, smoke and spectacular lighting effects. The band performed new songs from its self-titled CD as well as "Fallen Angels," "In The End," "Wretched and Divine" and a cover of Billy Idol's "Rebel Yell."
Band:
Andy Biersack – lead vocals, keyboards
Ashley Purdy – bass, backing vocals
Jinxx – rhythm guitar, violin, backing vocals
Jake Pitts – lead guitar
Christian "CC" Coma – drums, percussion
Black Veil Brides Concert Photo Gallery
Online: http://www.blackveilbrides.net/