Born of Fire | Dead Winter Sun
by Derric Miller
– Managing Editor —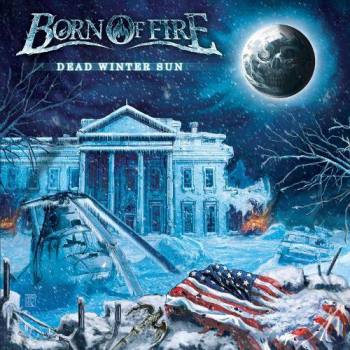 Just in time for the cheerful holidays comes the new release Dead Winter Sun from the American metal band Born of Fire. Although they've been around since 1998, the band's releases have been intermittent and far between. In fact, Dead Winter Sun is only their second full album release. However long it took Born of Fire to get here, none of that matters, because Dead Winter Sun is one of the best metal albums you'll hear all year …
Although the nexus of the band has been together from the start, they have now brought the multi-faceted singer Gordon Tittsworth into the fold. You may remember him from Images of Eden, Dread the Forsaken, All Too Human, and some side projects. What he brings to the band is a voice that can handle both the intricate and brutal, soaring vocals to meet the band's galloping compositions and also a certain majesty when they slow things down on songs like "Tears." They absolutely needed a talent like him in the band to make their compositions come to life, and it sure as hell worked.
The brooding, somewhat doomy title track "Dead Winter Sun" greets you darkly when you hit "play." With subtle guitar playing, slowly building to crescendo as Tittsworth's vocals go from calming to seething as the song breaks into full electric mode, there's just a lot to digest musically, vocally and especially lyrically. If you don't get chills when Tittsworth sings "How can we live tomorrow when we're dead inside today?" then try harder. The ebbs and flows of the song, the breakdowns, the foreshadowing from slow to manic, the expert guitar solos and fevered drumming … yeah, this is a great song.
Obviously, if there's a dead sun, it'll lead to the conclusion of "When Hope Dies," the next track. This one is less complex than the opener; although they'll remind you of Fates Warning at times, they don't need to be complicated to be effective. With any great band in this genre, lyrics take on larger role. Think Queensryche—yes, just listening to them is riveting, but if you know the story behind the songs, it enhances everything. In other words, just pay attention to the lyrics when Born of Fire is playing, or you'll miss lines like "The media has raped me of my sanity, invading another once innocent mind."
"Last Goodbye" is a more atmospheric, mid-tempo composition. The song just breathes, allowing you to sink yourself into the somber mood and powerful vocals. This is actually an uplifting song, one of those "seize the day" ideas, although it feels darker because of the tempo and the overall dirge-like heaviness. And if you try to sing along with Tittsworth on the line "And if I would have known" during the chorus, you'd best warm your vocal chords up for an hour first; it's not just high … it's full of emotion and energy.
"Spiritual Warfare" is one of the smartest and heaviest songs on Dead Winter Sun. Although their slower songs full of tempo changes are excellent, they bring a rage on their most straightforward Metal tracks that are just a riot to bang your head to. "Spiritual Warfare" is all of the above, somehow. Not to get too theological, when you hear the angry question "Why do you fight for me? Why would you die for me?" you can tether that to the many wars being fought over the past decade in the deserts of the Middle East … or you could be asking your version of Jesus why did he die for us, and are we really even worth saving? (That's just saying the poetry of the lyrics allows for multiple interpretations. It doesn't matter if you are right; it just matters that you contemplate while listening.)
There is simply no song worth skipping on Dead Winter Sun. "Hollow Soul," "Echoes of the Lost" and "In a Cold World" all have their varied strengths, especially the latter, which plays on the album's overall theme and is somehow contained cacophony.
It all culminates on the song "Tears." It's not just rare—this almost never, ever happens. Born of Fire saved the best for last. "Tears" is an acoustic, sorrowful song with the most haunting chorus on the release. Again, if you follow the essence of their music, it's always darkest before the dawn. Yes, the album takes you down bleak roads at the beginning, while always offering salvation, glimmers of hope and calls to enjoy your time here because in the end … we all end. "Do you remember when the tears turned to laughter once and for all?" Tittsworth asks. There's your answer …
Dead Winter Sun is one of those albums that might experience a slow burn before metal fans start realizing in the glut of releases out there, this one is shining as one of the brightest of them all. When you bring sheer musicality, vocal prowess and philosophical lyrics all into one place … that place is Dead Winter Sun.
Genre: Power Metal, Progressive Metal, Heavy Metal
Band:
Vocals – Gordon Tittsworth
Guitars, keyboards – Victor Morell
Guitars, bass – Bobby Chavez
Drums, percussion – Steve Dorssom
Bass guitar – Michael Wolff
Tracklisting:
1 Dead Winter Sun
2 When Hope Dies
3 Last Goodbye
4 Cast The Last Stone
5 Speed of Dark
6 Spiritual Warfare
7 Hollow Soul
8 Echoes Of The Lost
9 In a Cold World
10 Tears
Label: Pure Steel Records
Online: https://www.facebook.com/pages/Born-of-Fire/498173826897778
Hardrock Haven rating: 8.6/10