George A. Romero, Zombies & Metal
by John Kindred
– Publisher —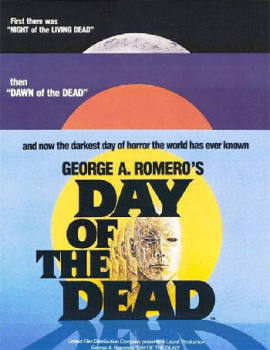 The Making of George A. Romero's Day of the Dead:
"Uncensored – unseen – undead … this is the complete, no-holds-barred history of George A. Romero's Day of the Dead …"
There isn't anything heavier than Zombies, and Metal has glorified the walking dead in music, aka the Death Metal genre, as well in the guise of bands like Lordi. And when it comes to the Metal genres being influenced by the Zombie horror movie industry, George A. Romero has set the standard and baseline for others to walk in his shoes.
It shouldn't be any surprise to anyone who peruses Hardrock Haven that they might see an article about the recently released book chronicling the third installment of Romero's "Dead" trilogy.
The Making of George A. Romero's Day of the Dead was written by Lee Karr, with the forward contributed by Gregory Nicotero, producer of the AMC series "Walking Dead." Karr can be considered a true "deadhead," except forget about The Grateful Dead and think Zombified dead.
The 288-page book was written with the consent and full cooperation of George A. Romero and FX maestro Tom Savini. The book contains 250 never-before-seen photos, rare memorabilia, more than 110 exclusive interviews with the stars from the film: Lori Cardille; Joe Pilato; Richard Liberty; Sherman Howard; Terry Alexander; and Tim DiLeo. Covering the movie from first draft to the final cut, Kerr immerses fans into the complete world Romero.
One cannot deny the cult status and influence of Romero's trilogy: Night of the Living Dead (1968), Day of the Dead (1978) and Day of the Dead (1985). And then the follow-ups: Land of the Dead (2005), Diary of the Dead (2007) and, finally, Survival of the Dead (2009). Each film provides viewers a social commentary that is related to the time that each movie was released. While each film is not bound together by a particular storyline, they all are tied together by the epidemic of the living dead.
For fans of Romero, this is a must-have collector's book. It is contains a thorough examination of the details of the movie presented in one concise volume of information. The pictures unveil an amazing behind-the-scenes look at how it was done, which, at the time, included cutting-edge special effects. "The story of" is priceless, and it is awesome that Karr was able to chronicle The Making of George A. Romero's Day of the Dead for fans to enjoy and as historical look at the cult movie.
Paperback: 288 pages
Publisher: Plexus Publishing (September 23, 2014)
ISBN-10: 0859655180
ISBN-13: 978-0859655187
CAT: Film/Horror
ILLUS: 250 color photos