Chas, Scott & Derrick of Super Troup
by Deb Rao
– Senior Columnist —
The music industry is always looking for the next big thing. Hardrock Haven recently caught up with Super Troup . This new band is comprised of veteran performers including singer Chas West formerly of Jason Bonham Band and Lynch Mob, guitarist Scott LaFlamme formerly of Bang Tango, bassist Kelly Garni formerly of Quiet Riot, and drummer Derrick Pontier formerly of Great White.
Super Troup recently performed on the haunting Hallows Eve October 30th at Vamp'd. Singer Chas West told us that the band had only been together for 10 days. The show was really impressive considering the timetable. The set list was comprised of hits from the musician's former bands including Lynch Mob hits "Wicked Sensation" plus "River Of Love." They also performed many of Led Zeppelin hits. As many of you know that singer Chas West is in a Led Zeppelin cover band called The Moby Dicks. One important aspect of the band is that Super Troup is putting the fun back in music.
The chemistry of the band really flowed. Chas commented that they wanted to test the waters before going into the studio early next year. In this exclusive interview with Chas West, Scott LaFlamme and Derrick Pontier, Hardrock Haven gets the in-depth look at the making of Super Troup.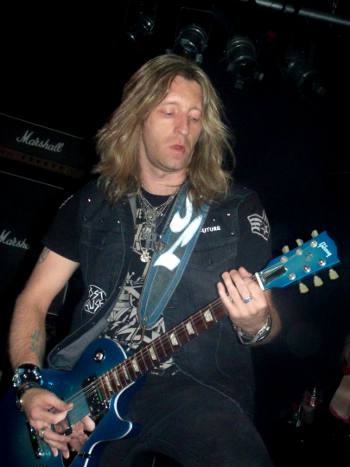 HRH: Welcome to Vegas. So this is the band's debut in Vegas. Did you have fun?
Chas: I love Vegas. It is like my second home. This is my Vegas family with Danny and Korie Koker. It is great to bring it here.
HRH: The set list was kind of a retro visit of the bands that you were in you.
Chas: Correct. It is always fun to revisit. I haven't played some of these songs in ten years. It has been very cool to play that. I didn't ever know if I would ever do it again. We brought back "Rain" which is a beautiful song.
HRH: I love the guitar work on that song. What kind of guitar do you have Scott?
Scott: It is a Gibson Les Paul Custom. The melody is great.
Chas: We did the song for the first time the other night in Rhode Island. I dedicated to the victims of the Station Fire and their spirits and their memories and their families. People were crying and guys came up and shook my hands. That meant a lot to me. It was a personal song to me and I figured this was the perfect place to do it at.
HRH: Derrick were you with Great White that night of the fire?
Derrick: I was with them before it happened. Not that night.
HRH: Thank God.
Chas: I made a point to say that he was not in the band that night. I didn't even mention his name.
HRH: We will never forget.
Chas: Yes, I said that at the end of the song. That was such a tragedy.
Scott: I don't think there could ever be such a thing that could be so catastrophic as that night.
HRH: How did the band get together?
Chas: Derrick and I jammed together a few times back in LA. Scott and I met because we did the Randy Rhoads Remembered this summer on the East Coast. And I said do you want to do something?
Scott: He followed through and everything came together.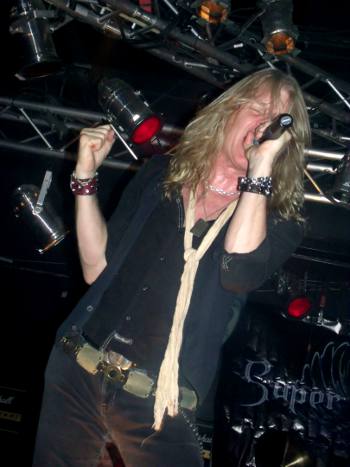 Chas: It was all meant to be. I met Kelly when he came to see my All-Star Zep Tribute band.
HRH: How did you come up with the name of the band Super Troup?
Scott: It is funny because that was me! I actually brought it up to Chas's attention. I said what do you think of the name Super Troup? He goes I love it.
Chas: I loved it because it rhymes with Super Group. Then he suggested the spelling of the Troup. Do you remember that show with Jason Bonham a few years ago Super Group?
HRH: Yes. Do you plan on recording original material with the band?
Scott: Yes, a lot of people have been asking us that. Yes, next year.
Chas: We were testing the waters with this. So far it has been very positive.
Scott: We go back out in the middle of November. We have great chemistry. OMG I would love to write with these guys. We are having fun.
Chas: It is all about enjoying life.
HRH: It was great hearing you perform tonight. Is there anything else that you would like to add?
Scott: We hope to start writing and recording in my studio first of the year.
HRH: Great, keep us posted.
Visit the band online: www.scottlaflamme.com – www.facebook.com/scott-laflamme